Baker, Chineke! Orchestra, Eddins, Edinburgh International Festival review - women's stories told by women |

reviews, news & interviews
Baker, Chineke! Orchestra, Eddins, Edinburgh International Festival review - women's stories told by women
Baker, Chineke! Orchestra, Eddins, Edinburgh International Festival review - women's stories told by women
A powerful and poignant performance of an epic song-cycle by Judith Weir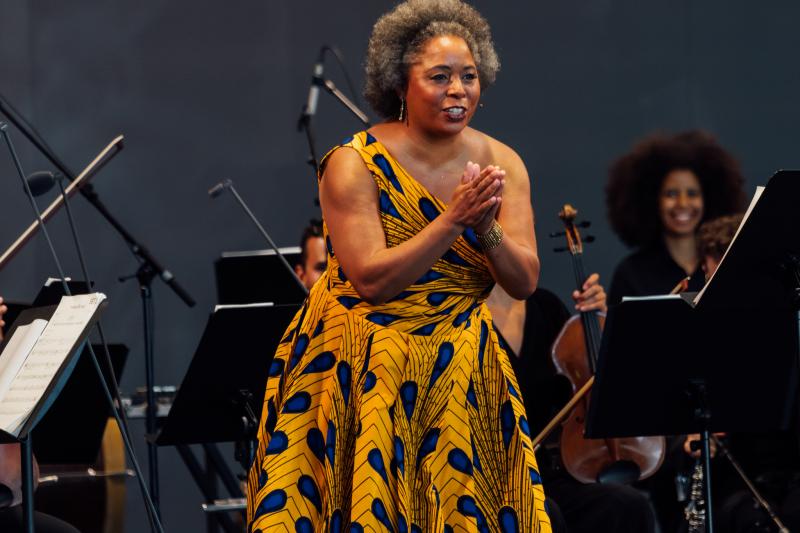 Andrea Baker - powerfully evoking different images of womanhood
Yup, that's right. Outdoors. In Scotland. (Top tip: if you're going to one of the 8pm concerts, wear a winter coat. It gets somewhat chilly when the sun goes down.) The purpose-built structures which house EIF's classical music programme are actually pretty robust, and the venue for the larger-scale classical concerts – the grounds of Edinburgh Academy Junior School – is just within walking distance of the city centre, but far enough from busy roads that it doesn't suffer hugely from sound-bleed from the outside world.
It was a fabulous home to Chineke! Orchestra's powerful performance of Judith Weir's 2000 song cycle woman.life.song, which was commissioned by operatic legend Jessye Norman. Written as a contemporary counterpart to Schumann's Frauenliebe und Leben, the piece explores different stages throughout a woman's through text from female poets Toni Morrison, Maya Angelou and Clarissa Pinkola Estés. The soloist here was mezzo soprano Andrea Baker, whose powerful voice wonderfully evoked such different expressions of womanhood.
Baker spoke the lines of Maya Angelou's "On Youth", over punchy percussion, before unleashing the full extent of her vocal power for Weir's setting of Clarissa Pinkola Estés's "Breasts!! Song of the Innocent Wild-Child", a humorous and charming depiction of a young girl longing to finally have a woman's body. Toni Morrison's poem "Edge" is an ode to the frisson of first love, and Weir's sumptuous harmonies and cascading passages are wonderfully evocative, performed with deliciously rich string playing. The real meat of the cycle is Weir's setting of Pinkola Estés's poem "The Mothership". Unlike Albert von Chamisso's poetry in Frauenliebe und Leben, which focuses on the protagonist's feelings on becoming a mother, Estés's writing deals with having – and losing – a mother. Baker perfectly portrayed the raw, bewildered grief of bereavement, and both singer and orchestra brought the piece to a poignant end, under William Eddins's lithe conducting. The final song brings the cycle to a more optimistic ending: Maya Angelou's "On Maturity" is a humble and insightful take on what it means to grow older, and the chime-like chords which end the work remind us that time is always moving on.

The concert opened with the world premiere of London-born composer Ayanna Witter-Johnston's Blush (Witter-Johnston, pictured above, right, with Chineke!'s Chi-Chi Nwanoku). Pentatonic patterns matched with jazz-tinged harmonies were abundant in this mellow, richly hued work, before Eddins brought it to a close with a soft flourish.
Baker perfectly portrayed the raw, bewildered grief of bereavement
rating
Share this article