The Telephone / Miss Fortune, Guildhall School review - brilliantly-executed double bill |

reviews, news & interviews
The Telephone / Miss Fortune, Guildhall School review - brilliantly-executed double bill
The Telephone / Miss Fortune, Guildhall School review - brilliantly-executed double bill
Gian Carlo Menotti and Judith Weir conjoined by superlative young talent
Hassan (Innocent Masuku) tries to cheer up Miss Fortune (Cleo Lee-McGowan)
Serendipity, rather than the fate which clings to the protagonist of Judith Weir's Miss Fortune, led me to catch the last night of a double-cast spectacular at the Guildhall School of Music and Drama. What a tonic to find a top-notch young cast and orchestra working their disciplined socks off for conductor Dominic Wheeler and director Martin Lloyd-Evans after the dog's dinner of English Touring Opera's Rimsky-Korsakov on Saturday.
Menotti's 1946 bagatelle about a girl who'd rather be on the telephone than communicating with her matrimony-minded boyfriend is the light to the mostly dark of Judith Weir's fable for our age, not much liked by theartsdesk's Igor Toronyi-Lalic when it premiered at the Royal Opera in 2012. You could say that both are about individuals in a consumerist society; excellent designer Anna Reid puts it less drily when she writes in the programme introduction that "the peaks and troughs of modern urban life, the frustrations and ambiguities, run through both these pieces: the scenic spine of our world."
Her sets and costumes blaze colour, variously lit by Anthony Doran, and link the two operas with garish advertising for real estate; the reality only appears behind the hoardings in the shape of the sweat shop and launderette where Tina Fortune seeks work after the crash of her parents' fortune (the Southbank pillars may be a homage to Peter Sellars' Glyndebourne Magic Flute, or the resemblance could be coincidental).
Froth comes first, in the shape of Menotti's deft pastiche, a double-hander made winning, funny and topical by the very believable young couple Lucy and Ben, acted and sung to perfection by Ellie Neate, the ideal light high soprano, and Jack Holton, baritone everyman in this incarnation (the two pictured above). You take Menotti's text-setting for granted – ever word perfectly clear – until you come to the Weir. She isn't a natural either for realistic speech melody or a more stylised version, surprising considering the number of strong operas she's composed, and the density of the orchestration, for too long a stretch thick chordings, however varied tonally, doesn't help.
None of this is the singers' fault, and all are, again, outstanding, led by Cleo Lee-McGowan's Tina, whose look and sound made me think I was beholding a young Janis Kelly. If you hadn't read the synopsis or cast list in advance, you might have been wondering who the sinister counter-tenor character was, as I did until halfway through the first half: this is Fate, in a totally charismatic performance by Kieron-Connor Valentine. Will our Miss Fortune ever shake him off? It becomes quite a nailbiter in the final scene (pictured below).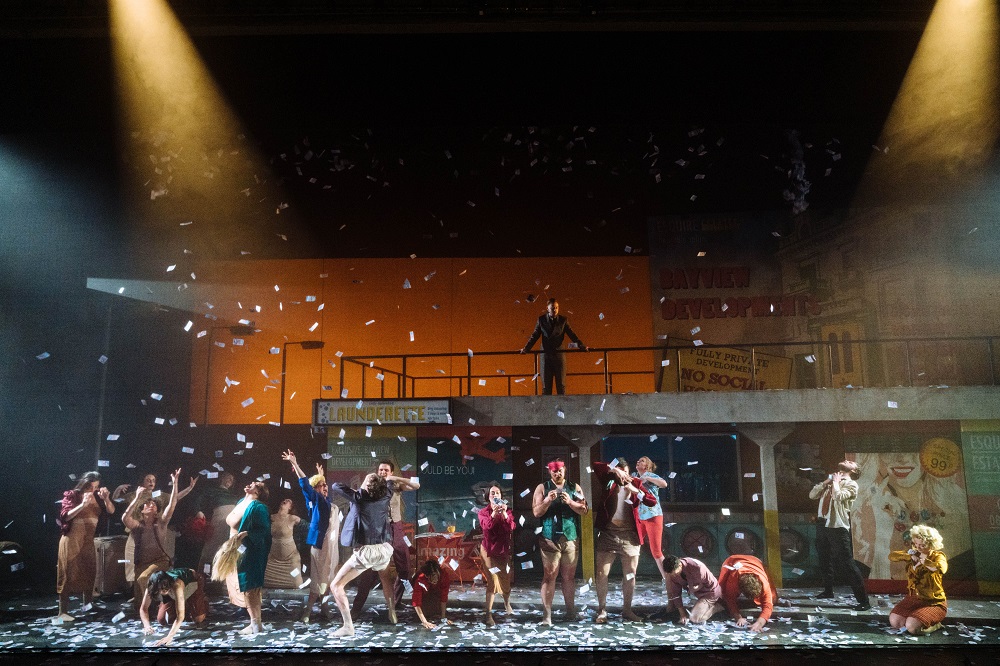 Orchestrally, Weir grabs our attention from the start, and there's just enough rhythmic kick to pull us out of the seemingly hopeless mire in which Tina seems to be ensnared. The quick-change contrasts give distinctive music to the three key characters our heroine meets on her quest to find work in the alienating city. Innocent Masuku's Hassan is a smiling, happy and yes, innocent kebab-van vendor when we first meet him, though his fortune changes when he comes into contact with Miss Fortune and her vulture Fate; Masuku's bright, ringing tenor is a joy. Amy Holyland's laundry owner Donna wins our sympathy from the start, and charm of a different sort comes from her favourite, well-off customer Simon, another strong baritone in the person of Jonathan Eyers (who has swapped roles in two of the three previous performances with Holton; pictured below with Holyland).
Clearest words come from the chorus, who put themselves heart and soul into everything they're asked to do (and much of it is splendid, especially the sewing-machine number). Remember, many of these singers will go straight on to join the Glyndebourne outfit, and the best will be spotlit. Dominic Wheeler is, as always, in masterful charge of an orchestra you'd be happy to hear anywhere. You could say that fate has looked kindly on this venture – or just that dedicated professionalism is its own reward. I'm happy to say that you can see it for yourselves when GSMD screens it online between 25 March and 1 April.