Straight Line Crazy, Bridge Theatre review – in desperate need of a curve ball |

reviews, news & interviews
Straight Line Crazy, Bridge Theatre review – in desperate need of a curve ball
Straight Line Crazy, Bridge Theatre review – in desperate need of a curve ball
Ralph Fiennes plays infamous New York planner Robert Moses in David Hare's new play
Me and my town: Ralph Fiennes as Robert Moses
A few years ago Ralph Fiennes starred as the narcissistic, belligerently ambitious, ultimately tragic architect Halvard Solness in Ibsen's The Master Builder, in a fine adaptation by David Hare. You might argue that there isn't much of a leap from the fictional architect to the real-life New York planner Robert Moses, though Moses didn't die falling from one of his buildings.
Actor and playwright have been here before.
Moses is one of the most influential and divisive figures in the history of New York, a man whose creations of parks and highways transformed the city and its environs – for great good, or ill, depending on who you're talking to. Arguably the most controversial thing about him was the sheer power that he wielded, and the impunity with which he wielded it.
Such a complicated legacy offers rich pickings for a playwright who's always been fascinated by the uses and abuses of power. Hare's new play neatly tackles two phases of Moses's career: in the Twenties, as he's embarking on his successful plan to build highways that connect the city to Long Island, creating a whole new world of leisure for working people, much to the chagrin of the monied elite who want the island to themselves; and the Fifties, as his radical plan to put a highway through Washington Square falls foul of local activists.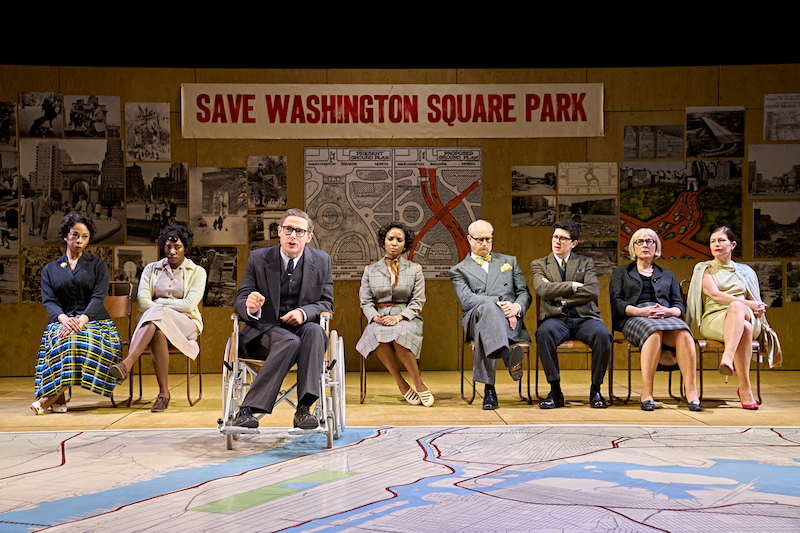 This structure is fine, offering a rise and full study of rampant ambition, amid a discussion about the role and responsibilities of urban planning, notably whether democratic processes help or hinder 'progress'. It also informs the role of class in Moses's power plays: in Act One he's a hero when taking on the Vanderbilts and Whitneys of Long Island, after the interval a villain, when we learn that the poor, black residents of the Bronx lost their homes to make way for his 'heartbreak highway' (the play's title refers to the planner's refusal to deviate from his ruler, whatever might get destroyed in the process). Ironically, the middle classes Moses may have felt most aligned to prove to be his Achilles heel.
However, despite its solid foundation, and a typically muscular performance by Fiennes, this doesn't soar, or probe as potently as it might. Indeed, it quickly becomes preachy and wearing. Too many characters, whether real or invented, act merely as devices to further the dialectic without being sufficiently drawn to make us care for their views. His chief assistants Finnuala and Ariel (Siobhan Cullen and Samuel Barnett) literally stop working to speak to their boss in one contrived scenario after another; the activists who confront him, including real-life journalist and activist Jane Jacobs (Helen Schlesinger), are wooden and unsympathetic.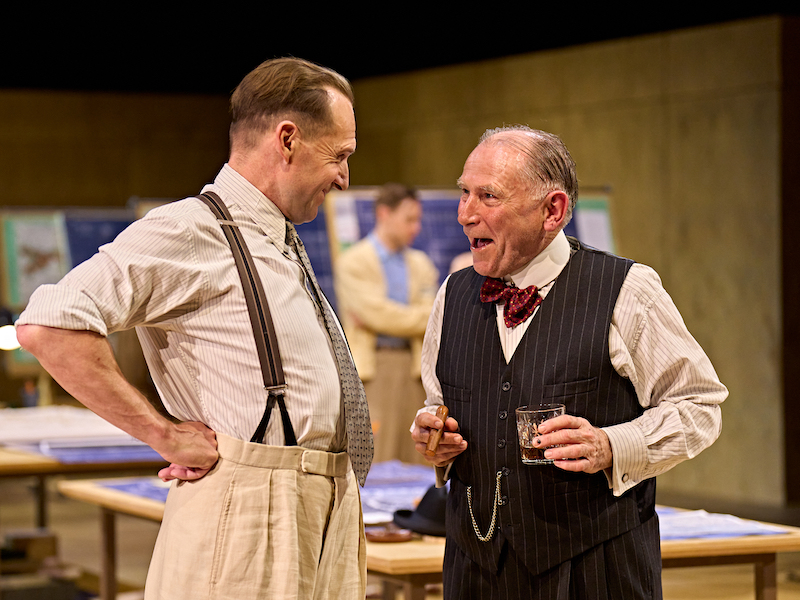 Only one character gives Moses a run for his money, and Fiennes someone to wrestle with: Danny Webb's Governor Al Smith (pictured above, with Fiennes) is a blessed relief, a heavy-drinking, politically savvy, inherently decent man who empowers Moses for the good he may do, despite knowing that his methods are suspect. Fiennes and Webb roaring at each other in love and anger offer the highlight of the evening.
Elsewhere, Fiennes does his best – strutting, cajoling and lambasting, with the occasional shard of mischievous humour; but his character also needs more from the text, not least a tragic dimension. Like Solness, there's a neglected wife and, in Finnuala, the hinted potential for a more rewarding love, each collateral damage of his myopic mission, but nothing of his personal life is developed on stage; and Moses' belief that he is needed, but not loved by the city doesn't resonate as it might have.
If this were not to be a full-blown tragedy, it could have gone another way, as a Capraesque comedy-drama of political skulduggery and folly. As it stands, a rather dry debate doesn't really bring the walls down.
Bob Crowley's design has a clean functionality, most impressive when the bare stage is filled, almost imperceptible, with the drawing boards and paraphernalia of a planning office. In contrast, Nicholas Hytner's direction would have benefited from a little more energy and mess, flesh and blood.