Goldfrapp, Symphony Hall, Birmingham review - crowd-pleasing nostalgia for the fans |

reviews, news & interviews
Goldfrapp, Symphony Hall, Birmingham review - crowd-pleasing nostalgia for the fans
Goldfrapp, Symphony Hall, Birmingham review - crowd-pleasing nostalgia for the fans
Alison Goldfrapp returns to the turn of the century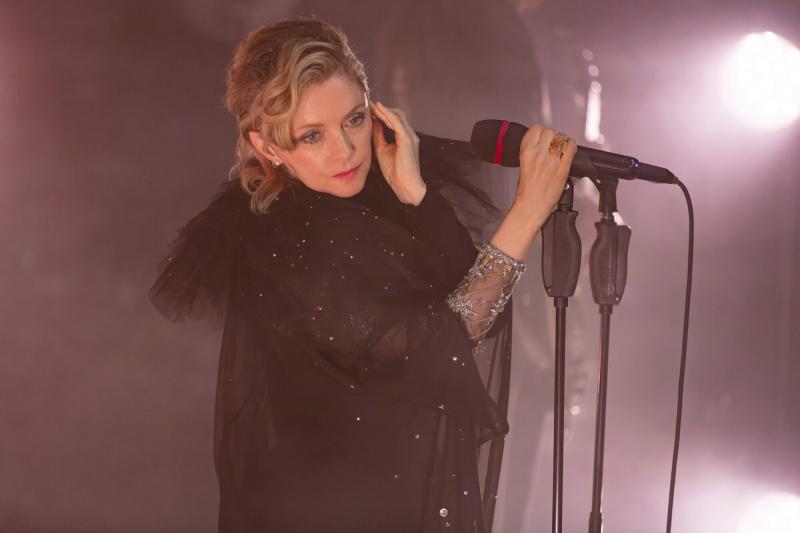 Alison Goldfrapp
Felt Mountain is not one of Goldfrapp's most dynamic albums. So, what better venue to stop off in Birmingham to celebrate 20 years since its release than the iconic all-seater Symphony Hall? This the venue, after all, that is renowned for some of the best acoustics in the whole of Europe.
That said, it's not actually 20 years since Goldfrapp's debut album first came out. That was in 2000. However, recent events have meant that a tour that was supposed to happen in 2020 got delayed until 2021, only to be rescheduled again to 2022. In fact, if it had got pushed back another year, it would have been time for a 20-year celebration of the band's second album, Black Cherry instead. However, Alison Goldfrapp's audience is nothing if not loyal and there was plenty of fan worship from a full house, even if there wasn't a great deal of onstage banter beyond a "How are you doing? It's good to see you after so long?"
As was appropriate for an album with Felt Mountain's dynamics, the 8-strong band of black-clad backing musicians for this tour strolled onto a stage that was heavily misted with dry ice and lit by nocturnal blue lights to a relatively quiet audience. However, as soon as Alison took her place centre stage to vocalise over the woozy title track of the night's main feature, the diverse crowd of teenagers to retired couples soon sat up, if in a respectful manner.
From there, we were treated to a run of the less recognisable (to non-Goldfrapp fanatics, at least) album tracks, such as "Paper Bag", "Deer Stop" and "Hairy Trees" before the show moved onto a slew of the more mellow tunes from subsequent discs like Seventh Tree and Black Cherry. John Barry-esque harpsicord sounds and laidback grooves painted dreamy musical pictures that had the audience entranced, as Alison prowled the stage and intoned tunes such as the lush "Never Know", trip-hoppy "Black Cherry" and more folktronic "Eat Yourself" among others.
As the main set came to an end, the band struck up gorgeous versions of the seriously crowd-pleasing and narcotic "Utopia", followed by the siren-esque "Lovely Head". After which, Alison almost sprinted off the stage to the wings, leaving her black-clad crew looking like they didn't quite know what they were supposed to follow her or not. However, it wasn't long before everyone was back on stage, bringing with them a distinct change of atmosphere.
"It is ok to stand up, isn't it?" asked Alison to an almost Pavlov's dog-like reaction from the audience, before the band upped the tempo and launched into the robotic hard stomp of "Anymore". "I can't wait anymore" sang Alison and it looked like a fair number of the crowd agreed, becoming noticeably more animated and getting into things. The glam stomp of "Ride a White Horse" and dirty electronic groove of "Strict Machine" raised the temperature further – even though the volume could have been considerably louder – just as the show came to an end. It's just a pity that some of these livelier tunes couldn't have peppered the main set too.
Harpsicord sounds and laidback grooves painted dreamy musical pictures that had the audience entranced
rating
Share this article