Blu-ray: Round Midnight |

reviews, news & interviews
Blu-ray: Round Midnight
Blu-ray: Round Midnight
The greatest movie about jazz ever? Bertrand Tavernier's collaboration with Dexter Gordon makes its case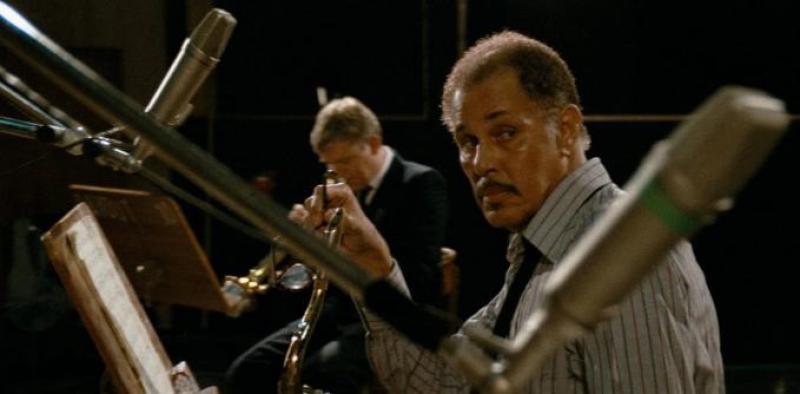 Memories always start 'round midnight: Dexter Gordon as Dale Turner
Among the plentiful bonus items in this Criterion Collection Blu-ray of Round Midnight, the last one is a surprise. It shows Dexter Gordon in his prime, back in 1969.
He's doing the thing for which, purely as a jazz musician, he's best known. We see his blistering inventiveness as a bebop improviser. He is playing his own tune "Fried Bananas" with barrelling energy at a club in Copenhagen. In other words, it's nothing whatsoever like the slow, atmospheric playing of Dale Turner, the character played by Dexter Gordon, that we hear throughout Bertrand Tavernier's moody film.
By the time Tavernier approached Gordon in the mid-1980s to portray Turner, the saxophonist had all but stopped playing; he hadn't made a recording since 1982. As his official biography now states, "In 1986, Dexter moved into his new career, acting." This was something he wanted. He had grown up in Los Angeles – where, as a child, his skin had been deemed too light for him to be bussed off to the studios where his schoolmates were being taken to perform as extras in Tarzan. He had been offered other opportunities to act in the early '80s, but had turned them down. And who knows, if Gordon hadn't been up against The Colour of Money's Paul Newman, finally winning the Best Actor Oscar with his seventh nomination, the story of Round Midnight might even have had a fairy-tale ending?
It's a great jazz film, arguably the greatest, because it is so true to the music and the culture surrounding it. It doesn't just deal with the clichés but also presents the truth, as is typical for Tavernier. He wanted the music to speak on its own terms. It was all recorded as it was being filmed in situ; none of it was dubbed. The urge to make a film about jazz fits into Tavernier's philosophy. As the director was to reflect in later life, "I only made films to learn. About worlds, professions, eras that I didn't know." Round Midnight is precisely an authentic, close-up portrait of a jazz musician based on the director's careful learning.
Yes, the clichés. The main one that's worked through is that jazz happens in a shadowy world where the musicians are dependent on drink and drugs, infantilised and incapable of adult responsibilities or relationships. One empathises with the character Francis Borler (François Cluzet, with Gordon, pictured below), who makes huge sacrifices to keep Turner's music alive, and is repeatedly obliged to hunt down the disappearing musician, to rescue him from either the police or the medical profession.
Tavernier, for most of Round Midnight, keeps the atmosphere noir, and lays it on as thick as he can: this world is always dark, and it never seems to stop raining. The production designer was Alexandre Trauner, who had worked similar magic on Marcel Carné's classics Quai des Brumes (1938) and Le Jour se lève (1939).
The cliché of needing alcohol to function does give rise to an unforgettable line. After a man next to Turner has keeled over at a bar and fallen flat on his back, he comments in his trademark wistful husky drawl: "S'il vous plait, I would like to have the same thing he had." Sounds familiar?
So far, so much as expected. And yet there is so much that is honest. With that world-weary rasp in his voice, Turner is in the habit of calling just about everyone he meets "Lady", a homage to Lester Young. There is about half an hour when the sun (literally) comes out in this film. Turner finds self-respect. He gets happy, busy, fulfilled, and starts to function as an adult. He fixes a studio session to record the tune "Round Midnight". Relationships start to work. He puts himself properly in touch with his own creativity. It looks as if he has his life back on track. That section is necessary – as an escape from the bleakness.
For the jazz fan, the treats never end. We see a roll-call of the greats, not least vibraphone legend Bobby Hutcherson with the acting role Ace – he also acted in They Shoot Horses, Don't They? There's a smiling Tony Williams on drums and the ever-reassuringly tall Ron Carter on bass. And a lot of Herbie Hancock, the film's musical director. Even record producer Michael Cuscuna appears as himself.
The ending raises a fascinating theme. In essence, do Americans need Europeans, and the French in particular, to rescue their home-grown art from neglect, and to place it in the dignified setting it deserves? Tavernier uses cinematic means to pose that question. Dale is "welcomed" back to the darker side of New York by a particularly oily and demonic huckster played by Martin Scorsese. The silent run-down squalor of abandoned cars and buildings in New York is contrasted with the magical setting of the Théâtre Antique de Lyon, where a memorial concert for Turner takes place at sunset in front of a huge and appreciative audience.
This stark contrast is just part of the film's bigger theme. Round Midnight is not just a jazz movie. How does an individual artist deal with the knowledge that the only thing that gives him the ability to look life in the face is his art, while knowing that his inspiration is fading and nothing like what it was? Such are the questions that keep the viewer coming back to this welcome reissue.
Do Americans need the French to rescue their home-grown art from neglect?
rating
Explore topics
Share this article