The Capture, Series 2, BBC One review - caught up in the China syndrome |

reviews, news & interviews
The Capture, Series 2, BBC One review - caught up in the China syndrome
The Capture, Series 2, BBC One review - caught up in the China syndrome
Ben Chanan's dystopian drama hits some sizzlingly contemporary notes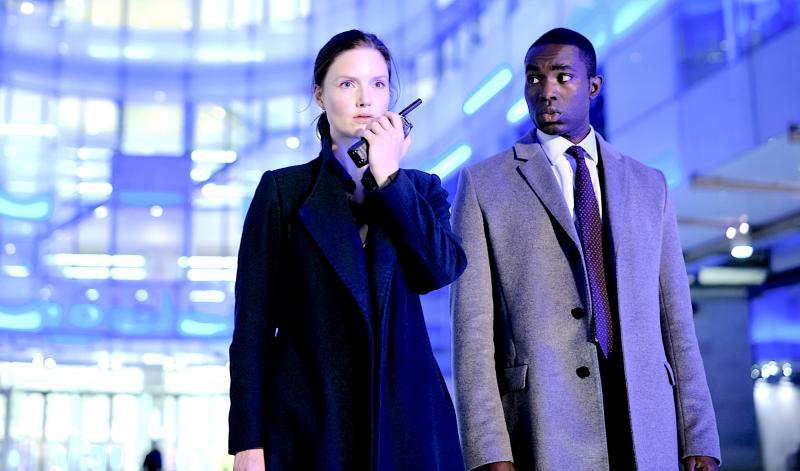 Nothing is real: DCI Rachel Carey (Holliday Grainger) and Paapa Essiedu as Isaac Turner
When the first series of The Capture arrived three years ago, theartsdesk liked it so much that we reviewed it three times. Writer-director Ben Chanan had successfully, and addictively, tapped into a secret dystopia of blanket digital surveillance and so-called "correction", in which anyone might be manipulated by shadowy state agencies to serve their own hidden agendas.
That sense of an apparently "real" world subsumed by a malign virtual facsimile which can be rewritten and modified at will again underpins this second series. As we saw in a chilling opening scene, the technology could even enable "invisible" assassins to pick off their targets without leaving a trace in CCTV footage.
Once again, Chanan has zeroed in on sizzlingly contemporary political and social concerns. While The Capture's first series pivoted around the personal travails of army veteran Shaun Emery, this time the focus broadens out to examine how shifts in the relationships between global powers have exposed the potential horrors seething up between the tectonic plates. In particular, Chanan fixes his gaze on the creeping menace of an expansionist, hi-tech China as its tentacles wrap themselves stealthily around most of the planet.
Sinister as all this sounds, Chanan has managed to inject some black humour into his narrative. He has a lot of fun with one of his new main characters, the UK government's Security Minister (and MP for Haslemere South) Isaac Turner (a winning performance by Paapa Essiedu). He's supposed to be "young, ambitious and idealistic", but the words "vain" and "gullible" are missing from the description.
Turner prides himself on his determination to thwart the voracious ambitions of the Chinese Artificial Intelligence corporation, Xanda, which is seeking to embed itself into the infrastructure of the UK (real-life parallels with Huawei are too obvious to miss). Turner takes an arrogant delight in confronting the company's London CEO Yan Wanglei (Rob Yang, pictured above) and boasting that he will not be bamboozled by Xanda's self-promoting propaganda. He relishes a little too much telling Wanglei that he knows his company is a mere tool of China's rampant ambitions.
But Turner's balloon of self-congratulation is shockingly punctured when he finds himself watching incredulously as a perfect replica of himself does a TV interview in which he endorses a pro-Xanda policy diametrically opposed to his true position. The science of "correction", it seems, can now spin its seamless bogus reality in real time.
However, it isn't only China that is playing this dark and dirty game. The Brits and the Americans are in it up to their necks, though it's left to the bear-like CIA man Frank Napier (Ron Perlman) to warn the British that their brainless, spineless policy of courting Chinese investment at any cost risks ripping apart the "special relationship" with the USA.
Also back on board is Series 1 veteran, DCI Rachel Carey (Holliday Grainger), now assigned to the UK "correction" team but deeply suspicious about it, and again she must tread cautiously around her frosty superior Gemma Garland (Lia Williams). All the while, counter-terrorism bigwig and Rachel's previous amour Danny Hart (Ben Miles) lurks enigmatically. We eagerly await further (fake) news from the digital front line.