Prom 62, Mahler's Seventh Symphony, Berlin Philharmonic, Petrenko review - hallucinogenic night's journey into day
Prom 62, Mahler's Seventh Symphony, Berlin Philharmonic, Petrenko review - hallucinogenic night's journey into day
Orchestral playing and winged conducting simply don't get better than this
Sunday, 04 September 2022
Kirill Petrenko: the master
Match the most multi-timbred, flexible orchestra in the world with the iridescent peak of symphonic mastery, and you have an assured winner of a Prom. Yet not even Kirill Petrenko's previous London performance of Mahler's Seventh with the Bavarian State Orchestra, nor the brilliance of his two previous Proms with the Berlin Philharmonic, had prepared me for the miracle he achieved last night with players who will clearly do anything for him.
Unlike his predecessor in Berlin, Simon Rattle, Petrenko makes Mahler fly, much more air and fire though not without earthiness when it's needed (update: when I wrote this, I'd completely forgotten that Rattle and the orchestra performed the very same symphony at the Proms in 2016. I loved that, but clearly it hadn't embedded itself in the memory as this one will, a peak achievement to set alongside Abbado's Lucerne Mahler Nine and Bernsetein's Proms Mahler 5). .To watch him is a lesson in mercurial conducting magic.
In the ghosts' high noon which shrieks and grunts as it moves in and out of the haunted ballroom at the dead centre of the Seventh Symphony, he was elastic to an unbelievable degree; yet there were other swathes of the work where he decided to do very little, trusting his woodwind especially to light the way with their very own special character. And every principal in this orchestra is a striking individual as well as part of the whole: queasy turns in the dark from viola-player Amihai Grosz, a sudden fleck of free idiosyncracy – It's there in the score – from flautist Emmanuel Pahud, oboist Jonathan Kelly's special pleading in the highest register, first horn Stefan Dohr stepping out of spooky line to phrase a wistful song, all this and more gave the final seal of distinction.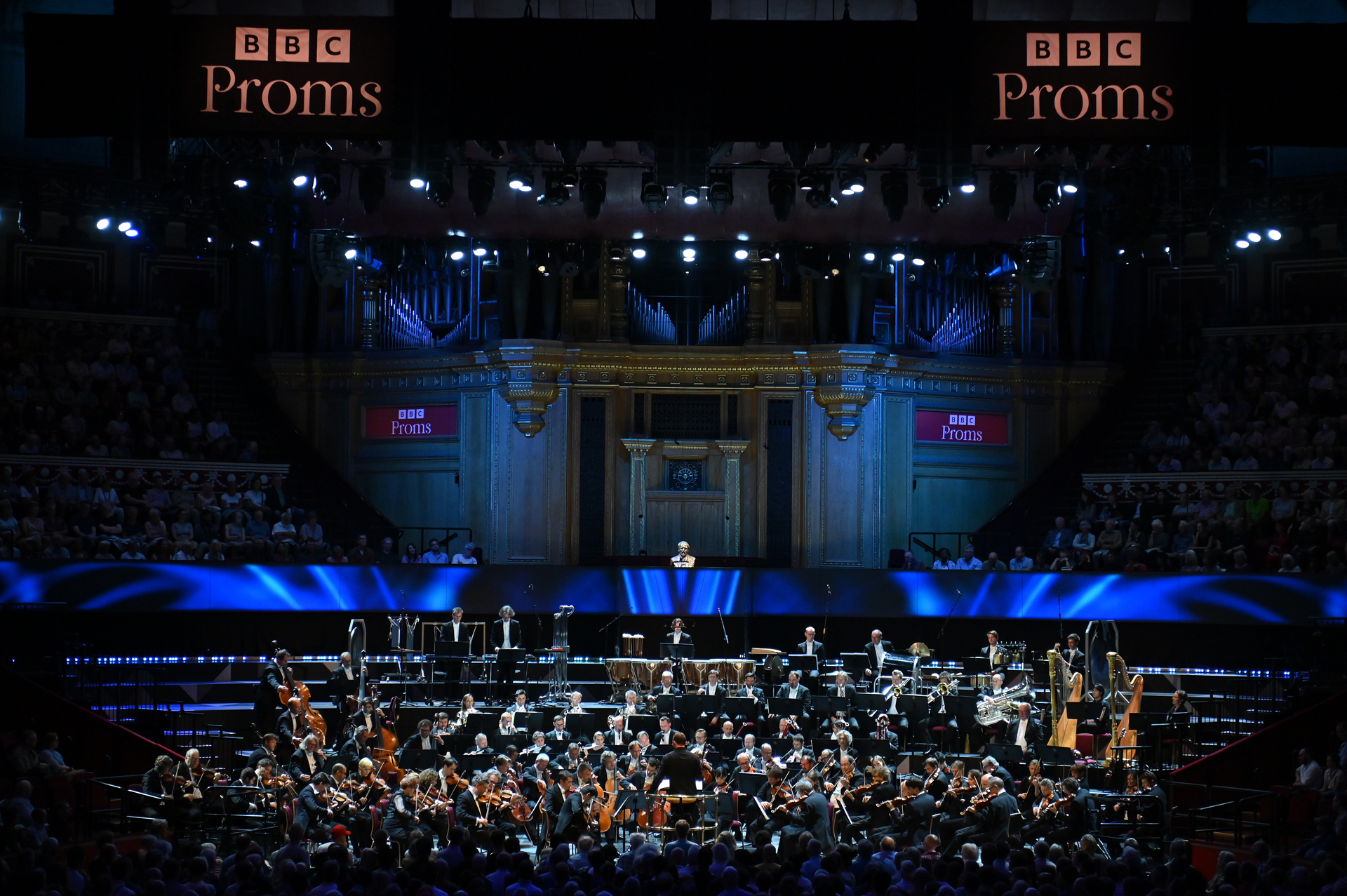 Ultimately, though, it's all about the sheer freshness and audacity of Mahler's instrumental thinking in his most outlandish and (I'd argue) most endlessly fascinating work. Petrenko never made heavy weather of the first movement's dark processional, led by the consummate tenor-horn player (who?) resounding in the cavernous spaces of the Albert Hall; you could see him relishing its full sway up to the mid point, though after the most veiled and magical of idylls ceremonials turned feral. There was humour in the sudden bumps and lurches of the first "Night music", and rather more gracious, Mozart/Schubert humour in the fascinating second, its guitar and mandolin wisely placed not within the body of the strings but alongside the wind, whom they more often support in this skewed romantic serenade.
I've never bought the line that the finale's revels in full sun are a messy indulgence, but it takes supreme sleight of hand to manage the entry of every new carnival float, and an ear for every nuance, to carry the jubilation through near-collapse to the ultimate welcome embrace of the first movement's night visitor. As so often, Petrenko's tempi were almost dangerously fast, but always fully articulated by those amazing Berlin strings and fearless trumpets (no cracks on the top notes, though a couple of hiccoughs in a less exposed passage can easily be forgiven). And his split-second adjustments to give just a little bit of extra space when needed meant you never felt harried. In short, a total phenomenon and, given both the work and the players, it had to be the supreme achievement of this Proms season. It's a pity that a physical health problem – not in evidence – leaves Petrenko unable to conduct tonight's Prom – Daniel Harding steps in and, regrettably unless you're a fan of a very flawed symphony, Bruckner's Fourth replaces Shostakovich's Tenth, but this vision was complete in itself.
Canny planning gave us another unpredictable symphony of sorts in the late-night Prom 63, eight movements to the Seventh's five, and if Norwegian saxophonist Marius Neset (pictured above) – another phenomenon as a player – is no Mahler as composer (who is?), his one-hour-plus Geyser had the virtue of unpredictability as it moved fluidly from natural sound-effects to film-score melody and rhythmic romps (★★★★).
Unqualified as I am to speak of the jazz element – though it's clear that Neset's quintet companions are equal masters – I'd simply commend the obvious commitment of Geoffrey Paterson and the London Sinfonietta and give another unqualified "wow" to the fast toccata-like explosions. Geyser also ends in a dance celebration, more fiesta than the promised volcanic reaction, and if the darker elements Neset claims he introduced in the wake of the Russian invasion of Ukraine didn't go as deep or as avant-garde as expected, the physical impact of the whole and the quality of the playing throughout were undeniable.
Petrenko's split-second adjustments to give just a little bit of extra space when needed meant you never felt harried
rating
Share this article