Abel Selaocoe, Bouffes du Nord, Paris review - awakening the ancestors |

reviews, news & interviews
Abel Selaocoe, Bouffes du Nord, Paris review - awakening the ancestors
Abel Selaocoe, Bouffes du Nord, Paris review - awakening the ancestors
Shaman with a cello - a model of enchantment
Thursday, 03 November 2022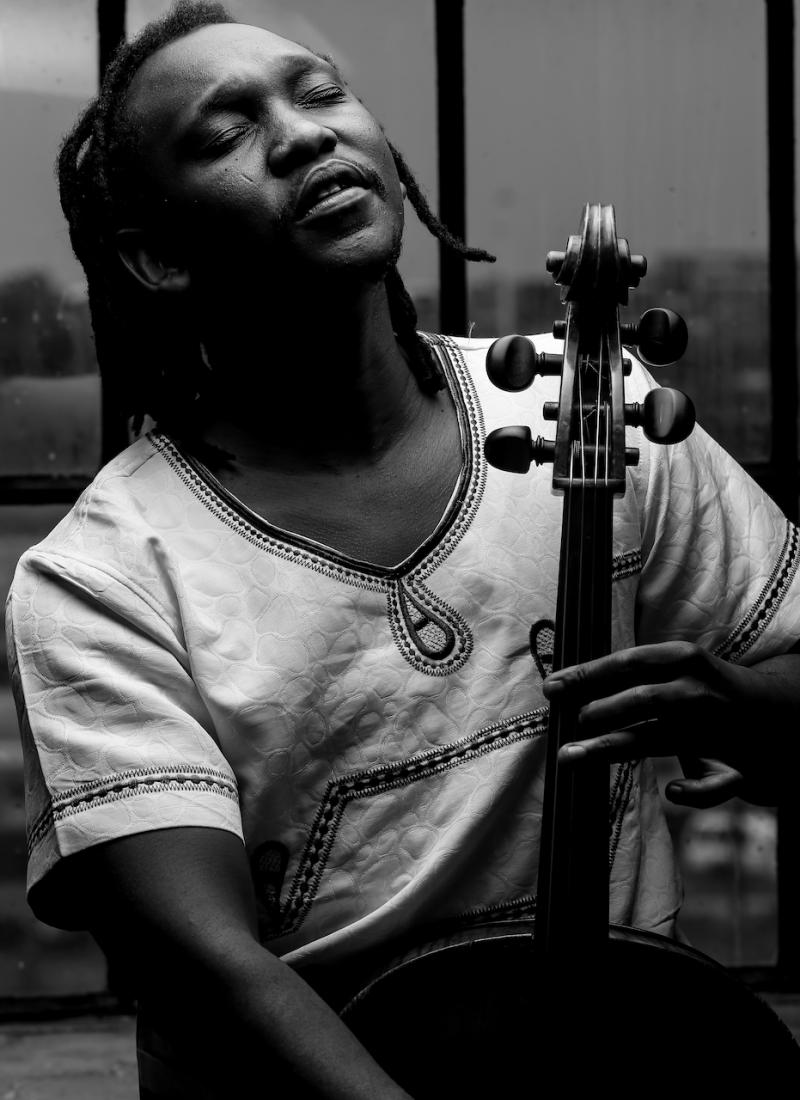 Abel Selaocoe, the shaman with a cello
A tall African man stands alone in a pool of light. He has a cello and an immensely versatile voice. In a matter seconds, he holds the audience enchanted. He inhabits the stage as if it were by a campfire in the bush.
The Bouffes du Nord, the Paris base for Peter Brook's ritual-rich theatre for many years, the beautifully worn shell of a former music hall, with decaying walls in different tones of orange and red, has seen so many extraordinary performances. I, for one, will never forget Brook's fulgurant Hamlet with Adrian Lester in the title role, and Isabelle Huppert, raw and present in Sarah Kane's frightening depiction of madness 4.48 psychosis. The place is haunted by so much pure poetry that it provides an ideal setting for a solo performance by Abel Selaocoe, whose 21st century shamanic performances have taken Europe by storm.
Selaocoe, as he has proven, is a born and generous collaborator, not least with the Manchester Collective, with whom he gave a wonderful concert to launch his first album Where Is Home (Hae Ke Kae) a few weeks ago at London's Queen Elizabeth Hall. But his solo performances are something else: he directs all his energy at communicating with the audience. He is both entertainer and preacher, but he is also a healer, expanding the potential of his cello, and singing with a virtuosity that is never undermined by playing to the gallery, gently coaxing the audience to sing along rather than resorting to the cliché of a hand-clapping accompaniment. He conducts the audience with subtlety and humour: we cannot help putting our all into it, and this produces a feelgood factor that reaches more deeply than simple excitement.
He has become a master of various pieces of digital equipment that enable him to create backing tracks – vocal, instrumental and percussive – with which he can play and sing along, as well as layering the sound by doubling voice and cello tracks. It comes close at times to being an excessively used gimmick, and yet, he knows just when to pull back from being a slave to the undoubted wonders of technology. In an instant, he will return to the stripped-down sound of a pianissimo stroke of the cello or an almost whispered slither of spine-chilling voice.
He deftly takes the audience on a journey, celebrating women, mothers, healing and liberty. He does the sweetest of show-and-tells, playfully but not didactic, creating inebriating distortions by "preparing" his cello strings with blue tack or sheets of paper. He also transforms his baroque instrument by using its resonance and the texture of the wood to explore an unlikely and seductive range of percussion.
The set is full of surprises, wonderfully paced. Bach comes in from time to time, pure and vital, and skilfully worked into a plethora of African rhythms and tonalities. Selaocoe's cavernous throat-singing is a wonder to behold, never just a display, but a way of conjuring the spirits of the ancestors he mentions in his introductions and invites into his performances.
In a way that is common to so much African music, from the song of a bush village through to gospel, soul and rap, Selaocoe's show is not just splendid entertainment, but also a form of teaching: his message is explicitly about love, community and healing. He brings all three of these essential qualities of humanity together in a way that leaves the audience elevated and transformed. The cathedral-like Paris venue was ideal, but the wonder of Abel Selaocoe is that he can make any venue feel like a sacred meeting-place. He started the concert by telling us that we would be seeking "home", not just as a place in the world, but most of all in our own hearts. That is something he seems born to accomplish every time he takes the stage.
He is both entertainer and preacher, but he is also a healer
rating
Explore topics
Share this article