The Whale review - Brendan Fraser stars in a fat suit |

reviews, news & interviews
The Whale review - Brendan Fraser stars in a fat suit
The Whale review - Brendan Fraser stars in a fat suit
Darren Aronofsky's stagey, sentimental portrait of a dying, obese man
Pizza, anyone: Brendan Fraser as Charlie
Yes, Brendan Fraser gives a fine, Oscar-nominated performance as a morbidly obese man in director Darren Aronfsky's mawkish, voyeuristic The Whale. Best known for Gods and Monsters, George of the Jungle and the Mummy trilogy, and more recent TV roles in The Affair and Trust, it's Fraser's first lead in a film for 12 years.
But one of
The Whale
's many problems is the way the fat suit, or, to give it its correct term, weight-gain prosthetic, takes up so much mental as well as physical space. That's hardly surprising
–
it's been nominated for an
Oscar
too. When Fraser first saw it he thought it looked like it belonged in Tate Modern.
Make-up artist Adrien Morot, who has worked with Aronofsky on The Fountain, Noah and mother!, used 3D printing to create a 300-lb suit that needed five people to get on and off Fraser each day. That's about as many people as there are in the cast. You can't turn your attention away from its ghastly ripples, veins and folds. And there's been some controversy over why the part didn't go to an actual obese actor. Though that might have been a tough call.
The Whale's script is by Samuel D Hunter, who wrote an acclaimed play of the same name that premiered off Broadway in 2012, and an acute staginess pervades. People exit and enter through the dingy two-bedroom apartment's front door, giving us glimpses of endless Idaho rain. There's no escape, except for a couple of happy-family, beach-scene flashbacks.
Fraser is Charlie, an English teacher who weighs 600 pounds – about 43 stone. He is stuck in his apartment, just about able to heave himself to the bathroom on his walker but not much more. His college classes are conducted via Zoom, with his camera off, of course. "Think about the truth of your argument," he tells his students, earnestly. He's desperate to reconnect with his estranged daughter before he dies, which is likely to be in about a week. His wheezing gets steadily worse, even as he's stuffing his face with pizza (he orders two at once) covered in mayo. The pizza delivery guy, who shouts friendly greetings through the door every day, finally catches a glimpse of him, exclaims in horror and scarpers. Framed photos show that he wasn't always like this.
In the first scene we find him masturbating to gay porn, which might have killed him there and then – he has a bad case of congestive heart failure – had it not been for the random arrival of Thomas (Ty Simpkins), a missionary from a dodgy end-times cult/church called New Life, which somehow poisoned the life of Alan, Charlie's dead boyfriend (there are hints that Alan stopped eating). Charlie asks Thomas to read him an essay, a childishly written appreciation of Moby-Dick (glaringly obvious symbolism). This acts as a meditation device. His breathing slows and he calms down. Who wrote the essay? We don't find out until the end.
Charlie's main carer and friend is his late boyfriend's sister Liz (Hong Chau, pictured above), a nurse. She's always taking his blood pressure and listening to his chest, while at the same time plying him with boxes of KFC or subs with meatballs and extra cheese. This enabling behaviour is never commented on, not even by Charlie's venomous teenage daughter Ellie (the brilliant Sadie Sink; Stranger Things, pictured below), who brings a blast of fresh air to the stifling proceedings. She revels in being cruel to him. He never stops telling her how amazing she is.
"You're disgusting," she says, and asks him when and why he got so fat (he came out as gay and left her and her mother, Mary, played by Samantha Morton, when Ellie was eight, and she hates him for it: "You taught me something very important. People are assholes.") "Someone close to me passed away and it had an effect on me," he answers, putting it mildly. Mary, an alcoholic, in one of the most sentimental scenes, tells him she misses his positivity and his cooking. You can only wince. And long for something more bracing.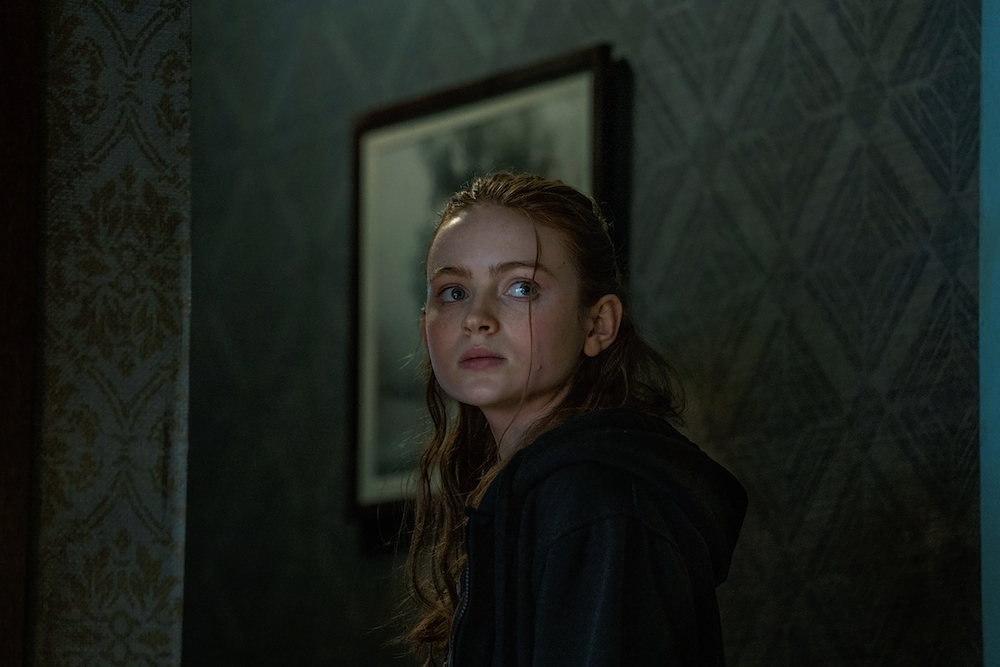 Ellie, whose lit crit extends to calling Walt Whitman a 19th century faggot, is in danger of failing to graduate from high school and wants her father to help her with an essay, which is why she keeps coming back to see him. She is also looking forward to the $120,000 he's promised her (why, asks a justifiably furious Liz, didn't he spend some of that on hospital care instead of shouldering her with the responsibility of looking after him?). In one of the jollier scenes, Ellie smokes weed with Thomas, who's not quite the clean-cut chap he appears to be. She's always filming people on her phone, with possibly disastrous results.
Charlie's faith in his daughter's marvellous nature and belief that she's altruistic despite appearances to the contrary – "There'll be a grease fire from hell when he starts to burn," she posts online – is certainly touching. But it's still hard to feel much sympathy for someone who's slowly killing himself, depriving his daughter of a father once again. It's also hard to watch him endlessly binge-eating, sometimes followed by vomiting.
The Whale, with its themes of redemption, family love and the boundless human capacity for caring about other people – all fine in themselves but too melodramatic, too portentous here – doesn't tell us much about the psychology of obesity. It might put you off your next pizza, though.
She's always taking his blood pressure and listening to his chest, while at the same time plying him with boxes of KFC
rating
Explore topics
Share this article