Jah Wobble, Brighton Festival 2023 review - Coronation bank hol Sunday marathon |

reviews, news & interviews
Jah Wobble, Brighton Festival 2023 review - Coronation bank hol Sunday marathon
Jah Wobble, Brighton Festival 2023 review - Coronation bank hol Sunday marathon
Our writer goes on a May Bank Holiday Brighton Festival opening weekend beano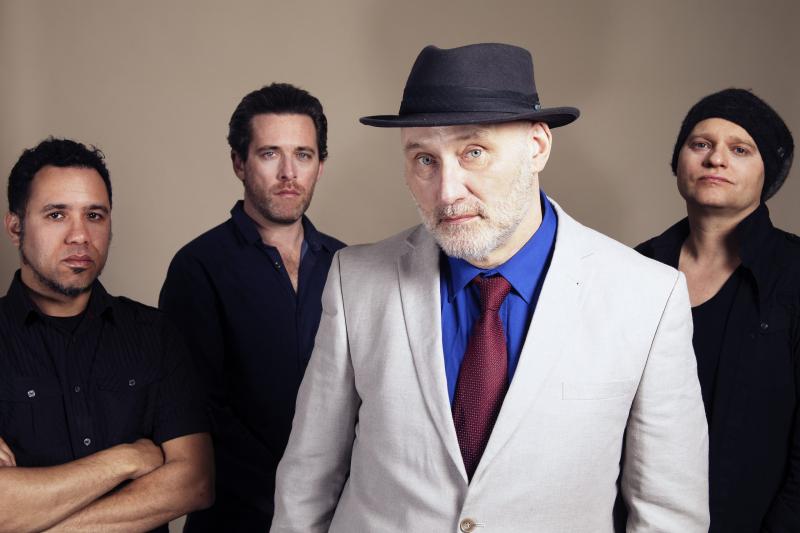 Wobble and band
Jah Jah Jah blah blah blah. We'll get to that.
I meet Everest at Worthing station at 3.20pm. He's clad in a light brown corduroy jacket and a cap. He looks dapper. Like a Len Deighton spy. We board the train to Brighton. I hand him a chilled bottle of Henney's Herefordshire cider (6%) and tuck into my own bottle of St Austell Proper Job Cornish IPA (4.5%). We open a small box of Morrisons All Butter Mature Cheddar Cheese Crumbles, and talk about the harshness that life can deal out to the old.
It's a sunny Sunday. In Brighton, we walk down to The Gladstone pub on Lewes Road. It's bright yellow. We're here because the band Transformer, best known for the song "Cinema Car" and their appearance in the TV series The Inbetweeners, are putting on an all-dayer, midday 'til midnight. Mid-afternoon the place is already rammed. Lots of lived-in faces. A few free-range children. The beer garden has members of the bands AKDK and Fujiya & Miyagi DJing funk. There's not a seat to be had. We meet someone who tells us that all he's had to eat today is "two eggs and a bump". This feels like a party already.
There's a hatch in the wall serving Caribbean barbecue. We order some and take a seat out front, warmed by balmy solar heat, with pints of Beavertown Neck Oil (me, 4.3%) and Stowford Press cider (Everest, 4.5%). The barman passes by and chats. He used to run the Essential Festivals in nearby Stanmer Park, back in the Nineties. Thanks to him I once saw James Brown play live (set highlight, a 10-minute version of "It's a Man's Man's World"). Everest and I talk about how we earn our livings, about someone we know who has physically destroyed themselves with booze, and about the future. The food arrives; jerk chicken for me, pulled pork for Everest, with spicy rice and peas. It is impeccable, mouth-watering, and has a kick.
We dip into The Gladstone's main room and a Cumbia performance is taking place, a DJ and percussionists. The joint is heaving with movement. But we decide to dip out. This warm day is our playground. We're not quite in the mind-frame for this joint, and we'll have to leave before the headliners play. Pub crawl.
Inside the Caroline of Brunswick pub, opposite The Level's grassy park, where a fairground is doing good business, a few old goths and punks are hiding out from the bright daylight. The jukebox is playing one of Gary Numan's dirgey late period tunes. We order another round (Neck Oil, cider, two Jack Daniels). The real Caroline of Brunswick was George IV's wife and queen, hugely popular with the people but not with him. In Brighton history, which is intimately connected with playboy George and his Pavilion, she's been somewhat forgotten compared to his mistress, Mrs Fizherbert. Perhaps it's telling that the Mrs Fitzherbert pub is far more central and better known, but the Caroline of Brunswick has a staunch, black leather jacket, alt-rock hardiness and devoted clientele. When I pop to the toilet, they're playing one of Depeche Mode's dirgey late period tunes.
Nicely rolling now, we move on to the Great Eastern on Trafalgar Street, just down from the station and so in the thriving hub of this town-become-city. DJ Mojo Man is at one end of the bar, wearing a fortune teller turban and spinning rock'n'roll 7"s on a gramophone. This place has been a pub, on and off, since the mid-19th century, and it's cluttered, welcoming, full of character and characters. Everest and I sit outside in the sun with another pint and a shot each of Makers Mark Bourbon. We talk about the Brighton of yesteryear, when Brighton really was Brighton and yoga was a minority pursuit.
If you're waiting for Jah Wobble, fear not, only one more pub to go. The East Street Tap claims to be Brighton's oldest pub, although has only had that name since 2016. As The Fishbowl, it was a place reprobates would end up when there was nowhere else to go, open until the wee hours. The toilets were dens of iniquity. Everest and I make swift work of pints and head to the venue, Chalk.
We miss support act, avant-jazz-punk outfit Blurt, but buy two of the ridiculous-yet-brilliant two-pint plastic buckets of beer, that make your hands look like a small child's. The night is advertised as Jah Wobble presenting Public Image Ltd's Metal Box album, "Rebuilt in Dub". Generally regarded as a seminal post-punk release, the 1979 album is rooted in Wobble's basslines. Its influence is arguably more because of its complete disregard for musical templates of the time, thus adhering to punk's year zero philosophy, rather than a preponderance of memorable tunes. It is pared-back, stark, tonally eerie, a world away from Sex Pistols.
Wobble, however, wearing a green fedora, doesn't seem dramatically concerned with the dub aspect. With two guitars, a synth player and drummer, it's more a Wobble-ization of Metal Box, as if he's reimagined the album via the skunky grooves that gave him a second career in the good old dance-druggy Nineties. He gives good Lydon on vocals for cuts such as "Poptones" and "The Suit" but, as often, he simply jams, "Careering" around the musical themes, the hefty warmth of his bass deliberately contrasting with the scratchy guitars, even swerving at one point into drum & bass.
"The bass," he tells us, "is at the top of the food chain." And he veers away from Metal Box when he fancies, giving us a dubby take on PiL's classic eponymous debut single, before bursting into an energized punky attack on the same. He suggests that Primal Scream's success may be partly down to him. At one point he goes off on an oblique five minute diatribe that appears to be making fun of his drummer while making persistent references to the Wermacht. It's hard to know what he's on about but it gives the gig an edgy extra energy, like he's making it up as he goes along, especially when he suddenly does an extended version of Roy Budd's theme to the Michael Caine/Mike Hodges classic Get Carter.
The encore, with Wobble continually asking if he has time for one more, closes with a raucous version of his "big hit", "Visions of You", (featuring Sinéad O'Connor, it reached No. 35 in 1992). The original is an extraordinary tune, celestial yet earthy, capturing Wobble's Blake-ian cosmic wideboy persona. Tonight's version is rowdy but fun, lacking the female vocal to lift it to the next level, but a whole heap of heavy skank, nonetheless.
At the time I declare to Everest that this is a 5/5 gig, mainly due to its eventful unlikeliness, but in retrospect, I think it was more a 5/5 day and 4/5 gig. For us there's another pub, the mighty and unchanging Prince Albert, venue and boozer, a train where we chat with a music teacher from Colorado, and an impromptu party where everyone's on mushrooms and we hang out with an early Nineties indie star, dancing and blathering to everything from the Reynolds Girls to Suicide. I talk with Everest until 4.00 AM about, well, everything. And that's Coronation Bank Holiday Sunday. And the Monday? Flowered Up had it right about that. Monday sure does hurt.
Below: listen to Jah Wobble Metal Box: Rebuilt in Dub
It's hard to know what he's on about but it gives the gig an edgy extra energy
rating
Share this article