South Bank goes Brazilian for the summer |

reviews, news & interviews
South Bank goes Brazilian for the summer
South Bank goes Brazilian for the summer
South Bank goes Brazilian for the summer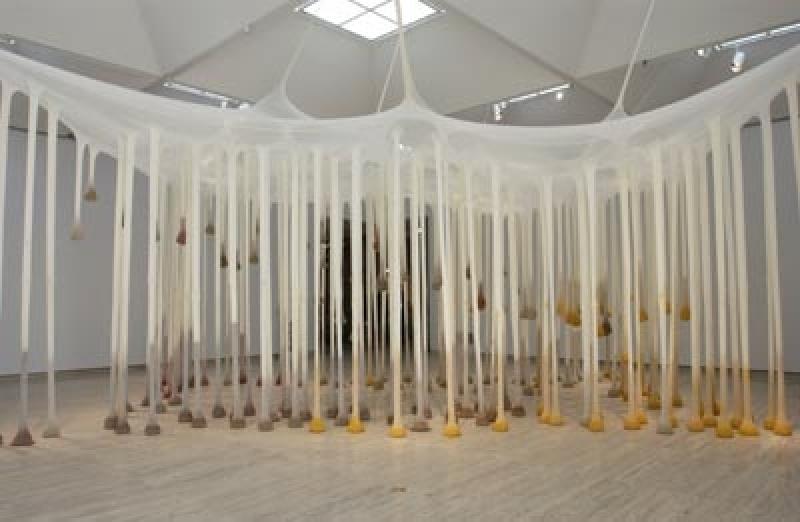 A sculpture of Ernesto Neto
As Jude Kelly put it today, the Southbank Centre's Festival Brazil this summer is about a country "living its future now" (link here
k/find/festivals-series/festival-brazil" target=_blank> for the initial programme). That is certainly exciting for a city like London trying to live down its last decade (writes
Josh Spero
).
Kelly, the Southbank Centre's artistic director, was keen to talk about the "ardent escapism" Brazilian culture manifests in its desire to forget its often tough reality. To this end, the livelier muses have been invoked: Ernesto Neto's vibrant, delicate and organic art at the Hayward Gallery (19 June-5 September); the Campana Brothers will be designing a pop-up venue for the Festival Terrace; and capoeira, the favela-grown leaping, whirling dance form, will be at the E4 Udderbelly (15 June-18 July), a monstrous purple structure. (On the music, see Peter below.)

And as Stephen Green, chairman of HSBC, which is supporting the festival, pointed out, Brazilians will not need their escapism soon: by 2025, Brazil is forecast to be the world's fifth biggest economy.
Peter Culshaw writes: For a major festival like this with some usual talk about being "cutting edge" the initial music names announced were a little predictable. Gilberto Gil, the ex-Minister of Culture, Maria Bethania, (sister of Caetano Veloso) and Tom Zé, all veterans of the tropicalia psychedelic of the Sixties, and all in their sixties themselves, and most of them recent visitors to London (see my review of Gilberto Gil here on theartsdesk from last November, for example).
Likewise Afro-Reggae, the Rio favela-based music and theatre group who have been to the Barbican numerous times. All excellent artists in different ways, but nothing to get the heart racing in anticipation. The coffee wasn't much good at the Press Breakfast launch either.
But talking to programmer Glenn Max afterwards, they are likely to also bring some genuinely new acts who haven't been seen here – including Lucas Santana, numerous artists from the musical powerhouse of the state of Pernambuco, possibly even things like some Amazon surf music (they have the biggest waves in the world on the full-moon in the Amazon and there's a music scene connected to it) and hopefully the wonderful Céu, who provided theartsdesk with its CD of the month in November. In the middle of it all, as someone pointed out Brazil will be playing England at the World Cup Final. Ever optimistic, but there are exciting things to look forward to.

Explore topics
Share this article