Off Kilter, BBC Two |

reviews, news & interviews
Off Kilter, BBC Two
Off Kilter, BBC Two
Jonathan Meades tours the forgotten towns of Fife
Wednesday, 10 February 2010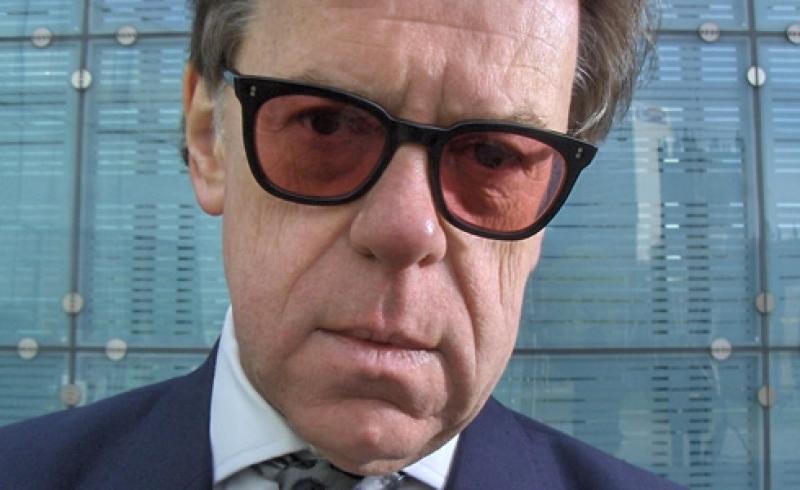 Meades: 'Veracity bows to the power of a well-turned phrase'
Fife, like Scotland itself, is a mass of contradictions compressed into a relatively small space: beautiful beaches lie in the shadow of lowering tower blocks; the pink, plump prosperity of St Andrews rubs against the scar tissue of former mining towns like Methil; tourism nestles uncomfortably close to despair. Fife provided Jonathan Meades with the location of his third and final instalment of the immensely enjoyable Off Kilter series on BBC Two, but the state of the entire nation was his theme.
With Meades, you expect shameless partiality, skewed perspectives and a tendency towards hammy hyperbole. His vision of Fife discarded completely the postcard-pretty, affluent East Neuk in favour of the dilapidated coal mining towns at the Kingdom's centre; it also incorporated places (Alloa, Falkirk and Grangemouth) that aren't in Fife at all. But this is all forgiven. Meades shapes the world to fit his own purposes, and on this evidence the fact that veracity bows to the power of a well-turned phrase may very well be something we could use more off on television. Regardless of his playing fast and loose with the premise, Off Kilter told a greater truth, as well as being at the same time highly entertaining.
Wearing the kind of tangerine shades last seen on the cover of Elvis Costello's Trust, and taking direction from a foul-mouthed SatNav (voiced with relish by Siobhan Redmond), Meades hauled himself around the "football coupon towns" of Fife drizzling nimble wordplay, visual silliness and dry humour like fairy dust over every grey thing he encountered. And there was a lot of grey. The visitor from the South enters Fife gaping at that great totem of Scottish industry, the Forth Rail Bridge, and then heads towards Dunfermline, birthplace of the global entrepreneur Andrew Carnegie. It's a steep downward slope from there in, however. Deprived towns, closed mines, shuttered pubs, lives conducted in eternal cul-de-sacs.
He wove the country's shameful diet into a wider web of spiritual malnutrition
Meades did occasionally wander down conventional paths, displaying the traditional well-heeled Englishman's paranoia – actually, make that plain resentment – of the "Scottish Raj, the Caledonian Camorra" that propelled New Labour to power. He also endorsed the lazy adoption of the deep-fried Mars Bar as the symbol of all Scotland's nutritional ills. As someone who has lived in Scotland - off and on, but mainly on – for my entire life, and as an frequent and enthusiastic haunter of the fish-and-chip emporium, I can safely say that I've yet to see anyone even ordering these things, let alone eating one. They're rarely even on the menu. They are, however, eternally beloved of film crews looking for a cheap shot.
However, Meades emerged from this parade of over-familiar signifiers – Irn Bru, Buckfast, the discarded vodka bottle – to make some quietly devastating points. He wove the country's shameful diet into a wider web of spiritual malnutrition: the "neo-vernacular rabbit hutches" that count as modern architecture; the decimation of traditional industries which have left nothing but a hole where pride used to be; the damaging sense of victimhood worn like a badge of honour.
He was also very good on the way Scotland remains an essentially feudal land, hopelessly unbalanced and divided. The lines dividing rich and poor, old and new, urban and rural, remain rigidly defined. In one of the film's most illuminating insights, Meades seized on the nickname of Cowdenbeath FC – the Blue Brazil – to make the point that Scotland, despite the oft-repeated tales of Glasgow's gang warfare and Edinburgh's heroin blight that have penetrated the south's common consciouness, is not a country suffering principally from urban deprivation; it is instead a country experiencing suburban and ex-urban blight, a place where "favelas" dot the rural landscape, whose inhabitants have been "rationalised into involuntary idleness".
This is the wider truth that Meades' important little film picked up on. Despite its rich historic heritage and its abundant natural beauty, Scotland is not Brigadoon, and never has been. The creation of a country of hills, glens and tartan tat, as Meades witheringly pointed out, has been "a 200-year long PR stunt". What exists instead is something far less easy to romanticise.
Take a short drive from the city into the countryside in almost any part of Scotland and you'll find these places. Drab, dreary, bereft little towns, with their struggling football clubs and "willed absence of delight". They are the heart of Scotland's matter. Meades unravelled the narrative of their neglect – which has been both self-inflicted and enforced - with an evident anger and an awkward compassion lurking beneath his bone-dry veneer. At one point he declared that Margaret Thatcher, whom he dubbed "Finchley" and whose policies helped rip the heart out of industrial Fife, was "quite incapable of empathy". Meades is not. He also pointed out, gazing at another of the countless subfusc monstrosities which scream "know your place" and count for modernism in the shuttered minds of Scottish town planners, that imagination costs nothing. A useful lesson for a Wednesday night.