Ariadne auf Naxos, Garsington Opera review - golden thread leads to deep emotion |

reviews, news & interviews
Ariadne auf Naxos, Garsington Opera review - golden thread leads to deep emotion
Ariadne auf Naxos, Garsington Opera review - golden thread leads to deep emotion
Great cast rides on a magic carpet furnished by Mark Wigglesworth and the Philharmonia
Beating hearts, different outlooks: Jennifer France as Zerbinetta and Natalya Romaniw as Ariadne
When tears well up during stretches of Strauss and Hofmannsthal's curious hybrid which you never expected to move you, something special's going on. The magic happened last night in an evening which I didn't anticipate equalling "the Carmelites experience" at Glyndebourne. But, in its very different way, it did, in terms of casting, conducting and a production (by Bruno Ravella) that wasn't too interventionist but had some powerful ideas of its own.
Any country-house production of this "let's make an opera" charmer would seem to promise pure pleasure – what Brecht called "culinary opera". But Ravella and Wigglesworth, with the best possible cast, serve up much more than that. There are clues as to how to make it deeper: composer and poet wanted to conjure both "the mystery of transformation" as Ariadne, abandoned by Theseus, longs for death but discovers a divine love with the arrival of Bacchus, and the contrast between "the heart that's frozen and the heart that beats"; the latter is embodied in popular entertainer Zerbinetta, whose commedia dell'arte troupe must improvise their way into the opera seria at the impossible request of the rich Philistine who wants to move as quickly as possible from supper to fireworks.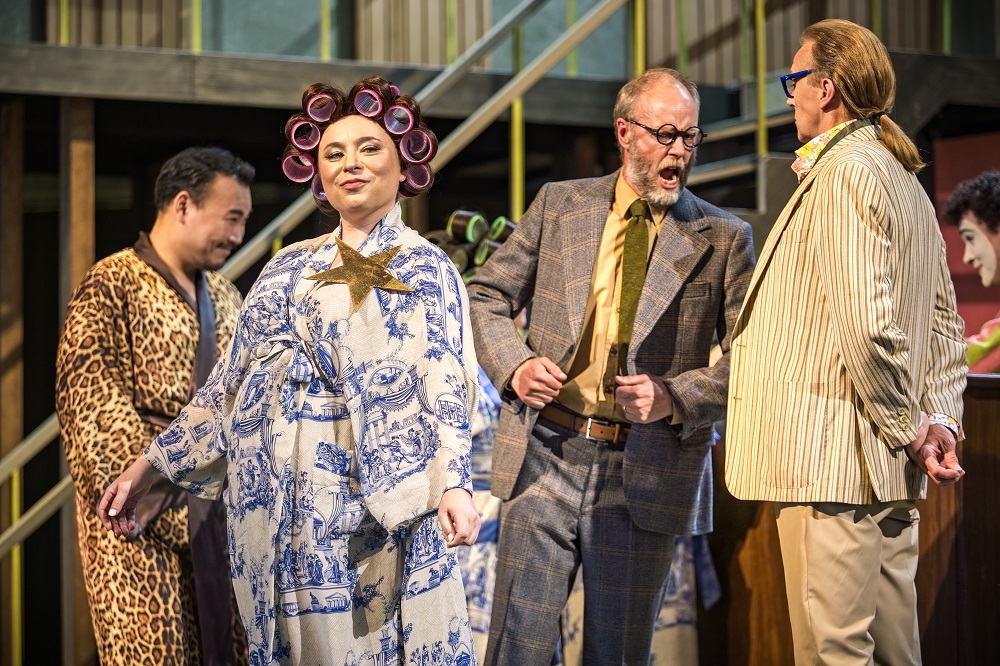 The Prologue which sets up the action in a backstage scene adapted from Hofmannsthal's original, spoken text in his "version" of Molière's Le bourgeois gentilhomme was composed later, when the two decided that theatre people didn't want to sit through the opera, and opera-lovers didn't want reams of speech. (Pictured above by Craig Fuller: Young Woo Kim as the Tenor, Natalya Romaniw as the Prima Donna, William Dazeley as the Music Master and John Graham-Hall as the Dancing Master).
You could call it a "prequel", incorporating all the themes of the opera/harlequinade which had already been composed. Rarely has it moved with the speed and definition of forked summer lightning, as it does here: Wigglesworth makes everything take flight from the start, and long-term preparation with director and singers means everything is miraculously fused. That makes the cool waters of reflection which punctuate the hurly-burly all the more moving: we're awed when Polly Leech's flame-toned Composer explains the eternal constancy of Ariadne, the arrival of a god, and moved when Jennifer France's Zerbinetta, far from stalling for time by charming the young "man" with "extreme coquetry", as the stage directions have it, strips away the business and is clearly sincere when she says she's lonely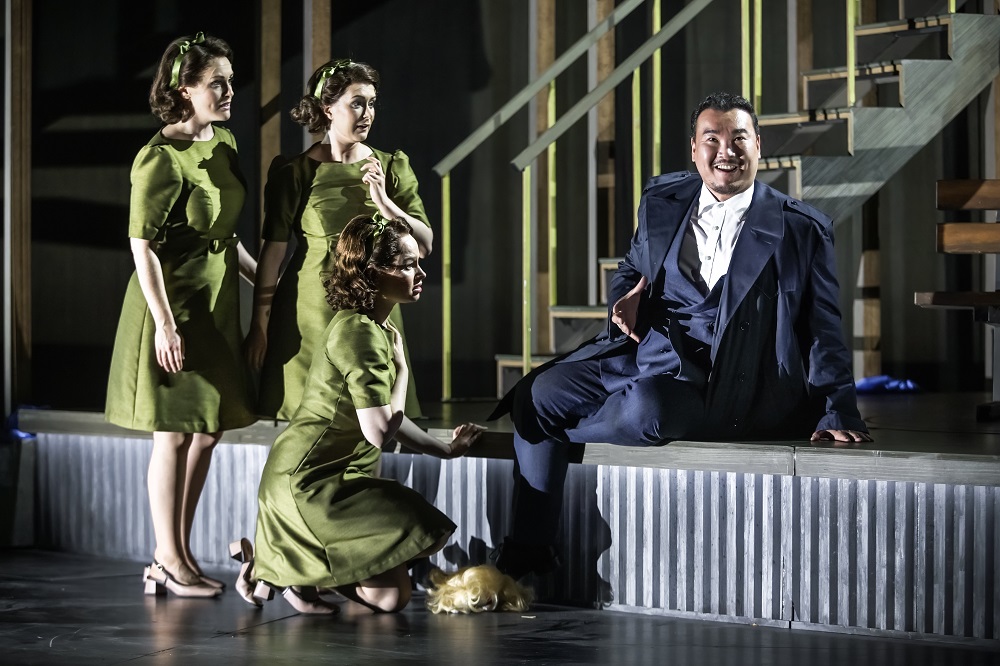 Those pools of radiance, with exquisite solos in Strauss's chamber-musical score from Philharmonia principals, keep bathing us throughout the opera, some of them surprising: the melismas of Echo (Harriet Eyley) to the very lovely song of Harlequin (Marcus Farnsworth) to try and console bereft Ariadne, the special space and aura given to Zerbinetta's reflection with solo cello towards the end of her vast set-piece and to the nymphs' Schubertian lullaby reacting to the voice of Bacchus (pictured above by Craig Fuller: the Nymphs - Claire Lees, Siân Griffiths and Harriet Eyley - with the Bacchus of Young Woo Kim).
But the sense of supernatural beauty needs to rise in the long getting-to-know-you of Bacchus and Ariadne, both deeply wounded by unhappy experiences and initially at cross-purposes. We're already keyed up by an enraged Zerbinetta trying to break out of the role assigned her (the model for the more-than-showpiece, after all, was a Mad Scene, the coloratura flute-chasing of Donizetti's Lucia di Lammermoor), the totally astounding Jennifer France (pictured below by Cliva Barda) bold enough to make extreme sounds when this unusual characterisation demands it, and the drive of the returning nymphs' trio (Claire Lees and Siân Griffiths are as dazzling as Eyley).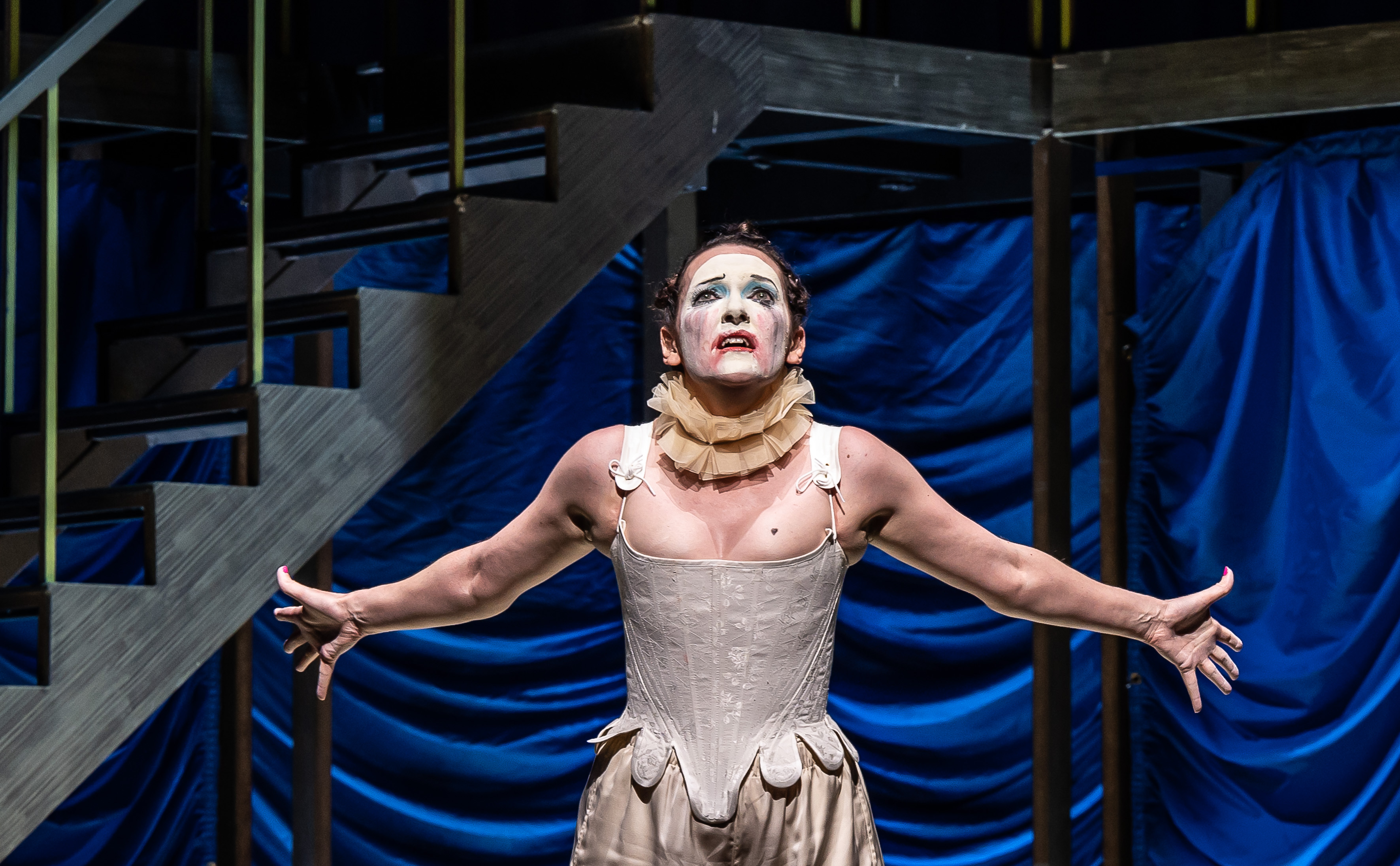 Can the Bacchus deliver, though? It's a notoriously ungrateful part: usually people will remember an heroic tenor who doesn't cut the mustard, or forget one who does a merely decent job. Young Woo Kim is simply the best I've ever seen or heard: the challenges hold no fear for him, and as a scarred soul washed up on shore, he paces the characterisation perfectly with his wonderful facial expressions, tenderness and later heroics.
Using falsetto when required, another weird and wonderful sound, he's matched for tenderness by Natalya Romaniw's Ariadne. I wasn't getting total connection with the text in her two arias, and while this is a chamber opera, it requires two big instruments, or at least singers of stamina – the voice that would be so perfect for Bayreuth can be overwhelming at times in the Garsington Pavilion. But Romaniw's soft singing in the later stages is utterly bewitching, and though we still don't know the full back story of these characters as Ravella perceives it, we go with their love and are deeply moved by it.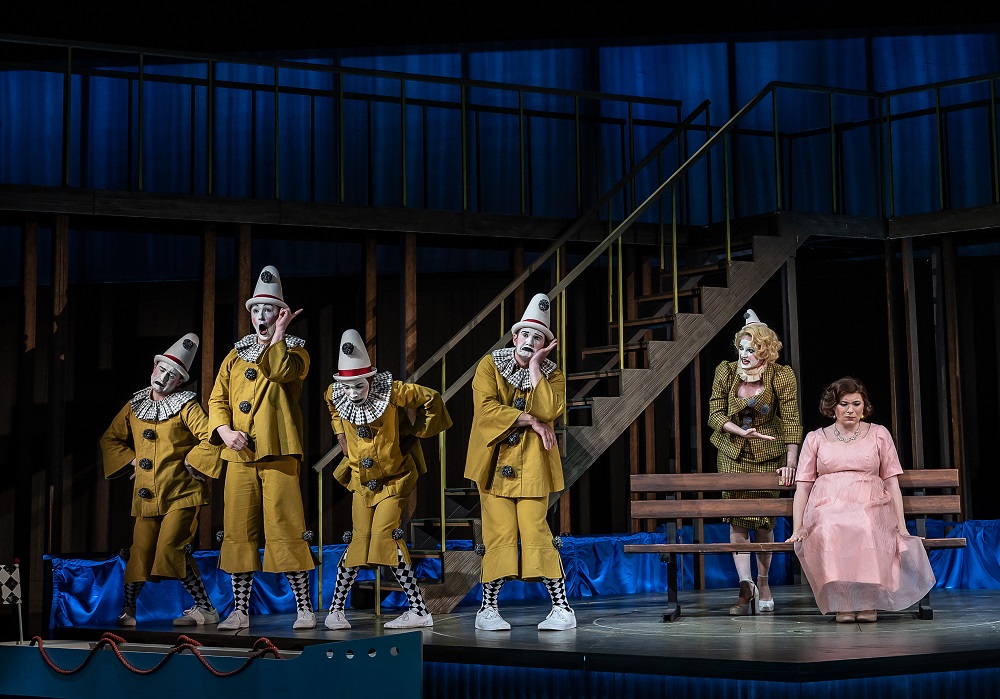 Drama, not mere entertainment, is the keynote of the "comedy" element intervening. It starts with brilliant gags, France in Marlene wig directing the "boys" (Farnsworth, Ossian Huskinson, Richard Pinkstone and Innocent Masuku, who's charming but needs to watch co-ordination with the conducting. The Harlequinade with Romaniw's Ariadne pictured above by Clive Barda). But once she goes off the rails, there's no going back to a merely pretty dance-scene: vulnerable and stripped down, she wants her colleagues to break out as well, but they turn her into a mechanical doll. Never has the Viennese waltz seemed creepier, not even in Salome and Elektra; but of course there's a pretext for clowns being so.
Ravella resists connecting with the Prologue beyond Zerbinetta's unfolding story. So there's no developing love scene with the Composer carried through – as it so beautifully did in Antony McDonald's positing of a deep lesbian relationship for Scottish Opera and Opera Holland Park – and "he" doesn't reappear. Instead there's a bench with a memorial plaque – Ariadne mourning loss, not abandonment – in the place where a piano was used so tellingly in the backstage scene.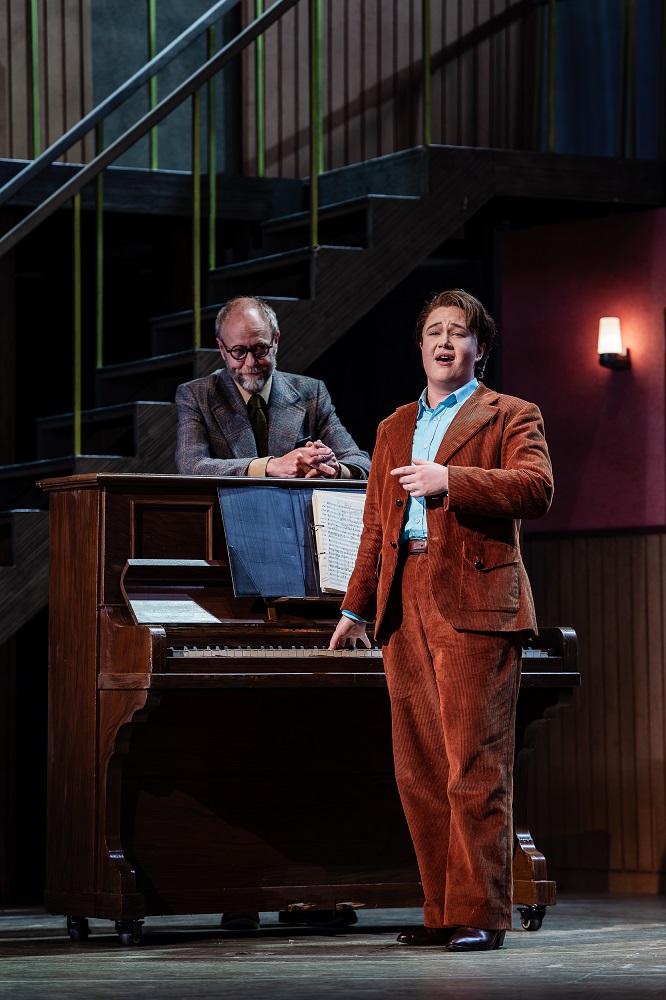 There's great teamwork here between dazzling Leech and William Dazeley's perfect Music Master – the two pictured right by Julien Guidera – ditto between Dazeley and John-Graham Hal las a very precise Dancing Master, and Walter van Dyk's Major Domo, who doesn't camp it up but is still very funny; tired old gags are banished in this Prologue).
Symmetries and groupings abound, veering between the stylised and the naturalistc, but never obviously; Giles Cadle's costumes – all excellent except for Ariadne's in the opera, which surely needs cinching, as RuPaul's Drag Race judges might observe – offset a harsh set (obviously deliberate, a big change from the opulence of Ravella's Garsington/Irish National Opera Rosenkavalier Acts 2 and 3, designed by Gary McCann). Malcolm Rippeth's lighting works the necessary magic after the interval. Yes, it's a perfect match for the beauty of the Wormsley Estate experience, but don't expect a light, untroubling ride – though thanks to the magic carpet Wigglesworth weaves from Philharmonia silk, you should levitate.