The Turn of the Screw, Garsington Opera review - terrors and tragedy |

reviews, news & interviews
The Turn of the Screw, Garsington Opera review - terrors and tragedy
The Turn of the Screw, Garsington Opera review - terrors and tragedy
All-round intensity in Britten's suppurating take on Henry James's ghost story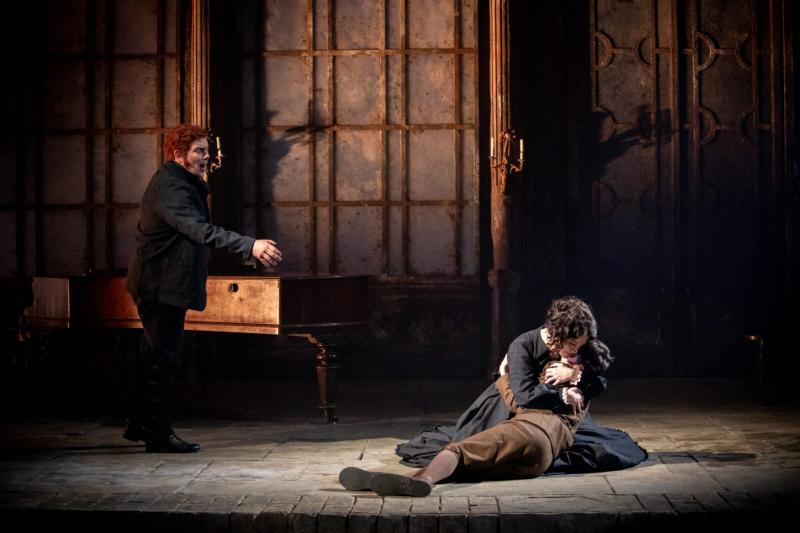 Quint (Robert Murray) retreats as the Governess (Verity Wingate) holds Miles
After the long interval, as darkness falls, the screw turns in this Garsington revival more woundingly than any I can remember for Britten's most concentrated masterpiece. Evil chords, trills, cadenzas and silences from the 13 superb Philharmonia players conducted by Mark Wigglesworth duly terrorise; Verity Wingate as the Governess to two orphaned children in a house which seems haunted by their former elders really does seem possessed.
If everyone has to work harder in the first act, audience included, that's the nature of the beautiful Garsington beast. True, ghosts can appear in broad daylight: the Governess's first encounters with the former valet and governess of Bly, Peter Quint and Miss Jessel, are not in the dark. But Britten's claustrophobic focus needs to pull you in, forgetting your fellow audience members, and you don't want to see the "ghosts" walk on ready for their terrorising. The scene by the lake feels too indoors-y for all the birdsong and frog-croaking in the score - counter-intuitive as a real lake is just down the hill. The last scene of the act is "At Night", the ghosts' high noon; if this is the Governess's half-blind nightmare, it needs to be ours too.
Still, it's so admirable of Louisa Muller's production that she departs from the company of most directors by setting the "curious story", as James does, in the Victorian past, where what can't be said, only implied, has more power, starting almost conventionally, but by degrees adding her own powerful twists to an already hauntingly delicate situation.
The Guardian-narrator (Robert Murray pictured above with Verity Wingate) touches his potential employee once on the cheek, which is enough to trigger her first fantasy; later, the boy Miles does so too. Yes, the "ghosts" are real, and come close very early on (we see their appoaches sometimes too, maybe not so good). But that pays off in a lacerating tug of war for the souls of Miles and Flora (two important things I always remember about the James original - whether they are in the Governess's mind or not, bad things did happen during their time at Bly; and the real tragedy is that they want the children to be too bad, while the present minders want them to be too good - another Victorian duality).
There's a physicality about this scary battle of dangerous adults which expresses itself in powerful singing from all concerned. Verity Wingate (pictured below) is vocally the most powerful Britten Governess I've heard: seemingly sweet lyric, pulling out dramatic powers fairly early on which mark her as a dangerous mix of impressionability (she's read too many Gothic novels, is all tol ready to love and hate) and will power. The mounting desparation is frightening to watch, and the denouement where she takes up Miles's bittersweet song of trouble at full pelt is devastating (likewise what follows in this production). Powerful sensuousness is superbly matched by Helena Dix's Miss Jessel; in ensembles and what becomes a duel-duet in the schoolroom, the vocal riches are overwhelming. Gripping, too, in the narrative of what happened by old housekeeper Mrs Grose; Susan Bickley makes her explanation of the past terrifying, as if she too is possessed in remembering it.
Yet at last at Garsington, after too many productions where the singers don't realise there's no need to be declamatory in the superb intimate acoustics of the wondrous pavilion, so much is trusted to be as quiet as possible. This, I'm sure, is Wigglesworth's doing. There's no danger of drowning out by a chamber ensemble which can sound, thanks to Britten's brilliant writing for every instrument, like a 100-piece orchestra. But at the quieter end, Robert Murray's chameleonic Quint can truly whisper as he puppeteers Miles to take the Governess's later. In his melismas, loud alternates with seductively soft at the flick of a vocal switch. The children's first two solos - Miles's "Malo", Flora's lullaby - begin very quietly but quickly rise to a rare intensity; Ben Fletcher and Adrianna Forbes-Dorant meet the difficult challenges as amazingly as any "children" I've seen (they alternate the roles with Isaac Rogers and Maia Greaves).
I'm not sure that every instrumental variation on the twelve-note theme needs stage action to go with it, though Muller fills each well and rejects the idea of intrusive bringing on and off of extra props (there's no bed in the Governess's night interrogation of Miles in Act Two, but it still works well).. What bewitching, insidious and/or creepy playing under Wigglesworth, though from the top instrumentalists - supernaturally wonderful in the case of Hedi Krutzen's harp, significantly baleful, the serpent in the garden from bassoonist Emily Hultmark; Garsington's partnership with the Philharmonia never ceases to impress. And the difficulty of notching up the tension, turning the screw, to the final Passacagla-endgame is magnificently sustained by Wigglesworth, another master-conductor to add to the company's growing roster.