Peter Grimes, Royal Opera review - impressive, not quite devastating |

reviews, news & interviews
Peter Grimes, Royal Opera review - impressive, not quite devastating
Peter Grimes, Royal Opera review - impressive, not quite devastating
Handsomely sung, played and staged, this production just misses the heart of darkness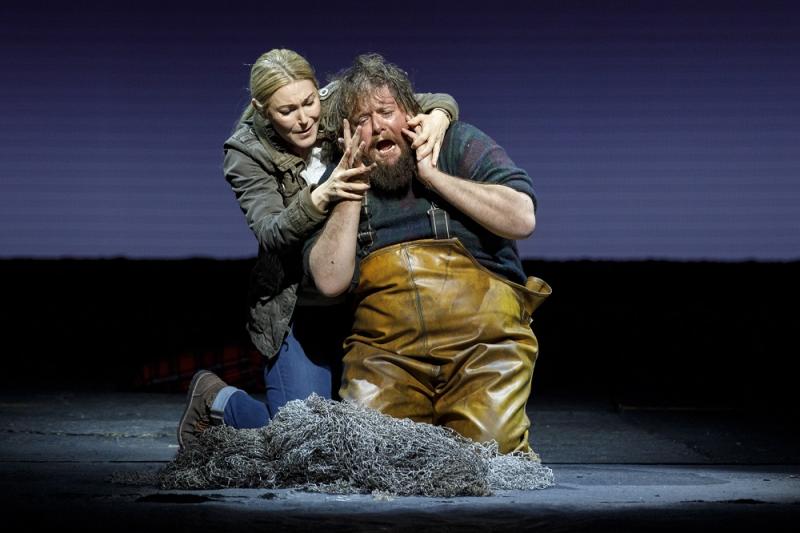 Maria Bengtsson's Ellen Orford tries to console Allan Clayton's Peter Grimes
"Why does he have to sentimentalise this piece?", Britten is reported by former Royal Opera director John Tooley to have said of Jon Vickers as Peter Grimes the tormented fisherman, so very different from the composer's life partner and creator of the role Peter Pears. Britten didn't qualify his disappointment by stating what for most of us is obvious: Vickers was one of the great tenor voices, and his latest successor in the role, Allan Clayton, is heading for that kind of status too.
Handsome indeed, as is this production and so much about it; but in both Vickers' case and this, lacking some of the psychological turns of the screw which should have one going out into the interval after Act Two devastated and leaving the opera house emotionally exhausted..
So much is fine about every aspect of Deborah Warner's production, originating in Madrid and now at the Royal Opera to follow the Brechtian spareness of Elijah Moshinsky' s take, which Britten admired even if he had serious reservations about Vickers, and Willy Decker's razor-sharp incarnation with Ben Heppner at the very peak of another great, but shorter-lived, career. There's plenty of invention to fire the imagination. The open verdict on the death at sea of the fisherman's apprentice is a nightmare of the sleeping Grimes, not a naturalistic court scene, with a striking vision of the drowned youth (aerialist Jamie Higgins, unfortunately with strings visibly attached). The crap seaside town of the present-day – few productions now observe the original 1830s setting – has boarded-up shop fronts, a litter-strewn beach and feral youth ripe for political extremism. Michael Levine's sets are adaptable, sea-girt when necessary, stunningly and variousy lit by Peter Mumford. Grimes's vision as he takes shelter from the storm is delivered to the closed door of the pub, back to the audience, and sung by Clayton as beautifully as you'll ever hear it.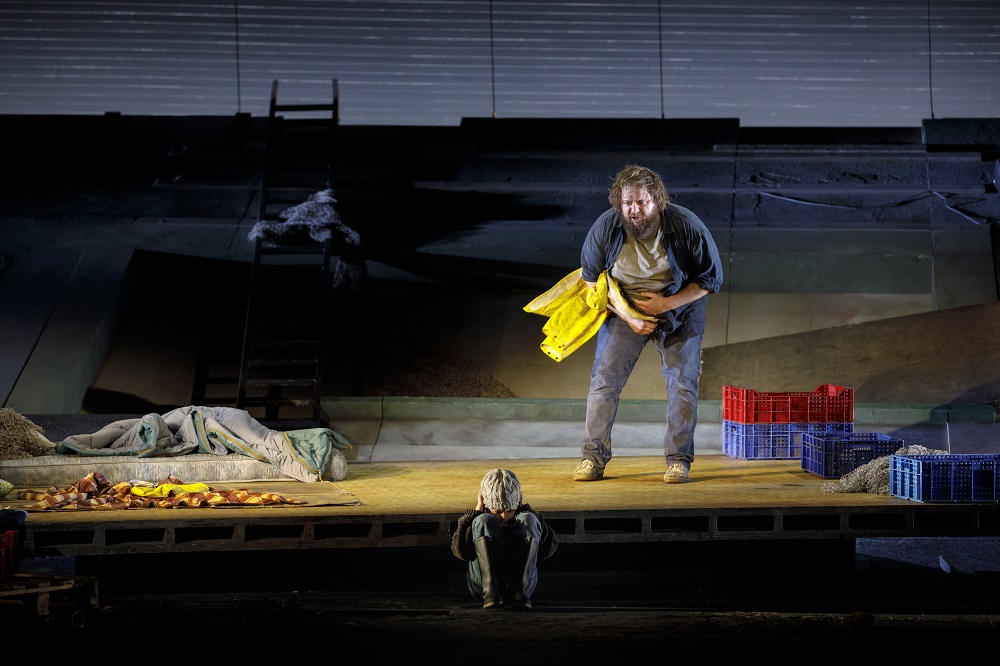 The too-soft edges begin in Act Two. Grimes doesn't strike helpmate Ellen in frustration – soprano Susan Bullock recalls how, to make it real, she actually asked the great Philip Langridge in the ENO production to go for it simply not to dissipate the awful tension with a fake hit - but, in Warner's scenario, "loses his temper, pushing Ellen to the ground"; the very sympathetic Maria Bengtsson then has to limp around a bit too much with a sprained ankle - and would she really be pushed over again, this time deliberately, by the Borough yobs without anyone objecting?
Perturbed originally by the Royal Opera's advertisement for a boy "aged 5 to 10" for brutalised Apprentice 2, I raised the objection that Grimes needs a "workhouse brat" at least in his early teens to help him with the heavy work. Clayton, in a Twitter exchange, responded that the apothecary Ned Keene (a totally vivid and brilliant characterisation of feckless, sexy youth by Jacques Imbrailo) messed up and brought back an apprentice far too young, but we don't see that play out in the production. The original company assurance that the boy had a counsellor always to hand seemed to me beside the point: in Act Two Scene Two Britten and his variable librettish Montagu Slater give us the full force of physical abuse, so disturbing in Langridge's performance for ENO, but here the threats are all toned down in the interests, perhaps, of child protection (pictured above, Clayton with Cruz Fitz).
Everything about this scene seems wrong to me. The cliff is down by the hut; the landslide isn't actually in it, as the leaders of the posse seem to be telling us, so topography is messy, especially as the apprentice goes down the ladder at the back, Most seriously, the internal monologue which Britten found so objectionable in Vickers' performance is slowed to a similar sentimentality by Mark Elder – not Clayton's fault, though he seems to me more great singer who can act rather than the born singer-actor. Tthe orchestral playing is always extraordinarily good, but Elder's pacing can be questionable here and elsewhere. Grimes's dreams and aspirations don't need special pleading. It seems sentimental to me, too, to have the fisherman's distress over his latest boy's death played out to the lovely if acid-edged moonlight interlude which begins Act 3.
This is the chorus opera in excelsis, and the Royal Opera forces do it taut and proud in co-ordination with Elder. Perhaps there's too many wavings of arms and clenched fists aloft – watch the Richard Jones La Scala production on DVD for superb if stylised movements by choreographer Sarah Fahie, and much more distressing depth in characterisations – and the actors are clearly set apart as the mob inciters (pictured above). The gallery of secondary characters features strong performances from Imbrailo, John Graham-Hall (a much more on-the-edge Grimes for Jones) as Methody raver Bob Boles, Catherine Wyn-Rogers, the maternal Auntie, and Rosie Aldridge as home-counties lady Mrs Sedley addicted to laudanum. But John Tomlinson gives too much of A Performance as lawyer Swallow, and there's something a bit too much out of line about the usually excellent Bryn Terfel's Captain Balstrode.
In the end, any reservations won't worry most spectators, least of all those seeing this superbly realised drama for the first time. As a fine conductor of the work said to me earlier this week, Britten's first operatic masterpiece is bulletproof, and everything is good enough here to pass muster. The show and its protagonist will probably walk away with every award going. Compared to the very greatest, though, preserved on film, it's not quite enough.