Das Rheingold, Longborough Festival Opera review - more Wagnerian excellence in a Gloucestershire barn |

reviews, news & interviews
Das Rheingold, Longborough Festival Opera review - more Wagnerian excellence in a Gloucestershire barn
Das Rheingold, Longborough Festival Opera review - more Wagnerian excellence in a Gloucestershire barn
Minor teething troubles but no reduced impact for Negus's new Cotswold Ring
Wotan (Darren Jeffery) seeking the moral high ground with his unpaid workers
The whole raison d'être of the Longborough Festival was always the performance of its founder Martin Graham's beloved Wagner.
So it's perfectly natural that the twelfth anniversary of the start of the festival's
original Ring cycle
should be marked by the inauguration of a completely new cycle, under, so to speak, new management: the Grahams' daughter Polly, who took over as artistic director last year, and the Royal Opera's Amy Lane, directing
The Ring
itself.
Natural perhaps, but still an extraordinary achievement for a rural festival in a converted barn seating five hundred (in bucket seats salvaged from Covent Garden after one of its upgrades). Not the least remarkable is that there no longer seems any need to make allowances. The opening Rheingold, under Longborough's presiding musical genius Anthony Negus, is certainly not without its teething troubles; but what Ring cycle ever was? Negus has refined his reading to fit the scale of this intimate, almost cosy theatre, and the chamber character of the result leaves little hiding place for minor faults of ensemble and intonation that might get lost in a larger, more vibrant, open ambience.
It also, though, allows the music (in, presumably, Gottfried Lessing's reduced version) to speak in ways that it can't in a bigger space. It reveals orchestral detail - the marvellous precision of Wagner's ear - and it brings the singers forward, giving them contact with the audience that Wagner singers can rarely experience (and in some cases might prefer to avoid).
Negus's cast mostly copes admirably with the challenge. The unquestionable star of the show is Mark Le Brocq's Loge (pictured below), a kind of fin de siècle Mephistopheles, with frock coat and cane, pirouetting round the stage in a way that openly ridicules the stolid, bewildered, humourless bourgeoisie of mount Valhalla, and even runs rings (non-golden) round the crafty tenants of Nibelheim. He also sings - the most lyrical music in the opera - with elegance and eloquence.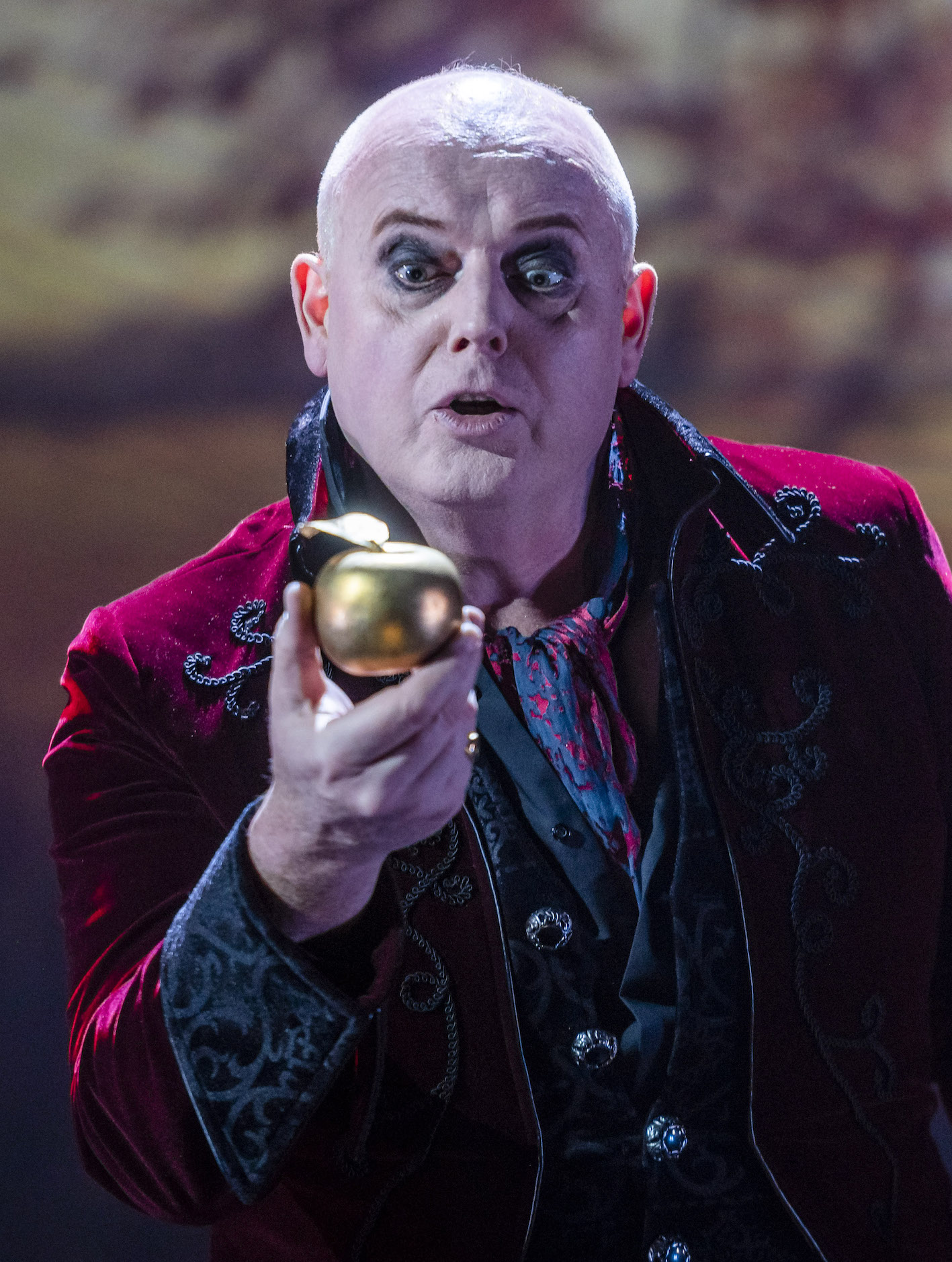 But there are excellent things elsewhere. Mark Stone's Alberich, though inertly directed, has moments of real vocal splendour, Adrian Dwyer is a lively if too likeable Mime, and the giants, Fasolt (Pauls Putnins) and Fafner (Simon Wilding), are cleverly differentiated both vocally and professionally (chauffeur and bookmaker perhaps). I like very much Amy Lane's idea of a hypersensitive, lovelorn Fasolt and a tender Freia (Marie Arnet) who would almost elope with him if it weren't for her duties in the Valhalla orchard. And did I detect a parallel moment of sympathy between Wotan and Alberich at the moment when Wotan seizes the ring? Honour among thieves, or some deeper vibration?
Darren Jeffery, though, is not an entirely convincing Wotan, vocally somewhat backward, and like Stone underproduced. He rarely commands as he should, even as a moral delinquent, which alas he is. Madeleine Shaw, his Fricka, tells him so, firmly and lovingly - an affection to be more sorely tested in next year's Die Walküre. A strong trio of Rhinemaidens (Marie Wyn Williams, Rebecca Afonwy-Jones and Katie Stevenson) cavort in an earthbound sort of way on the river-bed. But almost the most beautiful singing of the whole evening, and the most magical touch, comes from the Erda, Mae Heydorn, exquisitely backlit upstage, and vanishing, it seems, miraculously after declining Wotan's rather tactless request for a longer conversation.
Magic, sadly, is not an abiding feature of Lane's staging as a whole. Alberich's disappearing tricks with the tarnhelm are more or less ineffectual, and (Le Brocq apart) the production generally lacks movement - a problem, admittedly, with so many characters, some of them Wagnerian in stature if not girth, on a small stage. Rhiannon Newman Brown's designs lean heavily on back projections of a more or less abstract kind, at their most telling in the scene transitions (though spoilt in the third of these by a pair of irrelevant dancing Nibelungs). The staging is tidy and, for a first night, remarkably mishap-free. But its best virtue is that it avoids cluttering the music with egregious concepts, leaving Negus and his musicians the aural, if not the physical, space to do this great music justice.