Don Pasquale, Royal Opera |

reviews, news & interviews
Don Pasquale, Royal Opera
Don Pasquale, Royal Opera
Serviceable revival of a sketchy Jonathan Miller production brings no surprises
Monday, 13 September 2010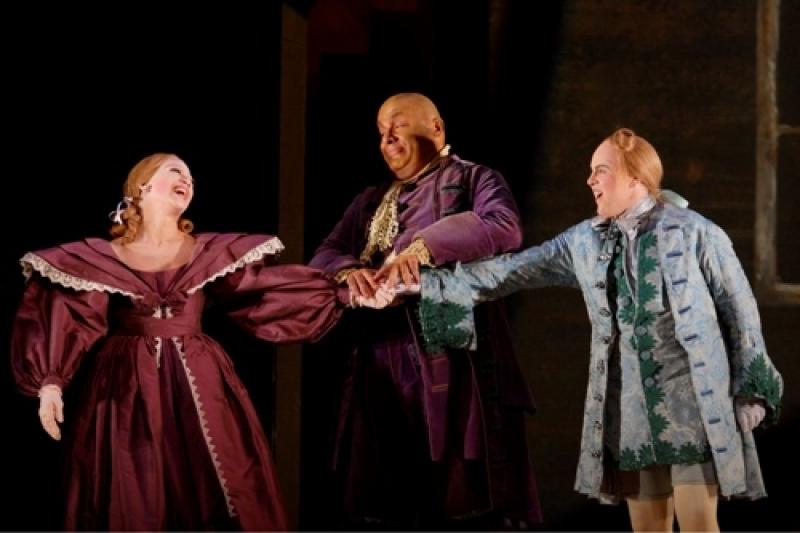 No surprises from Íride Martínez and Barry Banks as young lovers pardoned by uncle Don Pasquale (Paolo Gavanelli)
Anticipating revivals of productions that were hardly vivacious in the first place, you can always find reasons to hope. Perhaps there'll be a dazzling house debut. Maybe someone, preferably the revival director, will bring a more focused individual zest to the kind of rough character sketches Jonathan Miller leaves flailing around his beautifully conceived historic locales. Not on this occasion.
Singing and conducting were never less than accomplished, but only half-hearted titters from a sparse audience greeted the inhabitants of Miller's
opera buffa
toytown - more dullsville than doll's house.
So this won't take long - unlike Donizetti's romantic comedy, which can seem interminable if its post-Rossinian brio isn't spruced up and buoyantly focused. Once you've looked around the six rooms and staircase of Isabella Bywater's model merchant's house, finely detailed and crisply lit by Jvan Morandi, you wait patiently for the plot to start rollicking. Sir Jonathan has always been able to talk about these kinds of commedia dell'arte characters - silly old man, scheming young lovers, resourceful intermediary - and he did bring them to life in his long-serving ENO production of Rossini's Barber of Seville. But here revival director Daniel Dooner is just left to go through the motions.
Ageing bachelor Pasquale worships the Rembrandt-or-followers portrait of his mother (hence the Dutch-genre interiors of an 18th-century gentleman's home). He's sung by Paolo Gavanelli with a baritonal bleat reminiscent of the over-rated Rolando Panerai, not much of a lower register and only an approximate assumption of the patter that should set the liveliest duet in the opera, "Cheti, cheti", bouncing. Bring back Alessandro Corbelli, true master of this style. Gavanelli's duo partner in this is the Jiminy Cricket-like Doctor Dulcamara of Jacques Imbrailo - dapper, but with too fast a vibrato to phrase his first cavatina with the Italianate breadth it needs.
The lovers, too, can be smart, but only Barry Banks is sweet, more than a match for the consummate orchestral trumpet solo in the forlorn Act Two aria where he does nothing much with a giant pair of scissors and a teddy bear. Despite an interval announcement of an allergic reaction, he ended up sounding as ideally light-Italian-tenor fresh as he'd started. Íride Martínez, appearing at the Royal Opera for the first time, has a good instinct for comedy, impersonating the harridan wife "Sophronia", but you really want a young and fruity minx of a Norina, and Martínez's voice, with its useful coloratura, has no hint of nubile sensuousness.
Conductor Evelino Pidò gives them springy support, and freedom when they need it, but even a reasonably sparkling orchestra doesn't quite lift the evening. This perfectly fine vocal quartet might have made more of their tergiversations, but that would have needed a Laurent Pelly or a Caurier/ Leiser approach to set up the gags, and I'd suggest either if and when Covent Garden plans another Don Pasquale.
Explore topics
Share this article