The Exterminating Angel, Royal Opera |

reviews, news & interviews
The Exterminating Angel, Royal Opera
The Exterminating Angel, Royal Opera
A savage new conversation piece lives up to its distinguished source
Christine Rice, Audrey Luna and Sally Matthews as society ladies self-trapped in Buñuel-world
"But is any of this normal?," asks poor Beatriz at the end of Act One. Of course not. She and 14 other grand creatures are crossing the space of an aristocratic drawing-room from which, they are coming to realise, there is no escape. At the same time, it's completely normal. This is opera.
What appalling fun Thomas Adès has with the business of opera in The Exterminating Angel, given its UK premiere last night by the Royal Opera. Its conventions, faults, virtues, singers, audiences, even conductors: all are skewered by a pen of poison-tipped invention. Imagine chomping your way through an entire bar of artisan chocolate, 85 percent cocoa, expensively packaged, black and bitter to the end. It gets a bit much, like going cover to cover through a compendium of Gerald Scarfe cartoons.
Anyone familiar with the Luis Buñuel film from which Adès and his librettist Tom Cairns have adapted their subject – and anyone intrigued by glowing reviews of the premiere production at the Salzburg Festival last summer – may rest assured: the sheep are here. They are good English sheep now, of course, whose van could be seen – and smelled – from the other end of Floral Street. From Salzburg comes the all-star ensemble cast. It is considered poor form to pick out favourites, though I will venture to say that their parts – or their astute casting – divide down generational lines.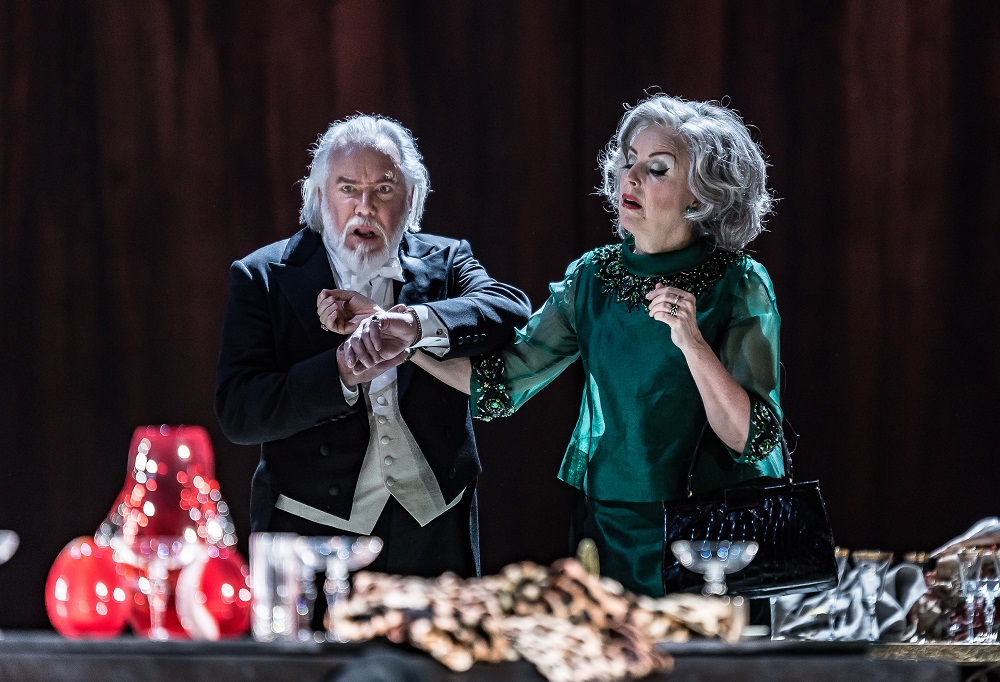 The windy fustian of John Tomlinson's doctor, the dazed enchantment of Anne Sofie von Otter's old bag (pictured above with Tomlinson), the eruptions of Sir Thomas Allen's maestro, are all character roles, and hardly more so than the stiff bewilderment of the Colonel (David Adam Moore), the magnificently impulsive explorer-Count (Frédéric Antoun) or Eduardo and Beatriz (Ed Lyon and Sophie Bevan), the two young lovers. To them is given (of course) the opera's loveliest music, a deliquescent duet of lines as softly entwining as their limbs, somewhere between life and death.
The duet is as shocking in its way as the artful parodies and pastiches that litter the rest of the opera. One highlight was the return of the sheep (soon to be roast lamb) in Act Three, to a monstrous perversion of "Sheep may safely graze". This is a score of infernal ingenuity, hectic and even relentless in the first two acts, before switches of scene – inside and out, as in the film – bring changes of pace. Though the orchestral writing feels mostly familiar in its stratagems from the composer's work of the last 15 years, it is now capped by vocal lines drawn as deftly as their characters, and by the sweeping wail of an ondes martenot that may represent the exterminating angel itself.
Most compelling were the characters in mid-life, like Adès himself: Sally Matthews, spellbinding as a silly but increasingly sympathetic widow and mother; Iestyn Davies as her self-obsessed brother with a little Baroque lament over missing coffee spoons; the thrilling high tenor of Charles Workman as the gracious host, and his wife, superbly sung by Amanda Echalaz. At least for them some scintilla of sympathy may be roused.
Designer Hildegard Bechtler has effectively repurposed her reassuringly haut-bourgeois proscenium and backdrop from the Royal Opera/La Scala production of Die Frau ohne Schatten, staged in 2012 and certainly due for revival. There were murmurs around me about the low level of Jon Clark's lighting, but it produced many effects no less subtly effective than Cairns's staging, not least a receding sense of revelation and a dawning of new terror as the opera moves from its climactic chaconne to a savage "taking back" of the triumphant close to Messiaen's St François d'Assise.
The characters enter their lethal and lethargic stupor (pictured above, the ensemble in extremis) after the first of the opera's interpolations to the cinematic narrative, a set of piano variations on (we are told) a Sephardi Jewish theme. Led by Audrey Luna's coloratura diva, they finally sing their way out of it to a psalm-like text: "I am the wail of jackals, I am the violin for your songs". Music is the force that Adès believes in.