First Person: Anna Lucia Richter on Monteverdi and a transition from soprano to mezzo |

reviews, news & interviews
First Person: Anna Lucia Richter on Monteverdi and a transition from soprano to mezzo
First Person: Anna Lucia Richter on Monteverdi and a transition from soprano to mezzo
A last gift from the pre-Covid era followed by surprises in a time of pandemic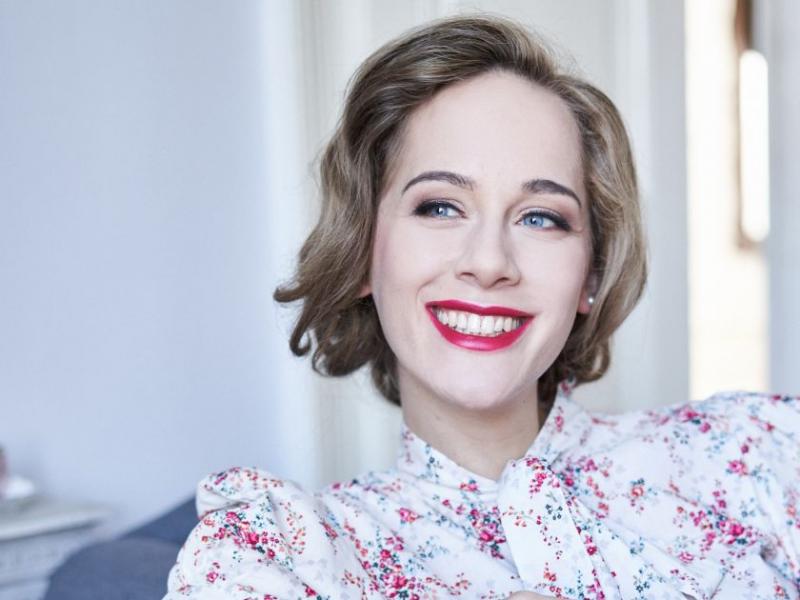 Anna Lucia Richter: 'suddenly I had time to reflect and look back over the last ten years'
It's actually quite a strange feeling to know that my CD Il delirio della passione is now out. I recorded this amazing, all-embracing Monteverdi project with Luca Pianca and Ensemble Claudiana over a year ago, in January 2020. That was another world, another time.
At that point,
PPE and masks
belonged in hospitals, we greeted each other with hugs and many of us musicians were known to groan at the prospect of months of busy touring – a luxury now. I regarded myself a true soprano and my calendar was pretty full for the next two years. Had my future self visited me and told me that I would be sitting at home alone for an indefinite time, there would be no more live music, and I would change to a
mezzo-soprano
, I would never have believed it.
The week we spent together to make the recording was an exciting and challenging time. Claudio Monteverdi's music demands humility on the part of all performers, great precision, and extremely thorough preparation. The lines of the singing voice are consistently aligned with the melody of speech. So it was all the more important to study the language in depth, especially because it is the Italian language of poetry from the late 16th to early 17th centuries.
So, full of curiosity and with funds from my Borletti-Buitoni Trust award, I was able to study for almost year with the fantastic Italian opera expert Serena Malcangi. Lamento d'Arianna is a perfect example to illustrate the value of this intense study. An extraordinarily poignant piece, it is the only surviving fragment of the opera of the same name. Fortunately, a library in Bologna has the complete libretto. Studying this whole historical document gave me a completely new context for the event and therefore, the significance of the lament. However, the most surprising realisation for me was that there were originally choruses within this lament that commented on Arianna's actions.
These interjections, based on the Greek theatre model, are also missing the musical score, but I find them fascinating. Luca and I agreed straightaway that the choruses are particularly important. They are a wonderful opportunity to give the listener a structure in which to place this detached piece of song and provide a perspective from which to process this incredibly intense, emotional outpouring. So we decided to insert small instrumental interludes into the originally intended places, which Luca devised, sensitively echoing Monteverdi's musical language. I count myself truly lucky to have had him at my side for this immersion in the world of this first, really great, opera composer. Luca Pianca knows Claudio Monteverdi like his own brother and is as enthusiastic as he is serious in his work. And so it was that every piece of this programme grew in my heart.
Actually my first introduction to Monteverdi was a few years ago when I sang La Musica and Euridice in the wonderful Sasha Waltz production of L'Orfeo with the Freiburg Baroque Orchestra (pictured above by Sebastian Boleger). I was immediately spellbound and moved by the extraordinary musical depth and authenticity of this work. So the Prologue from this opera is at the beginning of our CD to reflect the fact that it was the beginning of my own personal journey with Monteverdi.
A few weeks after all being together for our recording session in February last year, we were met with the shock of the first lockdown and, like so many of my colleagues, I was overwhelmed with a sense of emptiness and silence. Suddenly I had time to reflect and look back over the last ten years. Of course, I felt grateful for the many wonderful musical experiences from the beginning of my life as a singer, but I needed to take a close look at my voice. I discovered that it had recently grown a lot – especially in the middle register where there was more depth. No wonder. I had my first singing lessons when I was nine and that was when they identified me as a soprano. My voice didn't really mature until I was in my late 20s, at which point I had worked on the stage professionally for 10 years. I thought for a long time about what to do and realized that I had to accept my new situation, for the sake of my vocal and personal development. But I needed to find the courage to make this big change. In the end, after a few phone calls with Elisabeth Kulman and Professor Tamar Rachum in Israel, with whom I have worked via video calls since mid March, everything has worked out. I am infinitely grateful to her and at the same time amazed that with the help of a laptop and telephone, I could resolve everything in the middle of a pandemic.
So the rest of my 2020 was filled with vocal technique and a good deal of new repertoire. Hansel, Dorabella, Sesto, the Bach alto parts and also many Brahms songs became my loyal new companions at a time when so many other contacts with friends are forbidden. I can't wait for the time when I can stand on the stage again and share these new musical experiences with an audience.
I'm amazed that with the help of a laptop and telephone, I could resolve everything in the middle of a pandemic
Explore topics
Share this article