L'Orfeo, EBS, Gardiner, Colston Hall, Bristol |

reviews, news & interviews
L'Orfeo, EBS, Gardiner, Colston Hall, Bristol
L'Orfeo, EBS, Gardiner, Colston Hall, Bristol
Gardiner's Monteverdi ends at the beginning and is none the worse for that
The company: singing, dancing and acting with verve
This last of Sir John Eliot Gardiner's semi-staged Monteverdi series took us back practically to the very start of the whole genre. L'Orfeo was presented in Mantua in 1607 as a court opera, and will have been seen and heard by a fraction of the number of people who crowded into Bristol's Colston Hall on Sunda
y night. Between then and the
Ulysses
of 1641 the first public theatre opened in Venice, and the whole nature of opera was transformed.
Anyone who has come across the madrigal group I Fagiolini's Full Monteverdi performances will have an idea of how L'Orfeo emerged from the madrigals of Monteverdi's just-previous fourth and fifth books. I Fagiolini sing the madrigals to brilliant effect in dramatised settings, seated perhaps as customers in a restaurant, suddenly breaking into passionate conversation, declarations of love, recriminations, abuse. L'Orfeo is very like that, only arranged around an actual story – the archetypal story of early opera. And suddenly you have the first masterpiece of the lyric stage, a hybrid maybe, but one of such immaculate theatrical judgement that the transition seems the most natural process in the world.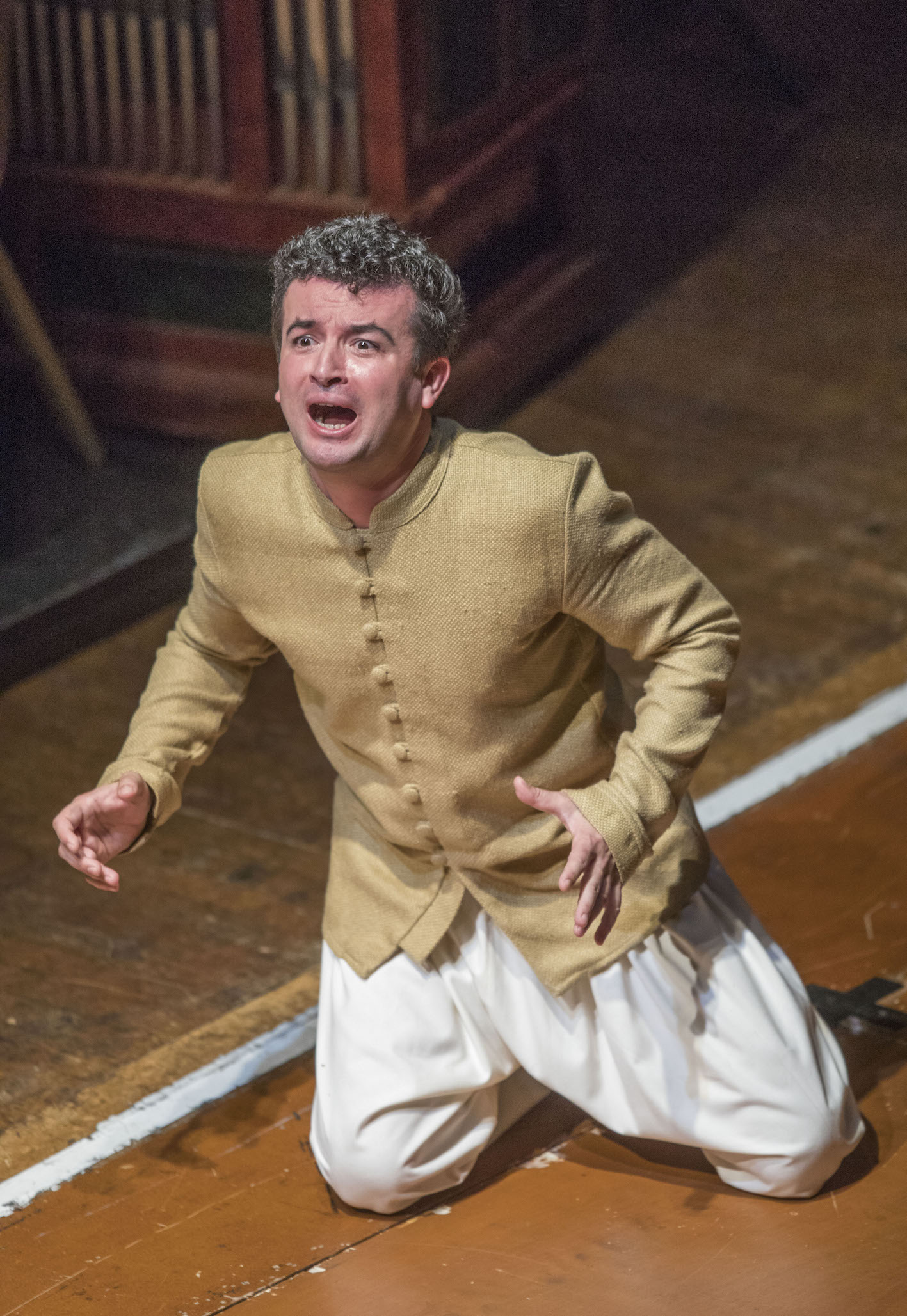 The first act, an extended celebration of Orpheus's love for Eurydice, is in one sense no more than a string of pearls: the usual allegorical boasting by some minor deity – here the Spirit of Music, nicely sung by Hana Blažíková, accompanying herself on the harp; then a brilliant sequence of choruses, dances and orchestral ritornelli, framing one grand formal aria, Orpheus's "Rosa del ciel". In another sense, though, it's a quasi Puccinian set-up, softening us up for the announcement of Eurydice's death by snake-bite at the start of Act 2 and Orpheus's dramatic confrontation with Charon as he tries to cross the Styx to retrieve his bride.
The drama is rather ceremonious, statuesque even, but none the less moving for that. For my money, Orpheus's "Possente spirito" is one of the greatest tenor arias in the entire repertoire, and Krystian Adam (pictured above) despatched it with tremendous panache, brilliantly accompanied by the violins and assorted brass of the English Baroque Soloists. No wonder Charon, the sombre-voiced Gianluca Buratto, succumbed, if only by the self-exculpating device of falling asleep. On the return journey, Orpheus's failure is due, not – as in Gluck – to Eurydice's pleadings, but to his own doubts. His turning round was startling and perfectly timed, and drew a gasp from the Colston Hall audience. Then finally his long lament, and the inevitable deus ex machina with sackbuts (trombones).
A better presentation of this beautiful, serene masterpiece would be hard to imagine. The music's madrigalian character means a lot of work for the chorus, and here the Monteverdi Choir were in their element, singing, dancing and acting with verve, precision but evident enjoyment. As with the two later operas, Elsa Rooke manoeuvred everyone around the limited and somewhat perilous space with great skill and without mishap, the whole thing discreetly costumed by Patricia Hofstede, a peasant smock here, a satin party frock there, black of course for Hades, but in general just a faint touch of the come-as-you-are (but clean and tidy).
The playing, a colourful mix of instruments known to have been used in 1607 (there is no full score), was incomparably eloquent and stylish, and the solo singing generally spot on. Blažíková's Eurydice (one of several doublings) had faint memories of her Poppea, a shade too much arm, but musically fresh and personable, and it was nice to see her in the final act ensembles: no prima donna she but a versatile team-player. For the rest, there were no weak links but too many strong ones to list. Anna Dennis was excellent, for the third time of asking, as Speranza, the Hope that is abandoned entering Hades; Lucile Richardot handled superbly her long, slow entrance as the bearer of ill tidings. But in the end it was Adam and Buratto who mattered, the first great operatic confrontation; and Gardiner, the ultimate master of ceremonies.