Hänsel und Gretel, Royal Opera review - not quite hungry enough |

reviews, news & interviews
Hänsel und Gretel, Royal Opera review - not quite hungry enough
Hänsel und Gretel, Royal Opera review - not quite hungry enough
Three top voices and vivacious conducting aren't enough to set fairytale juices flowing
Hanna Hipp as Hansel and Jennifer Davis as Gretel
Once upon a time there was the terrible mouth of Richard Jones's Welsh National Opera/Met Hänsel und Gretel, finding an idiosyncratic equivalent to the original Engelbert Humperdinck's dark Wagnerian heart. Then came something very nasty in the witch's deep freeze of the last Royal Opera staging, something of a dog's dinner from Patrice Caurier and Moshe Leiser.
It seems that The House got cold feet about the cold store after tabloid uproar - though not so much as to stop a revival - and the result now is a much cleaner but not much more flavoursome fantasy by director-designer Antony McDonald. It seems to be aimed at
younger children
- in which case why not sing it in English translation rather than the original German? - but those from eight upwards might want something with more bite early on.
Everyone works hard on detail, but neither charm nor terror really emerge in the storytelling on stage. Winsomeness is there in the vivid conducting of Sebastian Weigle, a Frankfurt-based master of the top-league German romantic scores among which Humperdinck's idiosyncratic blend of influences - the Wagner of Meistersinger and Siegfried, possibly early Mahler, though who inspired whom in that case is hard to tell - happily sits; but the multi-hued narrative, witch and all, of this horn-rich Overture is not best illustrated by an Alpine-valley dropcloth giving way to one tableau of a Swiss Family Plentiful followed by another of cupboard-bare hardship. The Witch's Ride interlude has nothing visually to feed off. And then when we come to the house in the woods, Humperdinck's surface-lush parallel to Clara's arrival in The Nutcracker's Kingdom of Sweets is wrong-footed by a Bates Motel which would have sensitive children like these ones legging it on sight.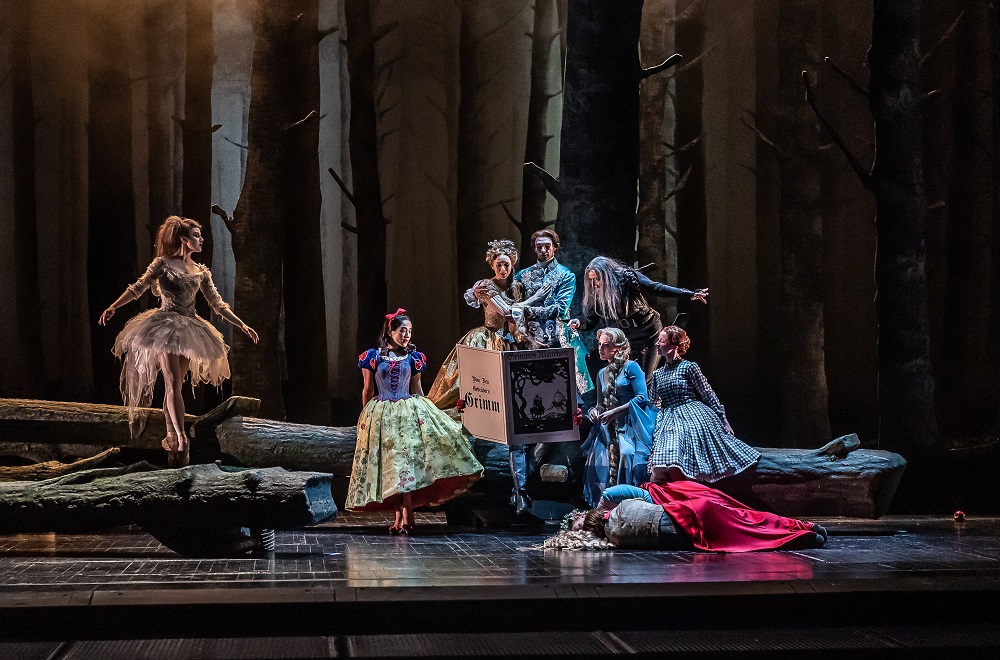 The Dream Pantomime of Guardian Angels is cleverly supplanted by the dramas of other fairy-tale characters (pictured above), just as in the Act 3 Divertissement of The Sleeping Beauty, with several Into the Woods-style twists in Lucy Burge's choreography, which has the entire cast involved at times; but it doesn't quite follow the slow burn of Humperdinck's symphonic extension to the children's Evening Prayer.
This opening run is peopled by Wagnerians as well as Grimm/Perrault figures. McDonald's physically well-defined Mum and Dad should have been Fricka and Wotan, Michaela Schuster and James Rutherford, but Rutherford was ill on the first night, his role taken by Eddie Wade, who had fully mastered juggling with eggs but sounded a bit faint at times alongside the lustrous tones of Schuster and the Gretel of Jennifer Davis. Now that this fine former Jette Parker Young Artist has made what for me was the operatic debut of the year, as Elsa in Lohengrin, she may have moved beyond this lighter lyric role, one not without its challenges in Act Two, all luminously surmounted, though there was a bit of under-the-note singing on the first night. McDonald should ask the make-up artists to leave off the Cloris-Leachman-in-Young-Frankenstein look if he wants his Gretel to appear younger.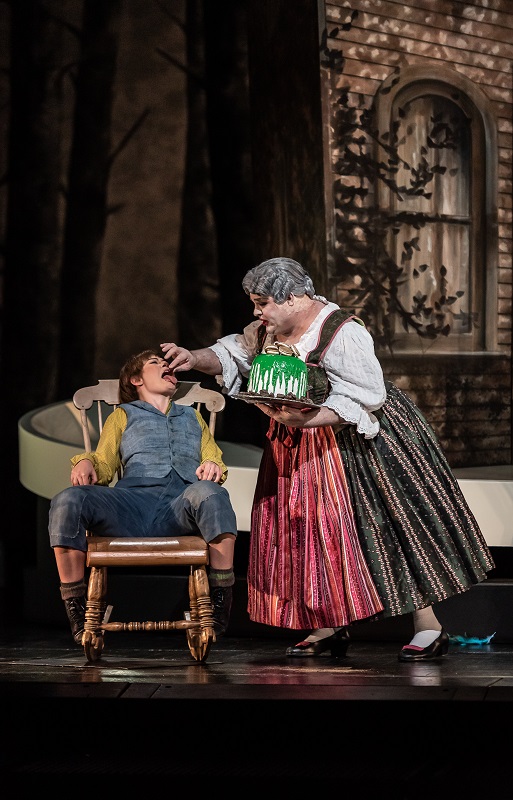 Very much her little brother, Hanna Hipp's Hansel pulled out strong chest tones and feisty acting but sounded a bit cloudy in the middle range. Their dance routine, well executed, didn't quite have the fun you tend to get when the kids are modern children. Lurking in the chocolate-dripping, blood-on-the-windows gothic mansion was former Siegfried and Tristan Gerhard Siegel (pictured right with Hipp): again a master actor, with nimble footwork, and a tested comedian as today's Mime of choice, most recently in the Royal Opera Ring, but somehow not as laugh-out-loud funny as Jones's Mrs Doubtfire-gone-sour Philip Langridge at the Met or Laurent Pelly's Wolfgang Ablinger-Sperrhacke at Glyndebourne, who got there first with the wig-off reveal.
There was a rather quiet Sandman from Haegee Lee, a lustrous Dew Fairy - the radiant Christina Gansch - and luxury casting even for the echo voices in a not-scary-enough forest scene. Weigle bounced the happy ending into action with feisty reanimated children from the ROH Youth Opera Company, but for all that, this remained a Hänsel which probably wouldn't quite convince younger viewers that they'd had a totally brilliant time.
Hänsel und Gretel at the Royal Opera House until 29 December
This opening run is peopled by Wagnerians as well as Grimm/Perrault figures
rating
Explore topics
Share this article