Lohengrin, Royal Opera review - swan mystery musically illuminated |

reviews, news & interviews
Lohengrin, Royal Opera review - swan mystery musically illuminated
Lohengrin, Royal Opera review - swan mystery musically illuminated
Great conductor Andris Nelsons floats a mostly fine cast in a mostly clichéd production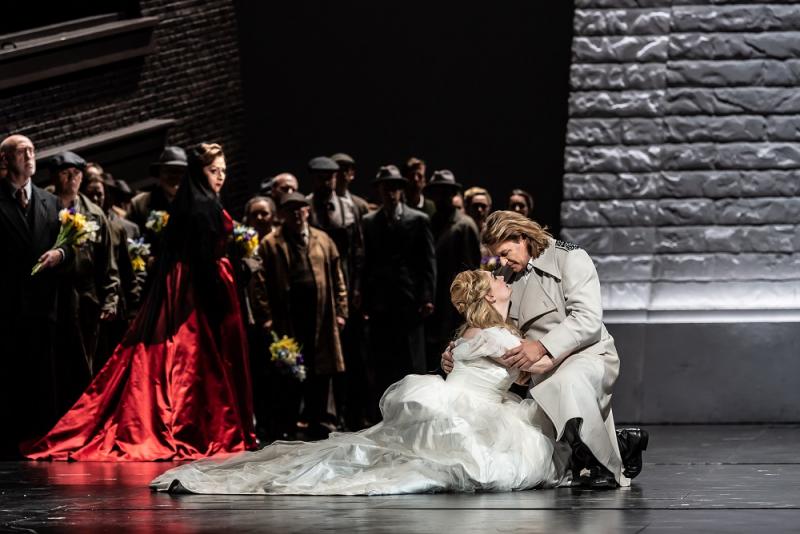 Klaus Florian Vogt's Lohengrin tries to console bride Elsa (Jennifer Davis) as Ortrud (Christine Goerke) throws a spanner in the works
It's awfully long for a fairytale in which a mystery prince helps a damsel in distress, and she asks him the question she shouldn't. Myth tends to go deeper, as Wagner did in The Ring of the Nibelung after Lohengrin. Here he captures the magic of transformation and transcendence, but in between there's too much hard-to-stage pomp. Director David Alden treats it all too predictably, with images of post-war ruin – tilted, tottering shells of buildings – and fascist paraphernalia (the swan motif in Nazi colours). The real light of the piece is there in the music, led with bright breadth by the magnificent Andris Nelsons.
At least the sheer beauty of the grail kingdom and the dove descending unfold in the Prelude with the curtain down, to be explained (unconvincingly given the production's contrariness) four hours later. Against a first-night barrage of coughs, Nelsons nevertheless got a Royal Opera Orchestra on top form to inscape the pianissimos and enrich the climax. There is only a glimmer of optimism in a grimly ritualistic first act which starts out like a production of Strauss's Salome, with accused innocent Elsa coming out of an underground prison instead of John the Baptist: Lohengrin arrives to the projected beating of swans' wings (pictured below), and the stage briefly opens up a little, though it's not clear why the man in the white suit would tolerate the Nazification of his trademark in the following acts, or its use on the colossal monument which serves for the minster in which he and Elsa are to be married.
The men are bores until the hero glides in, but two are staunchly sung by Kostas Smoriginas as a Herald with a caliper on his left leg (why?) and the resplendent bass Georg Zeppenfeld as King Henry (Tristan's King Mark is a much more interesting role for him). Thomas J Mayer, keeping his own hair like Klaus Florian Vogt's Lohengrin, in this case to remind one inappropriately of the great Bill Bailey, is more of a cipher as villain Telramund; he's the only singer who doesn't always hold his own against the opulent sound from the pit. Vogt brings his familiar, slightly feminine sweetness and openness of sound; there's tinsel rather than solid gold in the lines, not always interestingy phrased, but he can sing quietly, something to be prized in a Wagnerian tenor.
The whole thing really takes off when Irish soprano Jennifer Davis crowns the Act One ensemble, and again in her Elsa's confrontation with the scheming Ortrud in Act Two (pictured below). An exciting substitution for Kristine Opolais, much as we miss her, Davis is a recent graduate of the Royal Opera's Jette Parker Young Artists Programme; she sang Mozart, Nielsen and Bizet at the 2017 Europe Day Concert, and radiant Strauss in the JPYAP summer showcase. With a lyric voice verging on the heroic, strong and even throughout the range, and utterly plausible acting at every point, she made a fine impression.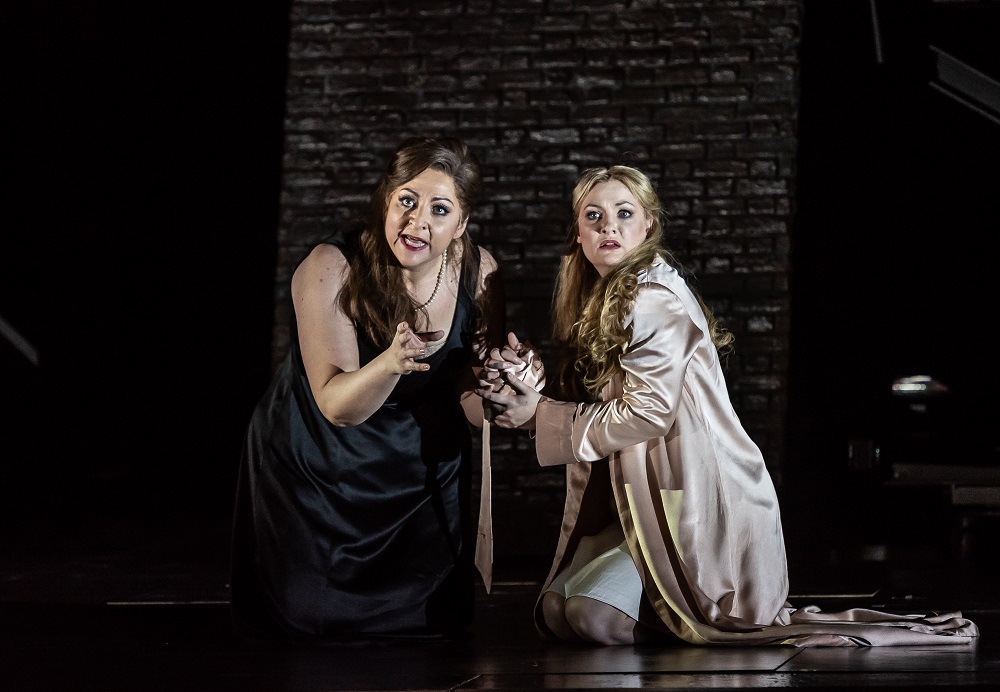 She has what Christine Goerke as Ortrud no longer possesses – a secure and brilliant upper register – but that only made the scene between the innocent and the depraved all the stronger. Other Elsas who have a more other-worldly sound in the first act don't come out as strongly in their conviction of good in the second; there was potential heartbreak in this girl's assurance, and queasiness in Ortrud's woeful misreading of her behaviour as prideful. Davis can also manage Wagner's romantic gruppetti or turns with absolute clarity; hopefully she can carry on singing Mozart and not too much more Wagner too soon to keep the voice in perfect shape.
Goerke cuts like a knife with a hit-and-miss roughness to the top, not inappropriate to the role, slightly overdoing some witchy vowel sounds and asked by Alden to act out the familiar cliché of the power-suited woman who lets down her hair, strips down to a black slip and straddles her man. It's a stock operatic baddie role, and there's no getting around that. But she's a presence as Mayer's Telramund is not, and the wedding confrontation is conventionally powerful grand opera, none the worse for that.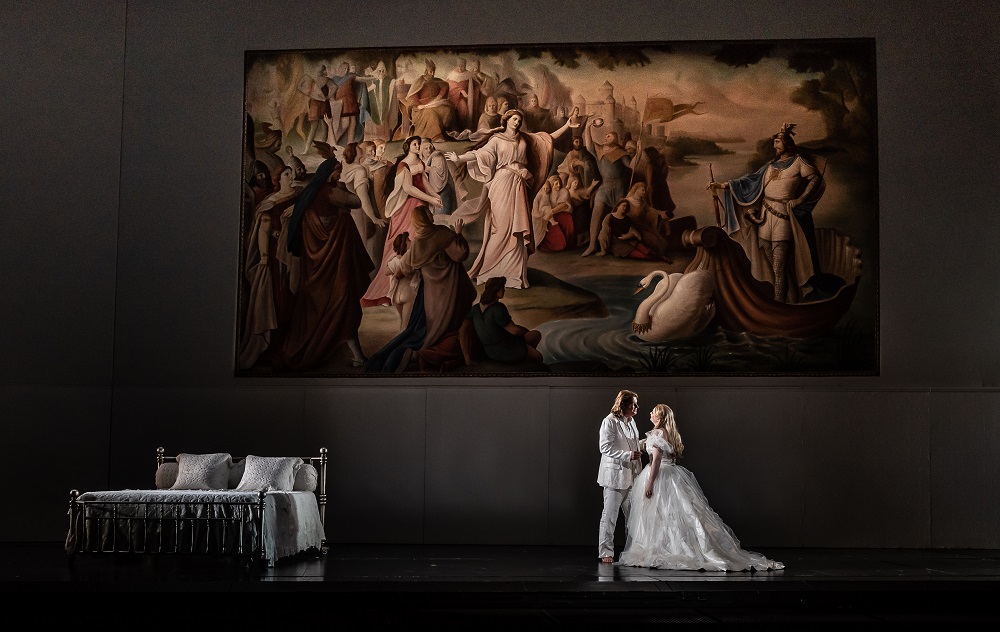 What's the significance of the bridal cortège reaching out into a lit-up auditorium, and rushing around it in the brilliant Act Three Prelude (loud as the orchestra was, the sudden stomping still made me jump)? A suggestion that Elsa and Lohengrin have the potential to break out of their time? The jury's out on that one, though the bridal suite, once the stilted semaphoring of the vocally splendid chorus has left it to the temporarily happy couple, looks striking in the third of Paul Steinberg's fine design ideas, August von Heckel's 19th century painting of Lohengrin in Antwerp hanging above the white-linened bed (pictured above).
Davis holds her own here, too, pushing the question with perfect dramatic intensity; Vogt's sternness is impressive, though he's a bit short-winded in the final revelation which Wagner inflicts so unkindly on the tenor at the end of a long evening. Nelsons supports perfectly; elsewhere he asks for a breadth which the singers are mostly able to provide, and the correspondence between pit and stage, the conductor's beat always held high, is as perfect as you're likely to get in the opera house. For that, and some remarkable singing which ticks the right Wagnerian boxes, this Lohengrin cries out to be seen and heard.
Jennifer Davis as Elsa has what Christine Goerke as Ortrud no longer possesses - a secure and brilliant upper register
rating
Share this article
Subscribe to theartsdesk.com
Thank you for continuing to read our work on theartsdesk.com. For unlimited access to every article in its entirety, including our archive of more than 10,000 pieces, we're asking for £3.95 per month or £30 per year. We feel it's a very good deal, and hope you do too.
To take an annual subscription now simply click here.
And if you're looking for that extra gift for a friend or family member, why not treat them to a theartsdesk.com gift subscription?