Innocence, Royal Opera review - timely, layered drama with almost incidental music |

reviews, news & interviews
Innocence, Royal Opera review - timely, layered drama with almost incidental music
Innocence, Royal Opera review - timely, layered drama with almost incidental music
Director Simon Stone does it again, but questions remain about Kaija Saariaho's score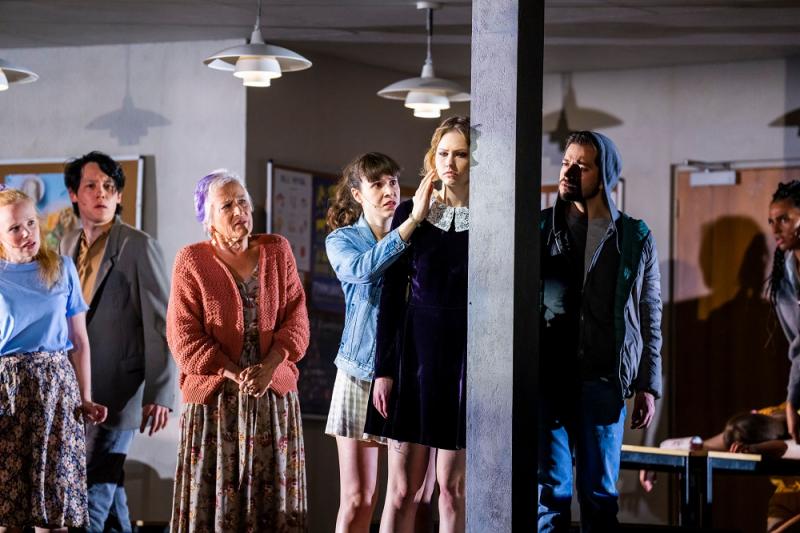 Vilma Jää's Markéta with fellow students and Lucy Shelton as teacher Cecilia
To create a sensitive and original music-drama around the subject of a school killing is a colossal achievement. Director Simon Stone, set designer Chloe Lamford and novelist Sofi Oksanen's cutting libretto make Innocence seem like a masterpiece. I wish I were less ambivalent about Kaija Saariaho's score.
More trenchant than her previous tapestries of bewitching sounds, it's both superbly conducted by Susanna Mälkki and played with absolute assurance by the Royal Opera Orchestra. From the start, bassoons define writhing ideas of the kind we haven't often encountered in her music before, other wind solos are arresting and the offstage chorus – more fine work by Royal Opera forces – can be haunting. The problem lies in the vocal writing, at least when it's operatic: awkward mis-stresses in the English – the text is multilingual, for reasons to be explained – and jagged lines which don't enhance the sense or the pain. An impressive ensemble has been engaged, but only Christopher Purves as the father of the killer we only briefly see completely pulls it off.
Fortunately there's as much speaking as singing, though Lucy Shelton's teacher Cecilia represents an uneasy halfway house between the two. The framework is as accomplished as everything else in Oksanen's drama, forged very much in collaboration with dramaturge and translator Aleksi Barrière, who's responsible for the speaking in tongues: the surviving students, reflecting on how the incident has shaped their lives, come from an international school, so they speak several different languages. It's not so convincing when the operatic voices switch country, as it were, simply to highlight how this can happen anywhere, even though the setting has to be a Nordic country with its specific social attitudes to the worst transgressions: Finland is not only the place cited (specifically Helsinki), but also the homeland of composer, librettist, conductor and four of the principals, an amazing achievement.
The present time in which the action, such as it is, begins, sees the celebration of a wedding between Tuomas (tenor Markus Nykänen) and his Romanian bride Stela (Lilian Farahani). The union is vital because Tuomas – and this is revealed early on, so no spoiler in what has to be a selective handling of the drama – is the brother of the school shooter; he's feared to tell the woman with whom he hopes to make a new start the family's shameful secret, but it looks as if Stela's circumstances as an outsider raised in an orphanage could offer him genuine redemption.
Yet since Stela is possibly the only genuinely innocent person among the main characters, the future is anything but assured. While it's admirable that Saariaho doesn't ever give way to easy lyricism – and the nearest thing Stela gets to an aria has some arresting trills echoed by the flute – Farahani deserves better in the vocal writing of her various duets and trios with husband, priest (bass Timo Riihonen, as good as he can be) and Tuomas's parents (Sandrine Piau is luxury casting as the mother-in-law, and dramatically strong, but her rewards, too, are few. Pictured above: Riihonen, Farhani, Nykänen, Purves and Piau).
Where there's tension, rather than reflection, lies not in the flashbacks to what happened at the school – no gun is pointed, no shots fired – but in the late engagement of local woman Tereza (Jenny Carlstedt) as waitress at the wedding. The most striking piece of casting, and vocalisation, rests with ethno-pop singer Vilma Jää as her daughter Markéta: why she's the only one of the students to have such a singular declamatory voice soon becomes clear. "It's complicated," is the best one can say without giving away too much of how the community's implication in the killing unfolds; suffice it to say that of the international speakers, French-Cameroonian Julia Hega comes to play a very dramatic role (pictured below).
Her character Iris's later revelation is one of the few points where I actually had goosebumps and a growing sense of dread. The non-linear nature of the storytelling doesn't often aim for tension, but when it does, Saariaho's moments of release and horror can seem uncoordinated with the action.
Fortunately Stone pulls off another revelatory piece of direction to follow his Ibsen, Korngold, Wagner and creative takes on Greek mythology (several cast members from his stunning Phaedra, just finished at the National Theatre, were in the audience, and quick to ovate). The dream-like fluidity of paradoxically realistic scene-changes in Lamford's two-tier revolving box – shades of Katie Mitchell, but much more organic – suits the collage-fantasy of Saariaho's and Oksanen's drama to eerie perfection (at first, the composer had thought of calling the work "Fresco"). Is it right that the final sense of catharsis – what Saariaho calls "timid rays of sunshine" – clashes with the composer's unresolved coldness? I don't know, but I'll go on thinking about it for a long time to come. And with the news of yet another horrific teen shooting in America only two days old on the first night, this nuanced artistic achievement could hardly be more necessary.
With news of yet another teen shooting in America only two days old on the first night, this nuanced artistic achievement could hardly be more necessary
rating
Explore topics
Share this article