Jack the Ripper: The Women of Whitechapel, English National Opera review - powerful ensemble, wrong subject |

reviews, news & interviews
Jack the Ripper: The Women of Whitechapel, English National Opera review - powerful ensemble, wrong subject
Jack the Ripper: The Women of Whitechapel, English National Opera review - powerful ensemble, wrong subject
Six strong sopranos and a still promising composer lost in a pointless labyrinth
Susan Bullock and Lesley Garrett with (seated, from right to centre) Janis Kelly, Marie McLaughlin, Ashirah Foster Notice and Natalya Romaniw
If you can't put a name to any of Jack the Ripper's victims – and spin it however you please, victims they remain – then you shouldn't buy the publicity about this new opera "bringing dignity back" to the murdered women in question. Isn't it time to stop feeding the troll/killer, much as Jacinda Ardern did so swiftly and movingly under different circumstances last week, and let the five eviscerated corpses return to dust in peace? Composer Iain Bell, disturbed by their fates from an early age, sincerely thought otherwise. But though he serves up some carefully-considered vocal writing at ENO for veteran British soprano stars of the international stage, plus a leading role for the latest in line of succession, too little of this curiosity fills an ugly void with music of sufficient depth and impact.
It starts well, as if it means to dissolve the curse of salacious Ripper lore. In a shapely sequence mood music, with the ominous low-register twang of cimbalom, that Hungarian monster version of the zither, propels evicted wife Polly Nichols towards a shelter of sleeping women who wake to provide the first choral commentary. If you haven't seen the appalling Victorian photographs of East End doss houses, you might think the coffin beds (pictured below with members of the ENO Chorus) are a conceit of director Daniel Kramer and designer Soutra Gilmour, whose claustrophobic set with men on the periphery looking in or standing in ranks does much to hold focus. Janis Kelly as Polly is the first of six strong women who rivet the attention in presence and voice, passing the torch to new lyric-dramatic soprano hope, Welsh-born Natalya Romaniw as compassionate proprietor Mary Kelly, seen reading to her daughter Magpie (a mute role superbly taken on the first night by young Ashirah Foster Notice).
The reference in the book to the Minotaur at the heart of the labyrinth is clearly set up as a parallel to the horror about to strike the Whitechapel maze. Librettist Emma Jenkins drew the metaphor from social reformer and journalist W T Stead, whose anachronistic presence as The Writer (William Morgan) is one of several roles to give the compassionate male of the species a voice. Unfortunately Jenkins doesn't wear her research lightly, and the text is an uneasy blend of jargon and would-be poetry sitting as uneasily in the mouths of the women of Whitechapel as Montagu Slater's words did with the inhabitants of the Borough in Britten's Peter Grimes. That benchmark seems to be one of Bell's models for the ensembles, most of which by contrast ring hollow.
There's a noisy mob-violence scene in Act Two which like most of the louder music fails to chill the blood, and the end of Act One with "Jack the Ripper" ludicrously intoned is a big mistake. If only it had ended with the silent exit of the men after the third murder. Each act is at least a quarter of an hour too long, and in both cases most of the trimming could be made in the conclusions. It's such a shame for Romaniw's magnificently compassionate singing that she has to go out on a pretentious monologue (pictured below), cumbersomely staged, which quickly outstays its welcome even in the voice of a soprano as fine as this.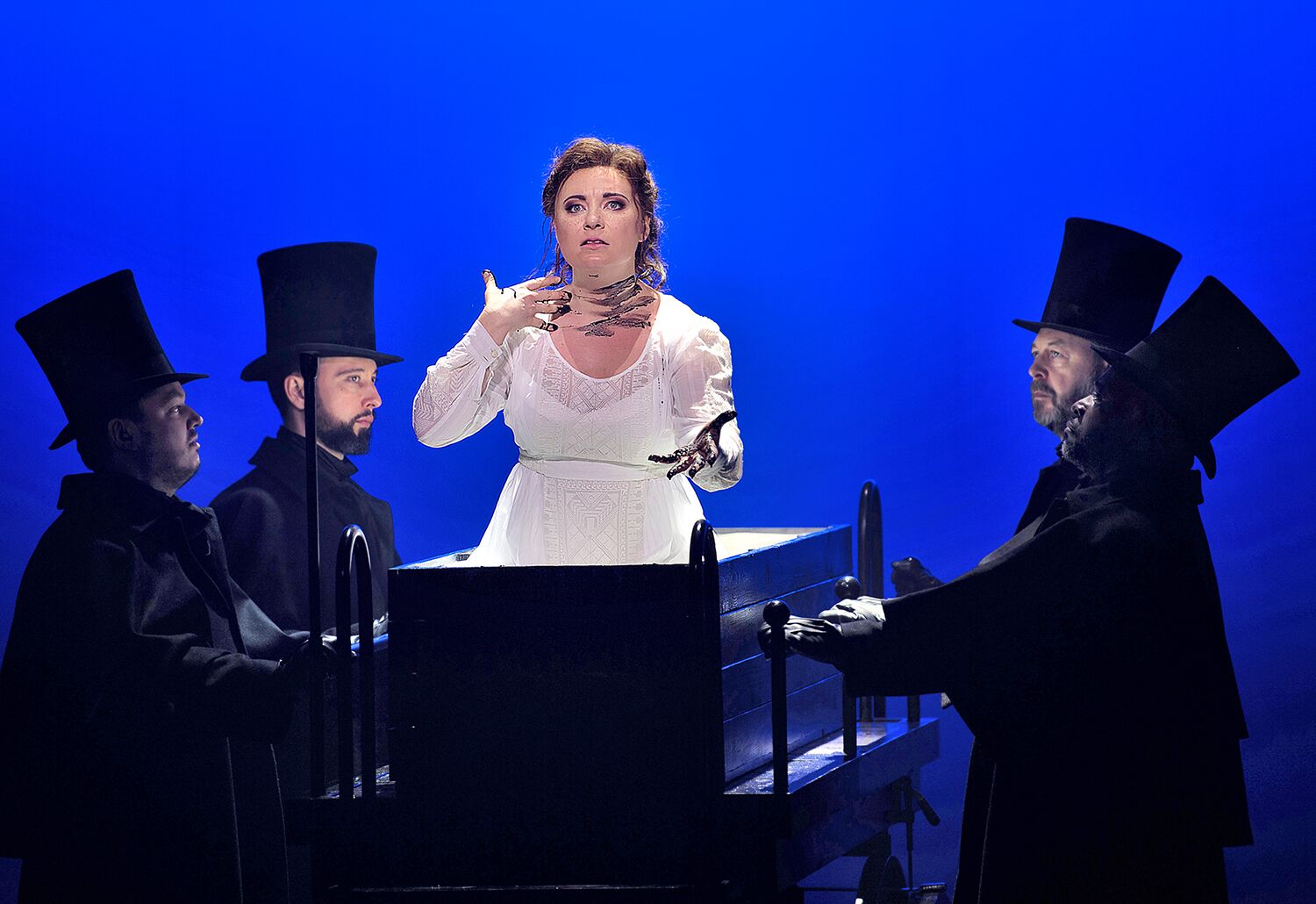 Of her senior companions, only Josephine Barstow overdoes the already melodramatic role of the grandmother whose soaking in vice from an early age has destroyed her moral compass. The top notes are still splendid in a rant which sounds like Vaughan Williams on acid, the middle range a bit swamped. Susan Bullock and Lesley Garrett burst on to the scene as tipsy light relief; their initial duet is about as funny as Claude-Michel Schönberg's dreadful number for the Thénardiers in the musical Les Misérables.(consult Sondheim, please, Iain Bell). But they do it as well as they can, and Bullock (pictured below in the final scene) has perhaps the most consistently successful stretch in the opera at the start of Act Two, one of the few that really makes the flesh creep, when the comedy of her rapture about a strapping fireman is offset by the ballad of "five little trollops" (shame about the "And then there were none" "thriller" aspect of the opera, though). She sounds in perfect voice, as do Kelly and the ever-sympathetic Marie McLaughlin as victims one and two. The quintet for the five main characters is successful, too.
At least Bell is writing with thorough knowledge of each of his divas' vocal strengths, something you rarely get in opera now, and the word-setting isn't bad at all when Jenkins doesn't overstep the mark. The men fare less well; one feels that fine singers like Nicky Spence – due a big role at ENO next season, watch this space – Robert Hayward and Alan Opie are slightly wasted. Pointedly, there's no role for the psychopathic "protagonist", but nothing for male voice as powerful as the reincarnation of Lulu's great love Dr Schön as Jack in Berg's masterpiece.
Yet both the male and female chorus members have plenty to sink their teeth into; high time at ENO, sharing this production with Opera North which makes much better use of its full-time chorus. If only one didn't feel, as with many of the solos, that it's opera by numbers, not enough matter from the heart. And while the murders are stylised, Bell and Jenkins still give us the gory details of the Ripper's body-filleting, having their gruesome cake and eating it (as, we're told - and I wish we hadn't been - did Jack one of his victims' kidneys).
Why the disgusting charred corpse on the mortuary trolley, I have no idea; it's one of the false notes in Kramer's production, which has some clumsy blocking and also depends on too much out-front singing, Les Mis style, and too much sitting above the orchestra pit, where Martyn Brabbins draws superb playing from the ENO Orchestra. Bell certainly knows how to produce beautiful chamber effects in the quiet passages; but in the big moments, he misses the grand-opera success of Britten and John Adams. Wrong approach - and still, for all the special pleading in the programme, wrong subject. What saves it is the commitment of everyone concerned; in that respect, at least, this is ENO on classic form.
To be broadcast on BBC Radio 3 at a later date TBC
At least Bell is writing with thorough knowledge of each of his divas' vocal strengths, something you rarely get in opera now
rating
Explore topics
Share this article
Subscribe to theartsdesk.com
Thank you for continuing to read our work on theartsdesk.com. For unlimited access to every article in its entirety, including our archive of more than 10,000 pieces, we're asking for £3.95 per month or £30 per year. We feel it's a very good deal, and hope you do too.
To take an annual subscription now simply click here.
And if you're looking for that extra gift for a friend or family member, why not treat them to a theartsdesk.com gift subscription?