L'Incoronazione di Poppea, The Academy of Ancient Music, Howarth, Barbican Hall |

reviews, news & interviews
L'Incoronazione di Poppea, The Academy of Ancient Music, Howarth, Barbican Hall
L'Incoronazione di Poppea, The Academy of Ancient Music, Howarth, Barbican Hall
A fine romance, despite a lack of central chemistry
Sarah Connolly: A Nerone all the more terrifying for its calculated and rational cruelty
Monteverdi's L'Incoronazione di Poppea is an opera with a one-track mind. The music throbs and pulses with dancing desire, suspensions and elaborate embellishments defer gratification, while recitative is poised constantly on the edge of melodic climax. Desire is everywhere, from the innocent flirtations of a young courtier and his lady, to the hopeless love of Ottone and of course the knowing, mature passions of the Emperor Nerone and his mistress Poppea.
Without it, there's a void at the core of the opera – a void no amount of fine singing or playing can fill.
And try the Academy of Ancient Music certainly did last night at the Barbican. It's tough to lose any cast-member late in the day, and to lose Anna Caterina Antonacci as Poppea is a particularly serious blow. But it really needn't have been fatal.
Commanding it all was Connolly, athletic and utterly sure as Nerone
At nearly 60, Lynne Dawson has had a tremendously successful career and now spends more time teaching students at the Royal Northern College of Music than singing herself. Not an obvious choice, then, for the youthful and virtuosic Poppea. Did the AAM feel like they needed a "name" to replace Antonacci? Surely it would have been better (and terribly English) to give the opportunity to one of the hordes of talented up-and-coming sopranos. It's not like a cast that also included Sarah Connolly, Iestyn Davies and Matthew Rose was ever going to be lightweight.
As it was, Dawson (pictured right) limped through the role vocally, never quite finding a gear. Intonation was wayward, tone lacking in body and phrase endings abandoned like so many loose threads on a hem. But more troubling than all of this was the lack of spark between her and Sarah Connolly's magnificent, masculine Nerone. The libretto speaks again and again of Poppea's fire, but what should have been burning was decidedly tepid, leaving Connolly and Elmar Gilbersson's Lucano to steal the show with a love duet in Poppea's praise whose vocal exertions were almost as X-rated as its actions.
Leaving Poppea aside (as far as that is possible in this opera) this was a joy of an evening. Taking the semi out of semi-staged, directors Alexander Oliver and Timothy Nelson went to town with costumes, the Barbican's flexible stage space and lighting rig, conjuring a vivid and utterly engaging spectacle that lacked little for not taking place in an opera house. The Barbican's steep back steps made a natural focal point – a sort of snakes and ladders board for this drama of power and social mobility.
Commanding it all was Connolly, athletic and utterly sure in Nero's flightiest moments of coloratura. Her tyrant was all the more terrifying for not having that seam of weakness we so often see – a calculating, rational bully who sent Matthew Rose's thundering Seneca (sung as lightly as his manner was deliciously ponderous) to his death with brisk efficiency.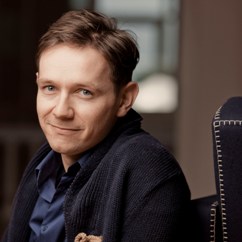 There's no getting past the cringing weakness of Ottone, but sung by Iestyn Davies (pictured left) he had a vocal gloss to compensate for any dramatic indignity, and some of the evening's highlights were in the vocal interplay between Davies and Sophie Junker's sweetly impetuous Drusilla. If anyone was expecting a character-tenor, Andrew Tortise's Arnalta may have come as a shock, but it was a joy to hear the nurse's lovely lullaby sung so delicately, and comedy found its place too in the final scene. Mention should also be made of young tenor Gwilym Bowen (Valletta/First Soldier) whose easy delivery and range make him one to watch.
Underpinning it all were the delicate tempo-relations and foot-stamping attack of the AAM, directed from the harpsichord by Robert Howarth. Placing the band in the centre of the stage helped draw attention to the intimacy that exists here between instruments and voices, allowing a visual as well as dramatic interplay that worked very well.
This was a wonderful performance that could have been exceptional. It's a distinction that sounds like splitting hairs, but - as in all sexual encounters - to come this close and leave unsatisfied is hard to forgive.
Connolly and Elmar Gilbersson's Lucano steal the show with a love duet whose vocal exertions are almost as X-rated as its actions
rating
Explore topics
Share this article