Masque of Might, Opera North review - a tale of ecological virtue |

reviews, news & interviews
Masque of Might, Opera North review - a tale of ecological virtue
Masque of Might, Opera North review - a tale of ecological virtue
Pountney plunders Purcell to make the greenest show in a green season
Talking to the trees: Members of the Chorus of Opera North in Masque of Might
Sir David Pountney's creation of a "masque" performance for our times, recycling music Purcell wrote for his, is downright good entertainment even if the plotline's a bit incoherent.
Now that's a virtue, if you look at the 17th century models he's starting from. Shows with masques never were designed to have much narrative logic, and the music – even when it had words attached – could as easily fit one story as another.
So for this new "eco-entertainment" he's plundered several of Purcell's stage works including The Indian Queen, The Tempest and The Fairy Queen, and crowbarred in several pieces originally written for the church or ceremonial purposes, as well as standalone songs.
One thing he wisely doesn't try to include is spoken dialogue: there are side-screens that outline the events we're supposed to be seeing as well as giving us the words that are sung, but apart from what's on those you'd better get a programme book (or, to be more ecologically virtuous, download one in electronic form) and read it.
Because the subject is itself ecological virtue. It's the greenest part of Opera North's "green" season, and tells of an absolutist ruler, Diktat, who devotes himself to stopping climate protesters and being sceptical about the destruction of the environment. Until near the end, when he witnesses an enactment of a Bible story, as told in Purcell's Saul and the Witch of Endor, and realises he's got it all wrong.
It forms an interesting interlude and gives the production the chance to re-use Falstaff's caravan from the last new show, this time as the witch's lair. Diktat sees the error of his ways but still gets removed from the scene, and the Queen of Night appears to help earth find its healing. All ends, if a bit incongruously, with optimism and a burst of song and dancing.
It's very cleverly done, with only eight replacements of the first line of a number's original text to bend it to the storyline. It's not so much the lines themselves, however, as the general tenor of the text and music that still jar somewhat in their new context: Purcell didn't do irony in his music, so "Come ye sons of art" and "Sound the trumpet" (from the Ode for the birthday of Queen Mary) and a couple of numbers from Welcome Song for King James II come over as testimonials of full-hearted rejoicing when Diktat is the bad guy, much as similar items do in the happy ending when he's out of the way. You can't easily get round the single-track "affection" concept at the heart of baroque music creation.
The second part of the show, which is longer than the first, might even have existed on its own as a one-act piece, with less strain on credibility as roles change character from sycophants to dissidents. In the end, I suppose, looking for that kind of consistency in the narrative is to bring an expectation from today's world that the 17th century wouldn't have bothered about – but the message of the piece, unless it's to be one of sheer cynicism, needs to be serious. True, it's presented with lavish spectacle and visual ingenuity – Leslie Travers' design and particularly Marie-Jeanne Lecca's riotously varied-period costume creations never let things down – but the audience I joined wasn't sure whether to look for laughs or not (there were mild titters on a couple of occasions). In both of those aspects the production is following the eco theme of the season, by re-using stuff from the scene store where possible and employing fairly easily found materials in imaginative ways. The visuals are also very much enhanced by video designer David Haneke's superb backdrops and animations.
The music, in the care of Harry Bicket, is first rate, with a judicious variety of continuo textures providing richness for the big numbers and delicacy for the gentler ones. 'Tis nature's voice – introduced at a point where the planet itself tells the agents of exploitation what they should realise – is a moving example. And the choral numbers are often extremely powerful (though Hear my prayer, O Lord, in the first part, was a little over full of vibrato for a sacred composition).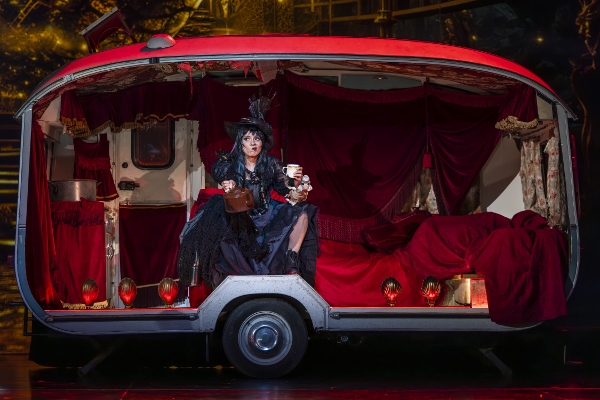 The soloists are an inspired choice, not only in their ability to inhabit widely varied personas (all but two have more than one role) but also in sheer vocal quality. Callum Thorpe as Diktat, has a richly versatile range of tone and uses it with skill; Anna Dennis brings beautiful purity to her role as Elena and changes virtuosically into an Earth Mother, a Green politician, the tealeaf-reading Witch (pictured above) and then the healing Queen of the Night.
James Laing and James Hall (two sycophants at the outset who finally change into dutiful good guys) are each baroque specialists and a fine double act in countertenor duet; Xavier Hetherington makes his mark as Saul (among other things), and Matthew Brook likewise as Sceptic in the second part and as Samuel in the witch mini-scene. And Andri Björn Róbertsson makes an impressive Opera North debut as the super-being Nebulous in the first part, and also as Activist and with a Wolf's head on later.
The six-strong dance team make their lively contribution, both in bringing the animal kingdom to life and other respects, and the Chorus of Opera North are, as ever, energetic movers to Denni Sayers' choreography as much as lovely singers.
It's not so much the lines themselves, however, as the general tenor of the text and music that still jar somewhat in their new context
rating
Explore topics
Share this article