First Person: Director Sir David Pountney on creating a new 'Masque of Might' from the music of Purcell |

reviews, news & interviews
First Person: Director Sir David Pountney on creating a new 'Masque of Might' from the music of Purcell
First Person: Director Sir David Pountney on creating a new 'Masque of Might' from the music of Purcell
Launching Opera North's Green Season with a climate sceptic as villain
Wednesday, 27 September 2023
Sir David Pountney in rehearsal for 'Masque of Might' with Robin Tebbutt, assistant director, to his left
Purcell came very early to me. When I was a chorister at St. John's Cambridge "Jehova quam multi sunt" was a perennial favourite and we were thrilled by the evenings when George Guest brought in some string players to accompany Purcell's verse anthems. These were special occasions. Then, since no management had the wit to invite me to direct Purcell, I finally engaged myself to direct The Fairy Queen at ENO.
That was very directly the genesis of Masque of Might which is being given its world premiere by Opera North tomorrow.
The Fairy Queen is like the other Purcell "masques" or "theatrical entertainments" in that it is much more like a variety show than an opera. Dance, spectacle and a random disregard for consistent narrative are the hallmarks of these charmingly unfocussed pieces. The Fairy Queen appears to have a spurious link to dramatic credibility via its connection to Shakespeare, but of course this link is not consistently followed through. Originally it had a vast amount of very tedious Dryden text, so faced with the choice of tedious Dryden or a mash-up of Shakespeare, I decided to do The Fairy Queen with absolutely no spoken text and let the bizarre juxtaposition of highly diverse Purcell numbers speak for itself. Curiously enough, the result was really rather successful.
Of course, the indisputable fact is that, in the face of the zany dramatic chaos of the masque format, Purcell's music, whether witty, colourful, ceremonial, reflective or exuberant, is sublime. After my relatively convincing Fairy Queen performance I thought, why not make a "new" Purcell masque – matching the vast reservoir of music he composed with a slightly more coherent dramatic form? Not an opera, still a masque, with dancing, entertainment and ceremony, but with a more engaging narrative line. Serendipitously, just at that moment a complete edition of all Purcell's music came up for sale and I bought it – all 40 volumes!
In the following years I never had the time to do the vast amount of detailed work to create a new masque until, all of a sudden, Covid came along. My Ring in Chicago was aborted two weeks before it was complete, but I could now stay at home and piece together some Purcell. Chandos were very generous and sent me a complete set of Purcell discs so off I went, working my way through some 400+ tracks while my partner went quietly mad in the next room!
Initially, I was in search of a subject since I came to that side of the project with an open mind. Then I began, with total astonishment, to come across texts of such incredibly apocalyptic force that it seemed that Purcell had been addressing the catastrophe of climate change already back in the 1600s:
Beware O cursed land,
Which will not see the precipice where thou dost stand,
Though thou stand just upon the brink,
Thou of this poison'd bowl the bitter dregs shall drink.
That poisoned corpses mount up every day
Which in the fields around unburied lay.
Or this:
Hark! From aloft the melting glacier falls
With noise so loud it deafs the ocean's roar.
Alarmed, amazed, the clatt'ring shards come down.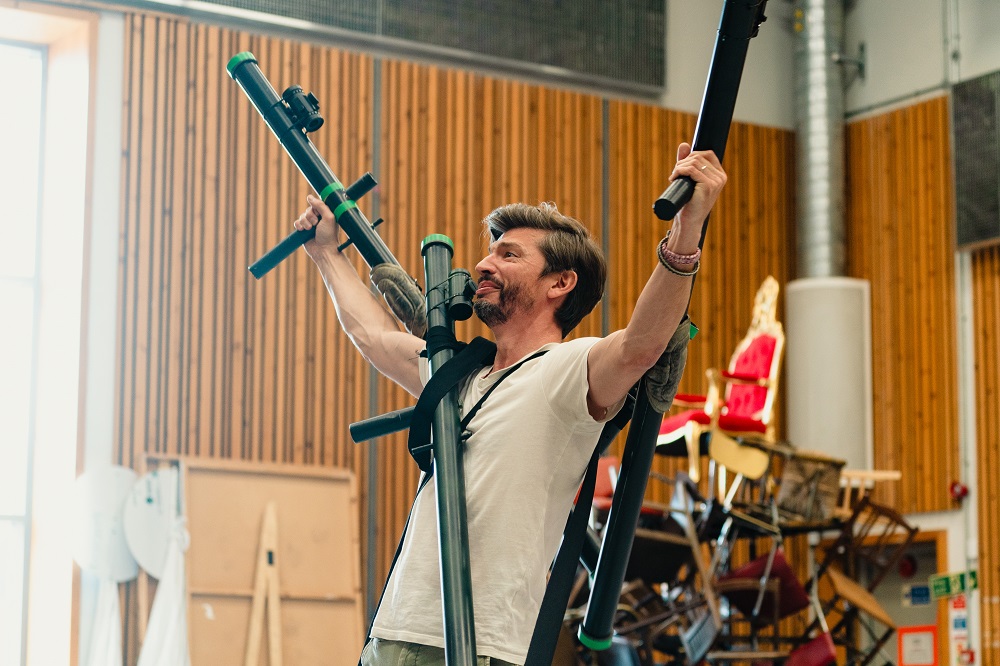 I had clearly found my subject – or I should say my subject had found me. I imagined a villainous ruler as the champion of climate scepticism. This evil ruler became Diktat (Callum Thorpe pictured above) and his nemesis was a powerful female spirit called Elena. It was then easy to create a cast of supporting characters, either sceptics or sycophants, who alternatively supported or conspired against the ruler who would be driven out in a blaze of sunlit Purcellian glory at the end. This was already enough of a narrative line for a masque.
After that, it was'simply a matter of selecting the numbers. This was difficult only in the sense that one is very spoilt for choice, especially as I allowed my search to range over the entire Purcellian output, including sacred music. I included some famous items to help the audience feel at home, like the wonderful Plaint from The Fairy Queen and the exuberant "Sound the trumpet", but I was mainly interested in presenting music which is not normally heard, of which there is a prodigious quantity.
The important thing was that, as well as achieving a proper balance of fast/slow/comic/serious/high voice/low voice and including opportunities for dance (choreographer Denni Sayers rehearsing James Hall as Strumpet Ginger and James Laing as Tousel Blond pictured below), the selection assiduously followed the principle of collage – creating a narrative by the law of zany juxtaposition.
Then of course I had to slim down the number of different singers required. This involved a minimal amount of tweaking, mainly transposing certain numbers into different keys, and I was very fortunate that Harry Bicket (who is conducting the show) agreed to come on board to make sure I wasn't making any musical errors. I also tweaked the text here and there, but not as much as you might expect. In fact, most of the changes are so minimal that I now find it hard to remember which bits are "tweaked" and which original. In a very few instances, I re-wrote the text of a whole number. Diktat, for instance, acquires a 'climate sceptic' aria which is not very close at all to the original:
This talk of doom is all a hoax,
The "climate" one of fashion's jokes.
A hoax, a trick, a bare faced lie,
False prophesies we stout defy.
With its Green Season, Opera North is addressing a highly serious and important topic, and Purcell definitely rises to the occasion with some astonishingly heartfelt music full of his trademark plangent chromatic harmonies. But it being a masque also makes it important that we balance this with the charm, wit and gaiety that is such an intrinsic part of his style. I very much hope we can offer the audience a serious evening delivered with a twinkle, and of course a sumptuous banquet of less familiar Purcell music.
I came across texts of such apocalyptic force that it seemed that Purcell had been addressing the catastrophe of climate change already back in the 1600s
Explore topics
Share this article