Prom 58: Salome, Deutsche Oper Berlin, Runnicles |

reviews, news & interviews
Prom 58: Salome, Deutsche Oper Berlin, Runnicles
Prom 58: Salome, Deutsche Oper Berlin, Runnicles
Nina Stemme stuns in a giddying account of Strauss's incredible score
Nina Stemme as Salome: one of the greatest Strauss performances
So here's where I join the ranks of Old Opera Bores by declaring this Salome, Nina Stemme, the best I've seen since Hildegard Behrens in 1978, and this Salome as in Richard Strauss's Wilde opera from Donald Runnicles and his Deutsche Oper Berlin ensemble categorically the most near-perfect. It's also the first time I've had a group of very loud, rude people behind me shouting "sit down" when I stood at the end (and John the Baptist's God knows I don't do that often). To which the only answers were "stand up yourselves" and "what does it take?" Most of the arena stalls eventually followed suit, but my thinking is, if it's a thrilling conclusion and you know it's been as great as they come, don't wait to see what others are going to do.
But those of you who weren't in the hall will want to know what it was actually like, not least visually since this, of all Proms, isn't to be televised. After his less-is-more semi-stagings of Wagner with minimal means last year, trumping Bayreuth for the bicentenary, Justin Way has charge of the manoeuvres in the second and third Strauss operas at the Proms in 150th anniversary year. This time, some were singing from scores on stands, which only slightly compromised Burkhard Ulrich's Herod on the verge of a nervous breakdown – character rather than heroic tenor, but never overdoing the funny-peculiar business; somehow the buttoned-up approach and the DJs of the other score-bound men made sure that wife Herodias – Doris Soffel, the would-be prima donna with her moments in the moonlight – and stepdaughter Salome, Stemme inevitably upstaging mama, had real command of the platform. Their top notes, incidentally, were matched by a major presence in a smaller role, Ronnita Miller as the "Page" who warns lovestruck Narraboth (Thomas Blondelle, as lustrous as any in the only romantic-tenor role) in an opening scene which immediately announced the levels of meaningful commitment.
In a plausibly fluid topography, Samuel Youn's Jokanaan (pictured right) declaimed not in muffled tones from a cistern but in full resonant prophetic spate from the organ (later that instrument gave a creepier pedal note or two than a portable version in an opera-house pit ever could). Youn kept his distance, histrionically speaking, in repelling the teenage princess's overheated advances, and signalled a warning crack just before his big curse which opened up alarmingly in a later declamation – a small price to pay for such a big voice filling the hall so handsomely.
A rim of moon on the LED strip at the back of the platform changed to green and later blood red, which gave us more of Oscar Wilde's dominant, much invoked presence – Strauss sets most of the original text – than many productions. No props were needed. The cast left the stage for Salome's Dance, Deutsche Oper soloists including supremely artistic flute, conjuring a levitational delicacy complete with feminine endings when the orientalia turns Viennese-waltzy, and Stemme addressed her "transfiguration through love" compellingly to thin air, conjuring up a severed head as consummately as a first-class Macbeth conjures up an invisible-to-all-others Banquo's ghost.
No limitations bound Stemme's total assumption. Slinking down from the side steps in a star-spangled black dress, she instantly invoked the spoilt adolescent, first petulant and then obsessive, with authoritative chest voice already at scary odds with both that and the diaphanous orchestral wraps. Hers is one of those rare dramatic sopranos with whom you know you can feel secure in the insane demands on the top of the range and the over-arching phrases: she knows what to do, at every point. And if in the past I think I've noted the seams, dramatic characterization and musical expression were absolutely as one last night.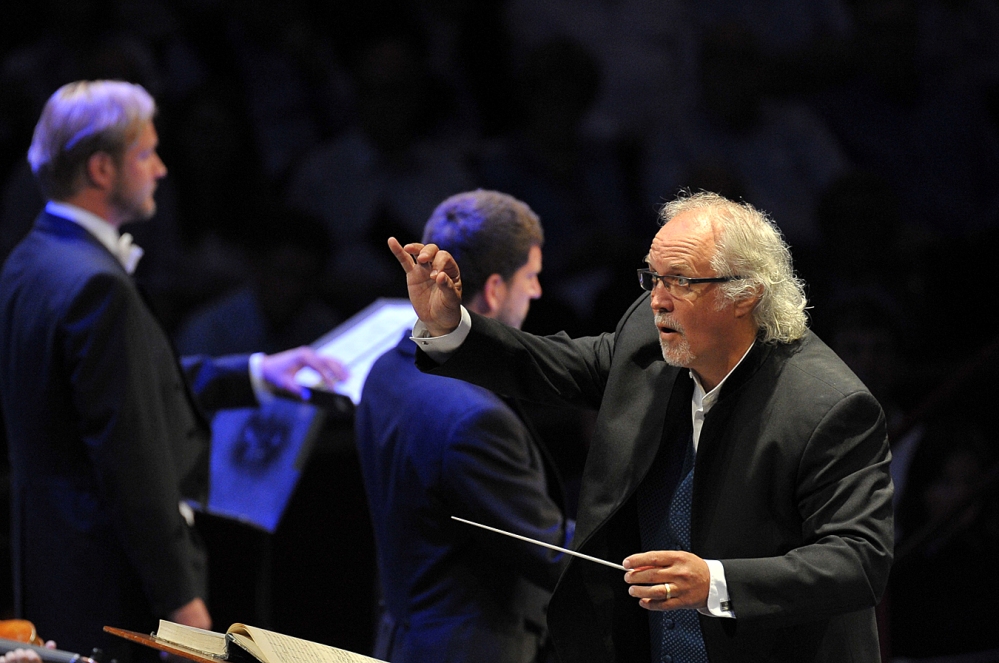 The final scene where Salome gets what she wants, the head of Jokanaan, and can't at first believe it seesawed us between pity – those rare tears did come to the eyes in Salome's ache at what might have been – and terror at the imperiousness now exercised on a prophetic face that can't answer back. Runnicles and his magnificently responsive orchestra similarly pursued the schizoid in Strauss's ever-breathtaking score – one moment Lehár operetta, the next Schoenbergian atonal expressionism. Were there really 16 first and 14 second violins? The string section looked smaller on the platform, and sounded it only to allow woodwind and brass their head. Shrill clarinets and piccolo bored through the brain, horns reared up collective-cobra-like; the pinched high double-bass note as Salome, gasping inwardly, awaits Jokanaan's execution that Strauss took from Berlioz had an eerie slide up to it, and dynamic refinement to spare.
Runnicles (pictured above) understands when to tense, release or glide, and how to drop the orchestral levels on the entry of a voice; none of the key moments failed to give goosebumps. After his disappointing Mahler Ninth with an under-engaged BBC Scottish Symphony Orchestra earlier at this year's Proms, this was a return to the total mastery of last year's Tannhäuser. The overriding impression was one of delicate femininity in ferment. And if this was all about the moon and a love-drunk (or sex-drunk) woman treading the skies, tonight's Elektra ought to be glaring sun versus blackest night, masculine hard edges – a difficult task to achieve in the Albert Hall. But with this venue, you never can tell. At any rate it did the shot-silk cadences of Salome as proud as the whole ensemble.
MORE RICHARD STRAUSS ON THEARTSDESK


Der Rosenkavalier, Royal Opera (2009). Uneven revival of John Schlesinger's 25-year-old production
Capriccio, Grange Park Opera (2010). Lively staging, stylish singing and a welcome intrusion of wartime reality
Salome, Royal Opera (2010). Angela Denoke's mercurial Salome (pictured below by Clive Barda) shimmers in Strauss's monstrously beautiful opera
Ariadne auf Naxos, Welsh National Opera (2010). Hoffmansthal's libretto is all about fidelity. This updating is faithful, up to a point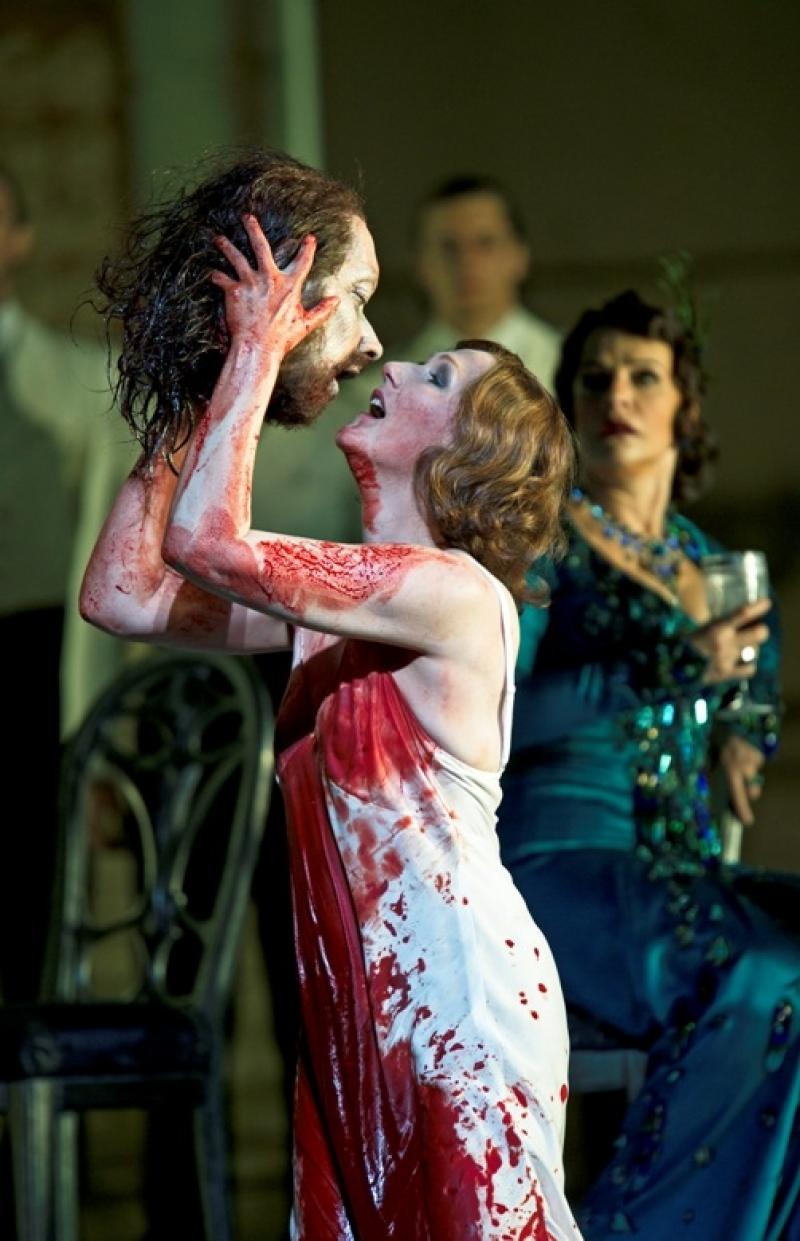 Intermezzo, Scottish Opera (2011). Soprano Anita Bader graces a Klimtian take on Richard Strauss's domestic comedy
Die Frau ohne Schatten, Mariinsky Opera (2011). Strauss's massive fairy tale makes a rare outing in Gergiev's musically strong venture at the Edinburgh Festival
Der Rosenkavalier, English National Opera (2012). David McVicar and Edward Gardner deliver a riveting account of Strauss's popular opera with Amanda Roocroft as the Marschallin
Intermezzo, Buxton Festival (2012). Fine style in Strauss's comedy-with-feeling
Ariadne auf Naxos, Glyndebourne Festival Opera (2013). Strauss's opera reluctantly enters the Battle of Britain courtesy of a young German director
Capriccio, Royal Opera (2013). Renée Fleming leads superlative cast in concert performance of Strauss's operatic debate

Elektra, Royal Opera (2013). Revival with Christine Goerke in the title role hits the horrid heart of the matter in Strauss's poleaxing masterpiece
Die Frau ohne Schatten, Royal Opera (2014). Compelling dream-interpretation of Strauss's myth graced by fine singing and Semyon Bychkov's conducting
Der Rosenkavalier, Glyndebourne (2014). Richard Jones finds new order in rococo comedy for music, with Kate Royal as the Marschallin
Ariadne auf Naxos, Royal Opera (2014). Two nymphs are the real revelation in this revival of evergreen hybrid
Salome, Symphony Hall, Birmingham (2015). Lise Lindstrom steals the show from Karabits and Bournemouth SO as a sensual Strauss anti-heroine in concert
Der Rosenkavalier, Royal Opera (2016). Robert Carsen's handsome production with Renée Fleming is elevated by superb orchestral playing
Subscribe to theartsdesk.com
Thank you for continuing to read our work on theartsdesk.com. For unlimited access to every article in its entirety, including our archive of more than 10,000 pieces, we're asking for £3.95 per month or £30 per year. We feel it's a very good deal, and hope you do too.
To take an annual subscription now simply click here.
And if you're looking for that extra gift for a friend or family member, why not treat them to a theartsdesk.com gift subscription?