Prom 59: Benvenuto Cellini, Monteverdi Choir, ORR, Gardiner review - don't stop the carnival |

reviews, news & interviews
Prom 59: Benvenuto Cellini, Monteverdi Choir, ORR, Gardiner review - don't stop the carnival
Prom 59: Benvenuto Cellini, Monteverdi Choir, ORR, Gardiner review - don't stop the carnival
The best and sharpest possible celebration of the Berlioz anniversary year
Tuesday, 03 September 2019
Lunatic, lover, artist: Michal Spyres as Cellini with Sophia Burgos's Teresa
So we never got the ultimate Proms spectacular, the four brass bands at the points of the Albert Hall compass for Berlioz's Grande Messe des Morts, in the composer's 150th anniversary year.
Yet Sir John Eliot Gardiner has learnt how to work the stage - here via director Noa Naamat - so that the performers use his
Orchestre Révolutionnaire et Romantique as their
sounding board - Glyndebourne, please take note for next year's visit - weaving through it as well as around it, with some of the players sharing in the action. This culminating performance in his four-year Berlioz odyssey, shot through with the fiery pulse of youth, could not have been more alive. What a shame that the BBC wasn't on hand to televise what must be the most visually entertaining Prom of the season.
Benvenuto Cellini encompasses a riot, a carnival, a love-story, a celebration of creative work - yet another seminal slice of music theatre that Wagner, always keen to cover his tracks when it came to sources of inspiration, must have known it when he composed the ultimate paean to art, Die Meistersinger von Nürnberg. Cellini is a Walther von Stolzing of fully-fledged artistic credentials, trying to break loose from the corrupt orbit of his city but compelled to work triumphantly within social bounds. It's an insane role for a tenor who must be both lyric and heroic, and that the brilliant Michael Spyres, transitioning, it seems, between the two types, found it ultimately taxing is no discredit to him; by the time of the great pastoral aria before the colossal forging of the Perseus (emerging in the shape of living statue Duncan Meadows, pictured below, not so colossal - are there any seven footers out there? - but fun), he had to summon all his resources. But he pulled it off - Cellini at this point, after all, is stressed out - and his sheer engagement as singing actor throughout was emblematic of the unflagging whole.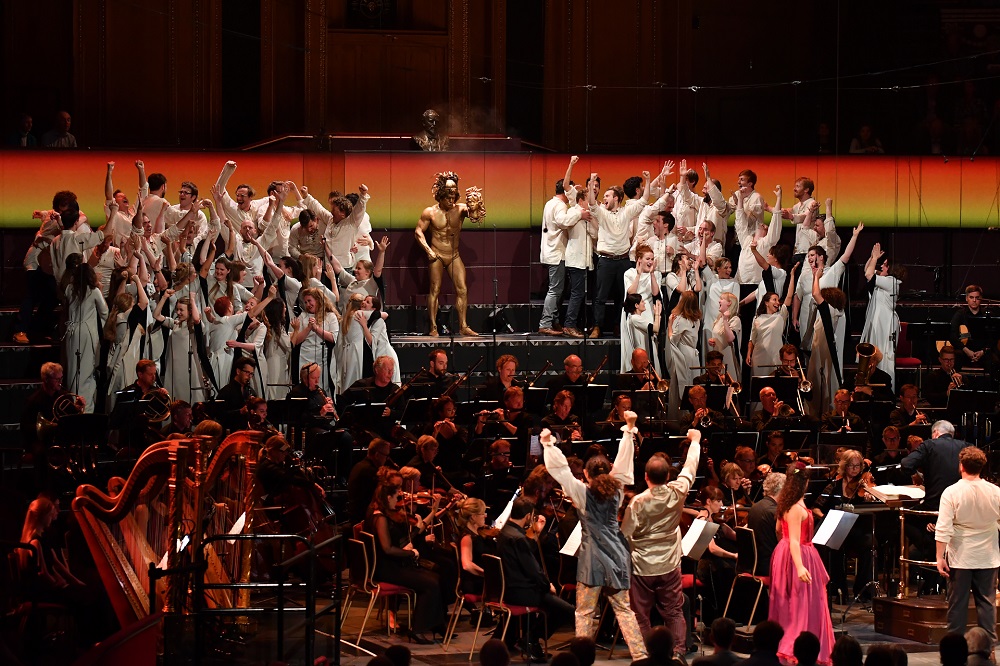 As with Le Corsaire at last year's Prom - and, indeed, in Gardiner's LSO Mendelssohn and Schumann symphonies cycles - all those in the orchestra who could stood for the Overture, setting up an energy for the rest which never faltered. With period brass and woodwind especially scything through the Albert Hall, you wondered at how brilliantly Berlioz sets up the orchestral backdrop even for a sequence as showy as the cabaletta for love-interest Teresa's first aria, instrumentally light years on from anything by Bellini or Donizetti (and spiritedly sung, too, by Sophia Burgos, convincingly sweet 17, a voice perhaps a size too small for the venue, but projecting everything with luminous vivacity).
How the composer subverts every stock form, too, with a rhythm, a colour, a quicksilver response to the French language; here's speech-melody avant le lettre in abundance).
A limpid love-duet turns into a patter trio; the chorus celebrating the goldsmith's art is both catchy and irregular - who didn't leave the whole earwormed by it?- while the cameo yet crucial role of the Pope who's prepared to let Cellini off trial for murder if he pulls his artistic self together is limned by darkly sumptuous colours. In Naamat's concert staging, vigorously lit by Rick Fisher and costumed by Sarah Denise Cordery, it was played for laughs, narcoleptic Clement VII as a descendant of Somnus in Handel's Semele, and that was right at a point where the comedy's pace has begun to slacken.
All the more impressive, then, when young bass Tariq Nazmi (pictured above with Gardiner) let rip with the full sonority. There were no weak links in the cast. Lionel Lhote's hapless love rival Fieramosca was both genuinely funny and baritonally opulent, Maurizio Muraro's father adding more bass-baritonal full pelt to match his papal client (Muraro pictured below with Lhote), Adèle Charvet in the trousers role of Ascanio finding his/her metal in the delightful Act Two couplets (though Paula Murrihy at ENO was better still).
This is also the first time where I've witnessed a chorus able to hit the heights with precision and richness; either we've had valiant amateurs in the late Colin Davis's two concert performances, or professionals forced to "blob around on stage" - as Richard Jones declared he didn't want them to do in his superb Glyndebourne Damnation of Faust - in Terry Gilliam's hit-and-miss ENO staging and David Pountney's Zurich rattlebag (conducted by Gardiner, with the 72-year-old Nicolai Ghiaurov, no less, as the Pope) and take their eye off the conductor.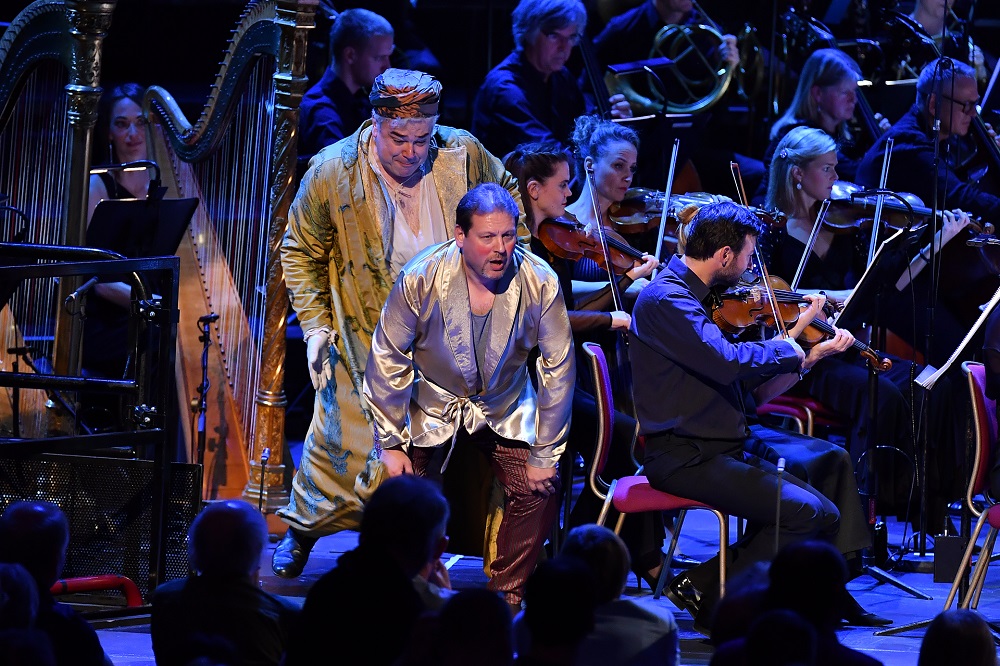 There was quite a bit of blobbing here, or bobbing, at least, but the Monteverdi Choir could always follow Gardiner with total accuracy. The Piazza Navona tarantella before the highly original street entertainment was a miracle of spirited togetherness. Greedy of me, perhaps, to want its orchestral reworking in the Carnaval Romain Overture, which could be placed before the second act in the way that some conductors have done with Beethoven's Leonore No. 3 Overture before the final scene of Fidelio, or even given as encore. But that's only because I didn't want this carnival to end.