Rigoletto, Royal Opera review - second time lucky |

reviews, news & interviews
Rigoletto, Royal Opera review - second time lucky
Rigoletto, Royal Opera review - second time lucky
Oliver Mears' production, new in September, now has a compelling jester and master
Tuesday, 22 February 2022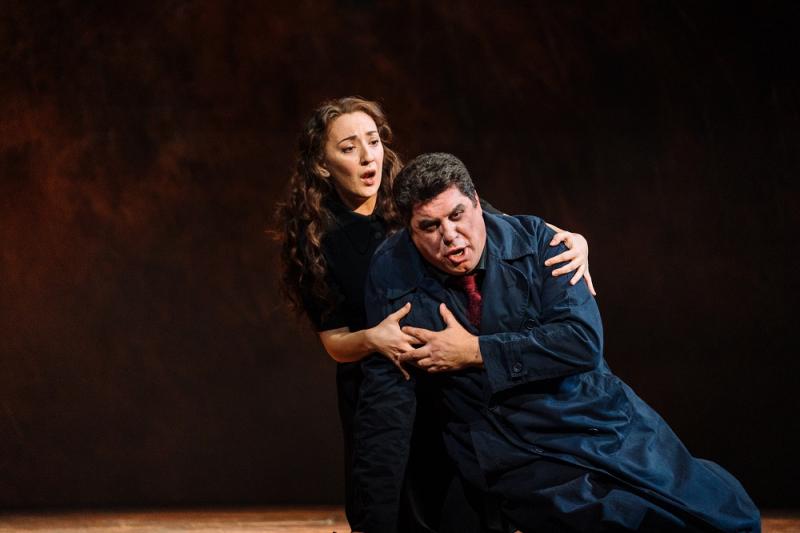 Gilda (Rosa Feola) consoles father Rigoletto (Luca Salsi)
Two Royal Opera staples, Verdi's La traviata and Puccini's Tosca, now come round with too much frequency for critical coverage. It looks like Director of Opera Oliver Mears' Rigoletto will do the same. Yet the production's September 2021 debut was clouded by routine performances from its protagonist baritone and tenor Duke of Mantua, so a second visit was due to see if fresh casting might make a difference.
It has, and very excitingly. True, we no longer have Royal Opera Music Director Antonio Pappano's surest guidance and illumination in the pit. Stefano Montanari is in many respects Pappano's polar opposite: show-offy in his curtain call, favouring extremes of tempi. To judge from John Allison's interview with both conductors featured in the programme, he doesn't have much to say about a score new to him – jazz in the short, sombre introduction to Act Three, which he took so slowly, really? – and as for Falstaff being Verdi's "most important" score, well, it's one sort of peak, but only literally the last word. Alongside these mostly misfiring apercus, Pappano hits the mark every time. But Montanari's beat is high and singer-friendly, and a masterful adjustment last night when his Rigoletto came in too early in Act Two confirmed his fine-tuning.
Veteran Carlos Álvarez, it turns out, was having trouble as the tormented court jester last year; if you don't live the huge dramatic possibilities of this staggering role, all spite and would-be vengeance with a surprising heart of tenderness in Rigoletto's love for his daughter, the whole evening is wasted. Luca Salsi (pictured below with Francesco Demuro) gives us all that with a big if mostly old-style performance. His is a real bruiser of a dark-hued baritone voice. You could tell that he wanted to scale it down more often, but the weight means that much at the top of the register has to come out full pelt or it loses pitch. Like Alvarez, he couldn't manage the paternal concern of "Veglia, o donna" in the Act One duet, but did scale to his daughter's frailer sound in exquisite closing harmonies of the slower movements. Those were moving; so, too, was his very real despair over her body in the final scene. But the real excitement came in the attack on the vile courtiers and the drive for vengeance, which rightly brought the house down at the end of Act Two: true Verdi baritone heart of darkness.
Unlike his predecessor, Franceso Demuro has a ringing lightish tenor perfectly tailored for a Duke of Mantua who's not just irresponsible but downright nasty from the start in Mears' conception. He phrases in long lines which made perfection out of the only aria proper, and styles the pop songs ("Questa o quella" and "La donna e mobile") in his own inimitable way. He's also handsome and a very fine actor, capturing the chameleonic essence of the playboy perfectly. The mock-courtly badinage with prostitute Maddalena in Act Three is dazzling, and culminates in the best opening solo of the great Quartet that I've ever heard.
Of the four great voices there, Aigul Akhmetshina is real class, also a top-notch match for Evgeny Stavinsky as Maddalena's assassin brother. And crowning the line is Rosa Feola as the misguided but courageous Gilda, the most multi-dimensional performance of the evening. Every move, every gesture rounds out the impetuous virginal teenager of Act Two, the determination to make a fatal sacrifice and the victim in the sack who sings her dying phrases with a perfect sliver of sound: you believe all that. She even survives Montanari's cripplingly slow tempo for "Caro nome". Lisette Oropesa sang exquisitely back in September, but this is on an even higher level. The courtiers, led by Dominic Sedgwick's riveting Marullo as before, do their work – and Anna Morrissey's excellent movement direction – to perfection.
Not much seems to have been tweaked by revival director Danielle Urbas: Gilda in Act Two, the Duke and Maddalena in Act Three, are at times too far back on the stage. The smoke isn't necessary (it affects the singers' throats, I'm told) and as so often the implausibility of Rigoletto not recognising his own home when he comes back having said goodbye to his daughter, and the lack of anything approaching the stated darkness, create problems of credibility (if you're going for realism, as Mears does throughout). Monterone's cries between the two scenes of Act One, part of a laboured reference to the blinding of Gloucester in King Lear, which Verdi had intended to set as an opera before turning to Victor Hugo's Le roi s'amuse, need to go. But otherwise this is indeed a production built to last, handsome enough to please the more conservative punters. It just needs three truly great singers, and in this revival it gets them. Unfortunately the screening on 15 March has the cast of the opening run, so splash out and get a ticket to the live event to see Verdian style at its most thrilling.
Crowning the line is Rosa Feola as the misguided but courageous Gilda, the most multi-dimensional performance of the evening
rating
Explore topics
Share this article