Rusalka, Scottish Opera |

reviews, news & interviews
Rusalka, Scottish Opera
Rusalka, Scottish Opera
Reality bites in Dvořák's rarely heard masterpiece
Anne Sophie Duprels as Rusalka
For the gentleman next to me in the Festival Theatre, this was his second outing to see Rusalka. At the production premiere earlier this month in Glasgow, he had been "blown away" by Dvořák's lyric masterpiece. Given half a chance, I would go back to Edinburgh for the second and last performance in this run; not only because this is a brilliant, beautifully judged performance, but also because the opportunity might never come again.
Rusalka
was last staged in Scotland by a Czech company in 1964. Will we really have to wait until the 2060s to see another?
The neglect of Rusalka is puzzling. Like many in the Edinburgh audience I have only ever heard the justifiably famous "Song to the moon", heard early in the first act, the melting cadences of which make it a popular lollipop in many sopranos' repertoire. But although this aria, and more particularly its beguiling introduction, is never far away throughout the rest of the opera, there's so much more to Dvořák's scintillating score. Notwithstanding a huge debt to Wagner's Tristan (three rising notes, resolving peacefully, recur again and again), the orchestral score is luminously beautiful and often dramatic. And for those who may sometimes be wearied by the relentlessly sunny disposition of Dvořák's symphonic music, there is deep sadness by the watery bucketful.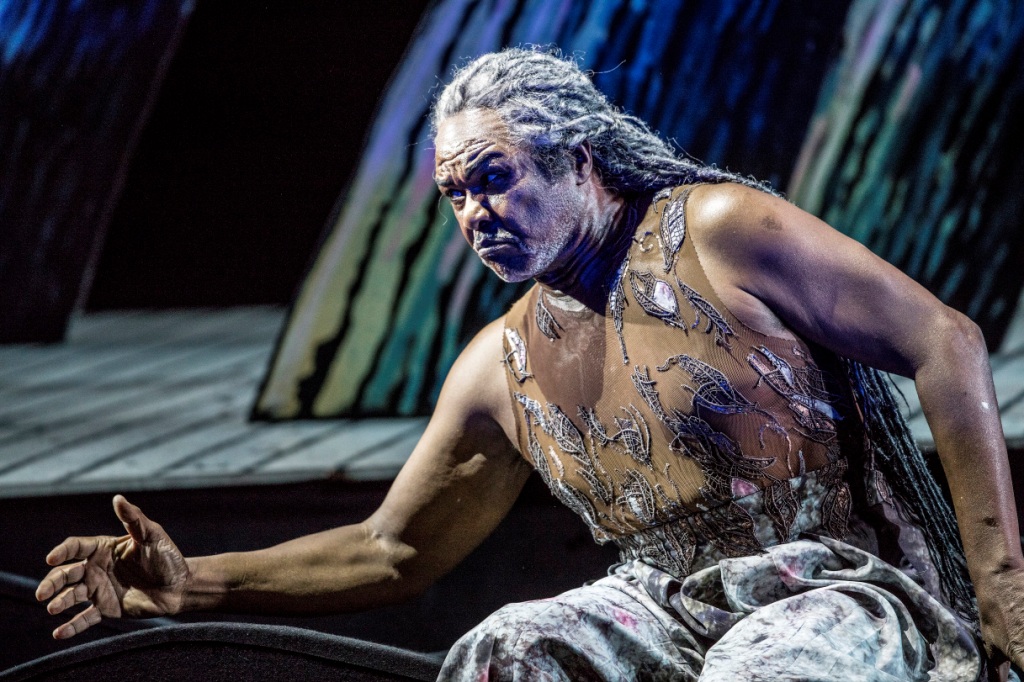 The production, designed and directed by Antony McDonald, is new to Scottish Opera but had an earlier life at Grange Park Opera in Hampshire. In a nifty piece of footwork Scottish Opera bought the whole thing, packed it into a container, and dumped it in a storage unit on the banks of the River Clyde. For its re-emergence, five years later, the original director returns, along with choreographer Lucy Burge, lighting designer Wolfgang Goebbel, and the slight but determined figure of Anne Sophie Duprels in the title role. Other members of the cast are new to this production: a magnificent Sir Willard White (pictured above) as her father the merman, Peter Wedd as the Prince, and the Welsh soprano Natalya Romaniw as the intolerant "Foreign Princess". The singing, without exception, is excellent throughout.
The tale of Rusalka is a sorry one indeed. A water-nymph, little more than a splash in a forest pool, wants to take on human form to love the huntsman whose naked body she holds in her watery embrace during his daily swim. Her old man urges caution, but seeing her determination sends her off to get a potion from Leah-Marian Jones's sinister witch. 15 minutes into the opera, we know it's not going to end well. The love affair implodes, the witch's curse returns, and the lovers are doomed – the Prince dies and Rusalka wanders off to a half-life of eternal misery.
It's all highly operatic, as ridiculous a piece of hokum as any number of mid-19th century supernatural operas, but the brilliance of McDonald's production is somehow to make the whole business seem, dare I say it, believable. There are many small touches of gritty realism: we don't see it but the witch brutally hacks off Rusalka's fishy tale, to reveal bloody and scarred legs on which the poor girl can scarcely walk. As a grisly afterthought, she then tips a bucket of blood and gore back into the pool (pictured below, Peter Wedd as the Prince).
Later, as Rusalka is prepared for her wedding to the Prince, she becomes hopelessly tangled in what could be either a huge wedding veil or a fishing net. Her writhing and wriggling to free herself are painful to watch, not least because Duprels is a superb mover and actress. The chorus is never seen but a troupe of a dozen or so dancers fill the stage with antics whose ostensible comedy moves rapidly towards the sinister and grotesque. There are few laughs – not even the decadent wedding feast with suavely camp waiters and overt sexual overtones. At one point two of the dancers spend an entire scene filleting fish – the fish were real but they wouldn't get a job in a Leith fishmonger any time soon.
The effect of this realism transforms the story from one of indifference (who really cares, these days, about lovelorn princes and water-nymphs?) to one of universal humanity. And yes we do care, we care for Rusalka, (literally) a fish out of water whose fragile beauty and deep love are insufficient to break down the prejudice and snobbery of an aristocratic court. We care for the Prince, torn between hopeless passion for a mysterious and elusive figure and the feisty demands of a real life genuine chip-off-the-old-block Princess who is determined to get her man.
The transition from Grange Park to Scottish Opera appears to be a felicitous one, not least because the resources of each seem quite closely matched -- neither company could afford a wedding banquet for a hundred. With the possible exception of the orchestra; for this production we had a huge band of around 70, playing superbly under the direction of the newly appointed Music Director Stuart Stratford. If this is a portent for the future, then things are looking up for Scotland's national opera company.
Last performance Saturday 16 April at Festival Theatre, Edinburgh