Serse, The English Concert, St Martin-in-the-Fields review - star turns from five remarkable women |

reviews, news & interviews
Serse, The English Concert, St Martin-in-the-Fields review - star turns from five remarkable women
Serse, The English Concert, St Martin-in-the-Fields review - star turns from five remarkable women
Emily D'Angelo's Xerxes is king, but doesn't eclipse other greats in a Handel masterpiece
Emily D'Angelo as lovesick Persian ruler Xerxes
You know great singing when you hear it. In Handel, for me, that was when Lucy Crowe took over a Göttingen gala back in 2013; in Mozart, most recently, it came from Emily D'Angelo making her Royal Opera debut in La clemenza di Tito. Last night, in an opera of genius from first note to last, both shone, but neither eclipsed other performances or took the spotlight from the ravishingly beautiful playing of Harry Bicket's English Concert.
Handel's main roles were divided between five women's voices of outstanding quality, delivering the sort of performances where singing seems as natural as breathing (no mean feat in a very stylised work).
While the two sopranos were of similar vivacious ilk – Mary Bevan's Atalanta (pictured below with Harry Bicket at the harpsichord, superb cellist Joseph Crouch and star theorbist Sergio Bucheli to the right) is a mini-me version of Crowe's sister Romilda, with a delicious extra dose of nymphomania – the three mezzos could not be more different. Imagine – and this is an analogy rather than a direct comparison – mezzos Brigitte Fassbaender, Frederica von Stade and Marilyn Horne, and that might give some idea of the perfect complementary vocal talents of D'Angelo, Paula Murrihy and Daniela Mack.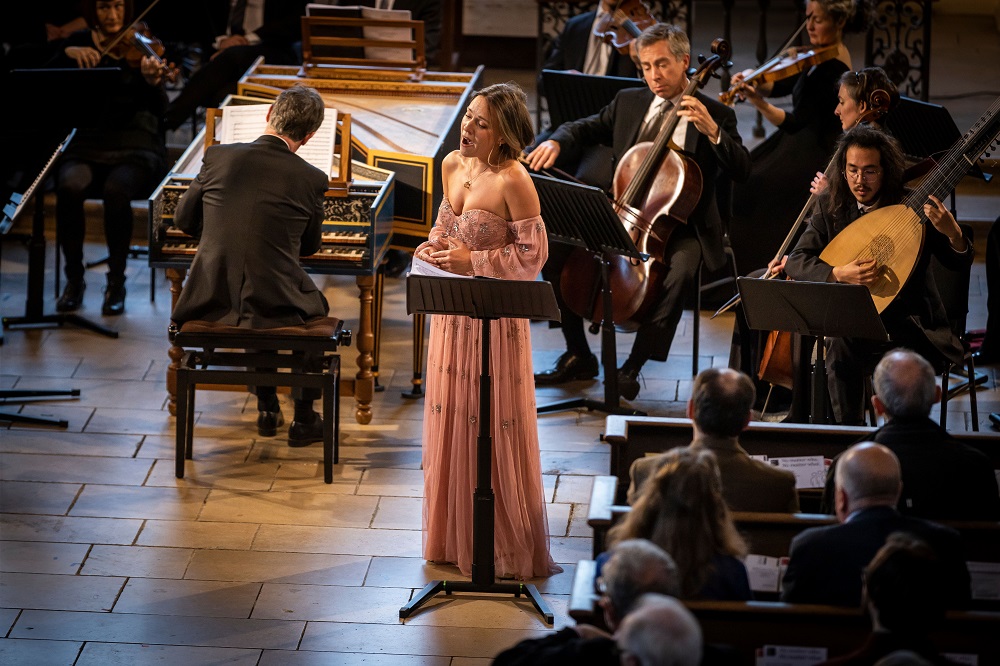 Forgive my personal bias in this, but I don't think any countertenor could quite stand up against D'Angelo's capricious, love-torn ruler. This is a voice in a million, backed up by stupendous technique, so vibrant that tears came to my eyes not at the pathos but the sheer brilliance of some unbelievable runs in the da capos. The last fire-spitter, "Crude Furie", capped all else in sheer brilliance, as it should; D'Angelo unleashed the powerful top notes which had mostly been kept in check. Neither she nor Crowe ever showed off for the hell of it; all was about expression, dazzling trills included.
It helps, of course, that the composer's most famous, and brief, air, the Larghetto "Ombra mai fu" known as "Handel's Largo", wins the audience over at the beginning (and there are real plane trees through the church's east window for Serse to address). So deft is Handel's interlinking of short numbers at the start that you almost brace yourself for unnecessary seriousness in the extended imbroglio of amatory adventures and misunderstandings. But each bigger aria conveys the pain of jealous passion, the ardour of fulfilment, so beautifully as a concept that the flimsy characters don't really matter.
Murrihy is the third superb Irish mezzo I've encountered in two days (having come reeling from the start of Zurich Opera's new Wagner Ring, which featured Patricia Bardon as Fricka and Niamh O'Sullivan as second Rhinemaiden - more anon). We don't see enough of her in the UK, though Irish National Opera is capitalizing on another of native greats who've left the nest. Warm and sympathetic, this Arsamene can also hold his/her own in poise against D'Angelo's gorgeous, more gender-fluid brother-king. A late-arriving bonus is Daniela Mack's Amastre, this time a character who's a woman dressing as a man; the stylish outfit and dark glasses did the trick, though again the vocal persona is more masculine, with all stops pulled out in chest voice.
Two quality men supported the phalanx of female power. William Dazeley might have seemed to overdo the comic-servant business if it weren't for the handsome presence of the voice (and his music is fun throughout). The always-underrated Neal Davies, looking as if butter wouldn't melt, gave a more understated but perfectly focused characterisation, this time of smug opportunism which buckles at the last moment.
No "concert staging" director was listed, but even with scores brought in to sit on music stands, the drama was as sharp as it needed to be: no fear of adverse comparisons with Nicholas Hytner's classic English National Opera production revived so often next door at the London Coliseum, though I did hear in my head "so inconstant/stony-hearted" while Crowe and Murrihy were singing "alma fiera/core ingrato" in the delicious Act 3 duet. The supertitle translation had a nervous breakdown near the end, but composure was swiftly recovered.
Only in such vocal company would it be possible to leave the achievement of conductor and orchestra until last. Harry Bicket and most of his (international) English Concert players presented a diffident demeanour, and yet the sounds that came out of that ensemble were gleamingly aristocratic or thunderously lively, much helped by the fine acoustics of gorgeous St Martin-in-the-Fields. If you wanted to watch an expression of that ardour among the instrumentalists, your eyes could turn to the first player of the giant lute known as the theorbo, Sergio Bucheli - a total rock star but so fine-tuned in reactions to every bit of the drama. This heavenly machine is touring to The Sage Gateshead, Pamplona and New York's Carnegie Hall, but there should be, has to be, a recording. I'm not virtue-signalling to say that I want to make a small contribution towards it as suggested, simply asking that you do too if you want the best Serse you'll ever hear preserved for posterity.
Neither D'Angelo nor Crowe ever showed off for the hell of it; all was about expression, dazzling trills included
rating
Explore topics
Share this article