theartsdesk at Wexford Festival Opera - the bad, the good and the glorious |

reviews, news & interviews
theartsdesk at Wexford Festival Opera - the bad, the good and the glorious
theartsdesk at Wexford Festival Opera - the bad, the good and the glorious
From Shakespeare travesty via French charm to bewitching Dvořák and a great soprano
Wednesday, 26 October 2022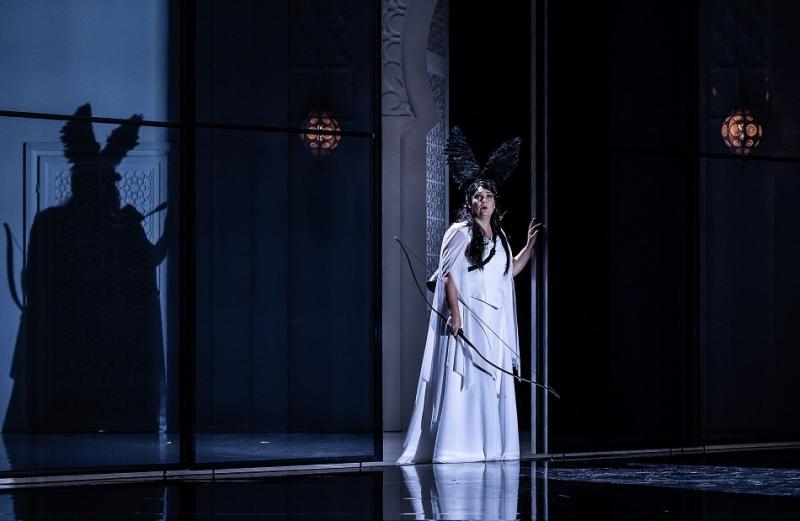 Jennifer Davis as Dvořák's Armida
Festival punters who eagerly return to this pleasant haven in south-east Ireland are happy to take a risk on the three rare operas served up each year. As a Wexford virgin, I knew I wanted to come here this autumn for Dvořák's last opera Armida, revealed on recordings as a glorious score at every turn, even when the dramaturgy falters, and for Irish soprano Jennifer Davis, already a world-class Elsa in Wagner's Lohengrin, as the eponymous lovelorn sorcerer.
Ancipation was duly rewarded, even if the path to Dvořákian triumph proved arduous at times, at least in terms of getting out of the wreck that is Halévy's and Scribe's travesty of Shakespeare's The Tempest; as intermezzo between the two more portentous operas we had a pretty if over-long bit of French froth in the shape of David's Lalla-Roukh, which got the best production of the three from another outstanding Irish woman, Orpha Phelan.
Standards in all three were high – ambitious when not entirely successful – and the first amazement was at the handsomeness of Wexford's Opera House (auditorium pictured above), an 800-seater replacement of the 18th century original which begs comparisons with Glyndebourne's auditorium (the beautiful curves of the balconies, in North American black maple wood, is an obvious homage). Approached from a modest entrance what is a "High Steet" in altitude only, its foyers offer ample space and there's an excellent café-restaurant on the top floor with fine views over the harbour and low-level coastline to the north.
Wexfordians of all ages were out in force along the promenade for the fireworks over the harbour on opening night, though by the delayed 7.30pm start many operagoers would already have gone inside the theatre. Sadly, there were no real pyrotechnics to distract from the unintentional farce of La Tempesta (★★), though Hila Baggio's Miranda and 24-year-old Jade Phoenix, graduate of the Wexford Festival Academy (now Factory), as Ariel, did well enough with generic music.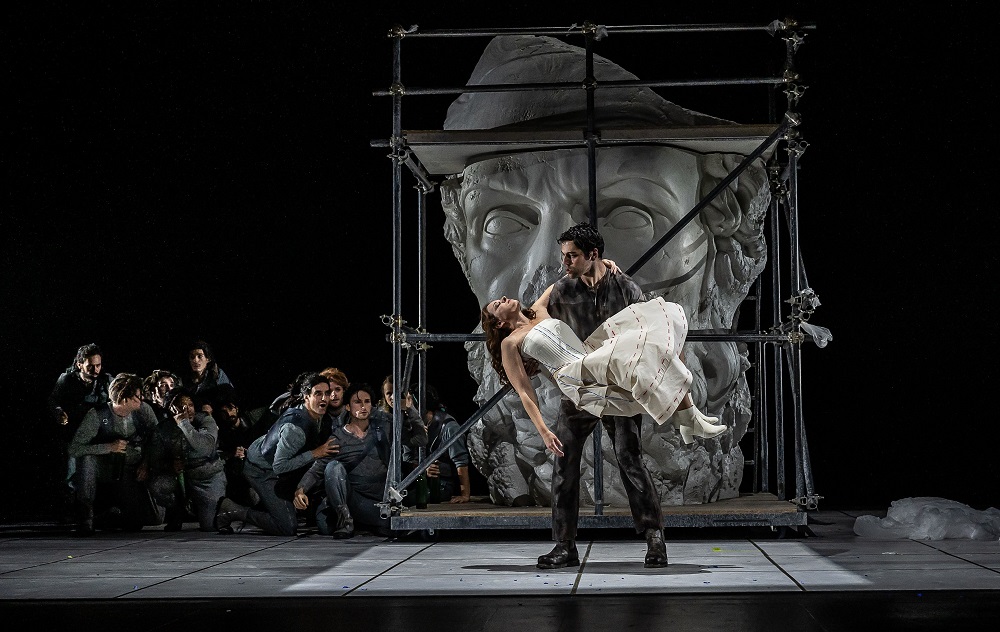 Metal beds for those about to be shipwrecked at the start suggested regietheater cliché in Roberto Catallano's production; what looked and sounded like rustling binbags laid over the sleepers by black-clad "spirits" rather confirmed the worst. The real problem, apart from Scribe's intractable farrago of a libretto, was that the principals delivered only stock operatic cliches in their acting, suggesting a further misalliance. Georgian bass-baritone Giorgi Manashvili (pictured above with Baggio's Miranda and chorus), current Wexford Factory Artist, came off best, and in Caliban's lower-instrumental characterisation there are glimmers of interest in Halévy's score (the light spirit promised for Ariel's music quickly disappeared given the sobriety of dancers who hardly danced). Unfortunately Halévy and Scribe go way beyond the bounds of a threat which in Shakespeare we know will be overcome by omnipotent Prospero and, having encumbered the plot with magic flowers donated by Caliban's mother Sycorax (yes, she sings, with the fine voice of Emma Jüngling, but isn't seen), show us the monster on the verge of raping the virgin – bad taste which the production doesn't obviate.
Prospero in this travesty has no omnipotence, and even breaks down crying in despair at his lost daughter; it's a thankless role, but another promising singer, Nikolay Zemlianskikh, at least sounds good. Other saving graces? The male chorus, giving a perfunctory drinking scene plenty of brio, and Emanuele Sinisi's professionally austere designs (final scene pictured below). Conductor Francesco Cilluffo must have despaired at having to make the most of such a poor score.
From Saturday, everything turned out much brighter, including the weather for a morning walk along the estuary of the river Slaney, rich with curlews, sandpipers, redshanks and oystercatchers, though we didn't see any of the Greenland white-fronted geese which arrive in their thousands in late October. I'd left requests too late for the daytime operas – Alberto Caruso's The Master, to a libretto by Colm Tóibín based on his Henry James novel of the same name, and Victorian operetta The Spectre Knight by Alfred Cellier – but serendipitously we found ourselves outside oddly-shaped late Georgian St Iberius Church just before 1pm and caught a winner of a recital (★★★★). Baritone Stanislav Kuflyuk, from the Ivano-Frankivsk region of Ukraine, now based in Poland and singing the role of villain-sorcerer Ismen in Armida, was advertised as the soloist, with WFO Head of Music Carmen Santoro as his pianist, but brought won further kudos in two framing duets with his partner, Ruslana Koval, who in effect has given a winning audition for Wexford.
Just as Kuflyuk is the ideal Italianate baritone – his Don Carlo Rodrigo had lyric intensity in spades – and, most important of all, the perfect communicator, Koval has it all, too, moving instantly into character as Nedda to Kuflyuk's Silvio in the love duet from Leoncavallo's Pagliacci. There were instant tears at the start, too, when they sang a rapturous duet by compatriot Platon Maiborada. I gather the pair were among the Ukrainian artists who raised 7300 Euros for UNICEF Ireland at this summer's Blackwater Valley Opera Festival; they'll win hearts wherever they go (the two pictured below).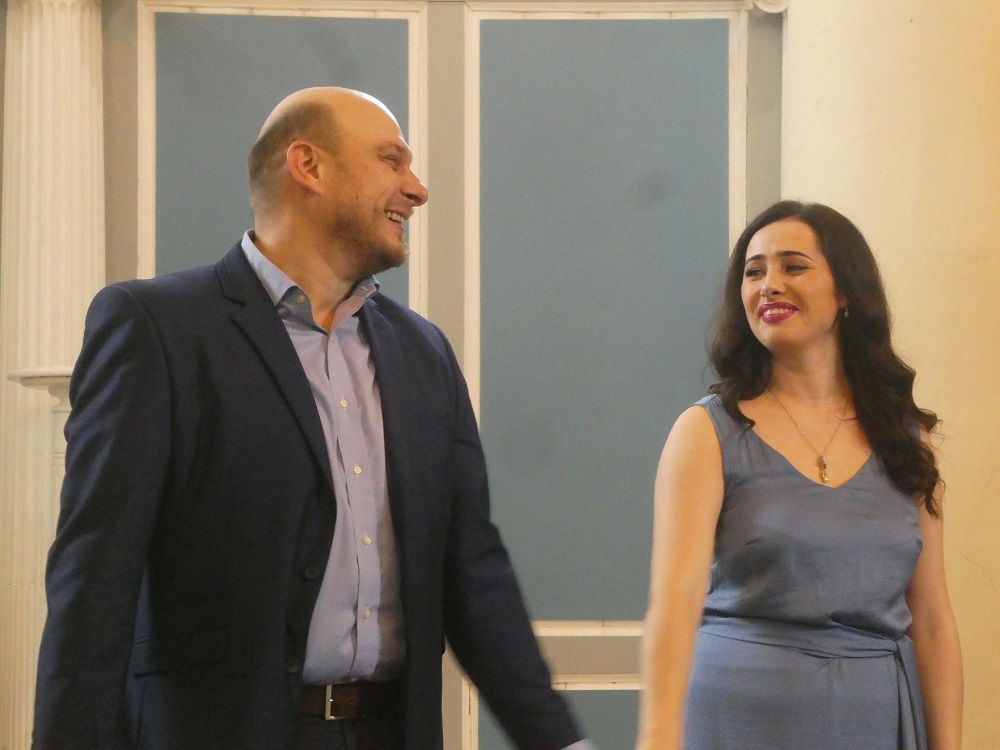 Hearts downcast by La Tempesta were unfrozen even further by the second of this year's three operatic choices, Lalla-Roukh (★★★★). The Irish component was most marked here: in the early 1860s Félicien David took the bare bones of Tom Moore's Lalla Rookh, shorn of its crucial tales-within-a-tale to leave an over-extended piece of fluff in which Moghul princess Lalla, on her way to be married off to the unseen King of Bukhara, is wooed by a mysterious minstrel (you can probably guess the only plot twist).
Director Orpha Phelan sheds the now-dodgy orientalism, evolving a carnival from an Irish teashop – a lovely opening tableau in Madeleine Boyd's classy designs (pictured below) – and the Opéra-Comique dialogue, giving a narrative role instead to Lorcan Cranitch as a trolley-wheeling Wexford seanchaí or storyteller. Great idea, though it wasn't just the dialect which sometimes made him difficult to understand; I don't think the mike was working. Still, he brought sufficient charm and pathos to the proceedings.
Humour in French light opera so often falls flat, especially when the music makes you think of what Gilbert achieved for Sullivan. The subordinate couple aren't innately funny, despite their couplets – one verse would usually be enough – and their duet. But Ben McAteer (a Savoyard star) brought what he could to the role of fussy chaperone Baskir, and the vocal star of the evening was unquestionably mezzo Niamh O'Sullivan – soon to be seen as Massenet's Charlotte for Irish National Opera, unmissable – bringing poise to Lalla's sidekick Mirza. For that reason the Lalla-Mirza duet was a highlight of the evening.
Gabrielle Philiponet's heroine (pictured below in the embrace of O'Sullivan's Mirza) kept it pretty and light, and Argentinian Pablo Bensch was in the right French-tenor zone as minstrel/king Nourreddin. The material would be best shoehorned into a single act, but David has that love of what Tchaikovsky called 'le joli" in French opera, and conductor Steven White served it with style.
Dvořák's score for Armida (★★★★), though, is in a different league: endlessly inventive, ravishingly orchestrated – as you would expect from a composer who'd just penned his greatest masterpiece, Rusalka - sometimes tossing aside a beautiful inspiration too soon in an attempt to keep the drama on the move, and demanding the best from his soprano and tenor. The Saracen lady of dark arts, a mere temptress in more famous operatic treatments of Torquato Tasso, here becomes an offspring of Wagner's Kundry with a dash of Venusberg allure, genuinely in love with her crusader knight, determined to mitigate the worst of Syrian ruler Ismen's machinations.
Davis masters every aspect: the lyric beauty of Armida's Rusalka-esque first aria, the dramatic urgency of her fiction to the Crusaders, the sensuousness of the magic-kingdom love music and the sorrowful denouement. The Irish soprano's trajectory in Wagner and Strauss roles worldwide could move from lyric to dramatic, given the strong backbone of her more urgent singing; now that Jakub Hrůša, who conducted the second run of Lohengrins at Covent Garden in tandem with her perfect Elsa, is to be Pappano's Royal Opera successor, we might hope for Armida, Smetana's Libuše and Dalibor, another Rusalka…
Full credit, too, for Gerard Schneider's commitment as Rinald (pictured above with Davis), ideally beaten-bronze of tenor tone, overcoming the insane high-register difficulties in the final act with dramatic intensity. Kuflyuk rises to other challenges in the convoluted third act, the weakest of the three stagewise, but still full of first-rate ideas from the composer.
Director-designer Hartmut Schörghofer doesn't do much to avoid the Christians-v-Muslims problems of the drama, and the stage for the first time in the three productions can feel crowded. The video designs of Raffaelle Acquaviva are half-successful, probably essential given the fantasy dimension. Norbert Baxa of the Til Theatre in Pilsen, with which this production is shared, conducts well enough to let the players shine in the miracles of orchestration. But Dvořák' and Jennifer Davis are the joint regents of Wexford this year.