theartsdesk at Wexford Festival Opera - four operas and a recital in one crazy day |

reviews, news & interviews
theartsdesk at Wexford Festival Opera - four operas and a recital in one crazy day
theartsdesk at Wexford Festival Opera - four operas and a recital in one crazy day
Youth takes the comedy award in fringe delights alongside a well-done schlocky rarity
Wednesday, 08 November 2023
Young love representing youth triumphant in Wexford's Grain Store: Conor Prendiville and Federica Raja as Rinuccion and Lauretta in Puccini's 'Gianni Schicchi'
Imagine a Glyndebourne season where all those promising young singers in the chorus get to be principals in a series of fringe operas. At Wexford, they already have their work cut out, though this year not so much in the three main rarities – hence the sheer joy of witnessing so many fine performances in Puccini's Suor Angelica and Gianni Schicchi, Donizetti's La fille du régiment and Rossini's L'Italiana in Algeri.
To catch four operas and a recital in one day, as well as another comedy the following morning, is unique in my experience to date. And there were abundant pleasures and revelations to be found in each performance. Many of these young artists had benefitted from the fourth edition of the lavishly run Wexford Factory, which certainly isn't churning out one size to fit all. But first, more about what was officially the main event. Ambitious and personable festival director Rosetta Cucchi took as the 2023 theme "Women in War". You probably wouldn't be inclined to take an early and by all accounts over-long Donizetti work, Zoraida di Granata, seriously; I chose not to take it at all, though it was a shame the timetable didn't allow for Marco Tutino's recent La Ciociara, based on Moravia's superb novel Two Women, about a mother and her teenage daughter caught up in the terrible events of 1943. Admirably, both productions can be seen on RTÉ Culture or its YouTube channel for the next 12 months.
So, too, can Camille Erlanger's L'Aube rouge (The Red Dawn), an early – 1911 – take on the road that led to the Russian Revolution, tracing in fanciful style the activities of a group of nihilists. I'm glad to have experienced it live, chiefly to catch the full opulence of soprano Andreea Soare (pictured above by Cliva Barda standing with Giorgi Manoshvili's Kouragine seated) in the acoustic of the O'Reilly Theatre of the National Opera House, opened in 2008, not dissimilar in look to Glyndebourne's auditorium. Soare's acting as Olga, daughter of a reactionary general who wants to help the opposition, is old-school, but not out of place in this rather foursquare melodrama, chucking in every cliché of passionate, revolting Russians and their landscape in a hoot of a libretto (a few basics might have been checked by Erlanger's dreadful librettists: the folksong Olga delivers in Act 3 is one used by Tchaikovsky in his 1812 Overture, but its words certainly wouldn't hymn the blue Danube flowing by if it were a genuine hymn to mother Russia).
It's tosh, then, but never inertly composed or performed. Erlanger has none of his teacher Delibes' French delicacy or instrumental charm; the impact is that of a second-rank Italian opera by Giordano or Zandonai, and the melodies aren't memorable enough to merit their multiple reprises. No scene is too long, though, and there's a chance to spot quotations both in the Italian-wedding Act 2 and the Parisian-love-idyll-soured Act 3 Scene One. Best is the stretch where revolutionary love Serge, shot by his own for choosing love over action, gets treatment in a French hospital. It looks good in Holly Pigott's monumental set for Ella Marchment's production, diffuse both period-wise and dramatically, while the opening music is Erlanger at his most atmospheric.
With tenor Andrew Morstein as the close-to-death Serge mostly silent in this scene– there's surely a big voice waiting to get out of that imposing frame – the spotlight is back, albeit briefly, on Pierre de Ruys, the surgeon husband Olga abandoned at their wedding, who has to decide whether to let the man who ruined his life live or die. Philippe Nicolas Martin is both the perfect baritone and an actor who knows the value of stillness, though it helps that his character contains his violence. Another singer who really knows how to move across a stage is Wexford discovery and true bass Georgi Manoshvili as the holy anarchist Kouragine. Hopes ran high for his Mustafa in L'Italiana in Algeri the following morning, and were not disappointed.
Act 4 has the novelty of a pagan dance (pictured above by Clive Barda) destined to end in a death only two years before The Rite of Spring, but needless to say Erlanger isn't up to Delibes, let alone Stravinsky, and Luisa Baldinetti's choreography is engagingly daft to cover up the lack of inspiration. On Saturday night, Christophe Manien conducted the very fine Wexford Festival Opera Orchestra with panache and pace.
The other operas I saw before this not unengaging evening, and on the following morning, had instrumental textures ranging from an 11-piece orchestra to solo piano. When as beautifully and sensitively played as it was by Giorgio D'Alonzo, Puccini's exquisite score for Suor Angelica took on a different quality from the impressionistic beauty it normally has. The intimacy in the smaller Jerome Hines Theatre was reinforced by an ensemble of seven nuns, all WFO Chorenes who handled their solo parts well. Unfortunately director Grace Morgan seemed to have decided that they were all on an ashram of sorts (in fact the setting was based on a cult which existed in Donegal for a decade in the late 20th century).
The girlish naughtiness at least pointed the way to how convincing Puccini's convent drama might be if set in a Magdalene laundry. But in any case its pathos is indestructible, and Lorna McLean's tragic nun (pictured above) did move us, with some exquisite floated softer notes. There wasn't quite enough vocal contrast with the Dragon Aunt who tells her that her illegitimate son has died, well characterised by Grace Maria Wain, and given so much coaching from Italians, it's surprising that McLean didn't use the text to project more energy. With no supertitles, the audience needed to have words like "bimbo", "mamma" and "morto" cut like a knife.
That was a little the case with the opening number of the lunchtime recital, the last of 11 and on this occasion held in the main auditorium to a full and appreciative audience: Jade Phoenix sang Gilda's "Caro nome" from Rigoletto well, but without the breathless palpitations of a young girl in love for the first time. That this personable soprano really could engage passionately with a text became vividly apparent in the song "The Mother", a setting by TC Kelly to verses written by Patrick Pearse in his prison cell on the eve of his execution for his part in the 1916 uprising.
Phoenix's part in the joint recital was well interwoven with contributions from an Italian tenor with a baritonal timbre, Leonardo Caimi, who won several points for singing the top B flat in Bizet's Flower Song piano; both were appearing in La Ciociara. Exits and entrances might have been more professionally managed, but youthful charm carried a happy hour with the guiding care of music director and repetiteur Carmen Santoro (pictured above with Caimi and Phoenix raising cans in the Brindisi from Verdi's La traviata)..
Constant pleasure and mirth rippled through the two afternoon operas. Donizetti's La fille du régiment had been perfectly adapted by director Heather Hadrill, combining numbers in French and dialogue in English, to fit into 90 minutes, and rather more stylish to look at in Lisa Krugel's designs for the smaller of the two National Opera House spaces than Suor Angelica; besides, who really needs an orchestra in Donizetti when you have a pianist as supportive as Rebecca Warren.
You'd be happy to catch the two leads anywhere in the world. Isabel Garcia Araujo (pictured above) had the cheeky but not over-mugged expressions, the upper-register fireworks and a full middle range for the "daughter" with multiple military "fathers" who brought her up – announced by a fun little scene with the three soldiers nursing a "baby" in a cradle. Her love Tonio was sung by the genial Chris Mosz with even more top Cs in his armoury than Donizetti asks for in "Pour mon âme", and a top D to boot: pure delight. The second of the two Marquises, Emily Hogarth, offered rolling-eyed charm rather than absurdity and a perfect French accent in the English dialogue to complement Portuguese and American. I'm still earwormed by the tunes of Donizetti's best comic mode. (Pictured below: Mosz and Garcia Araujo with James Wafer as Sulpice)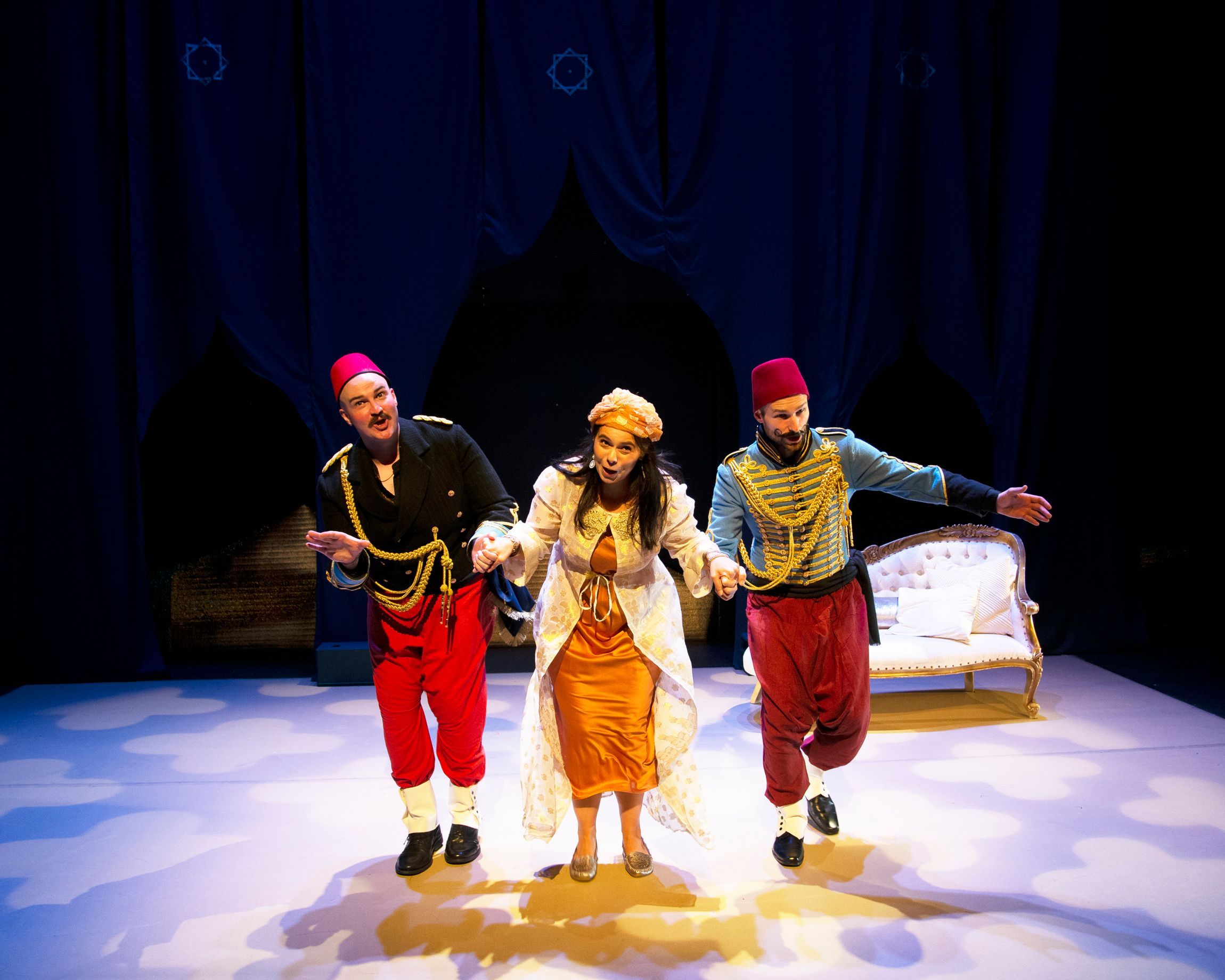 Likewise the pithy phrases of Puccini's Gianni Schicchi. The schedule meant missing the first quarter of an hour down in the perfect immersive space of the Grain Store at Stonebridge Harbour while Fille burbled along to its happy end; I was guided to the standing crowd in the first of four rooms just as young relative Rinuccio (Conor Prendiville) stood on a chair brandishing the will of uncle Buoso Donati, only for Aunt Zita to peruse it and find the "fecker" – as one of the 11 extra second cousins et al called him in occasional extra spoken lines – had left everything to the friars.
This first Community Opera had been very wittily recalibrated by Cucchi and her team to feature "the Italian population of Wexford", the delights of which were hymned in place of Florence, the Slaney winding through it, not the Arno. JFK's visit to trace his ancestors was referenced, pompous Simone was the Mayor not of Fucecchio but Kilkenny; the prize legacies included the Bentley and the apartments in Dublin.
The locals did their stuff brilliantly, but there was no stinting on first-rate professional singers led by Rory Musgrave as the cunning peasant Schicchi (pictured above centre) who turns up with his daughter Lauretta (Federica Raja) and helps the desperate relatives out, more as it turns out to his own advantage than theirs. Prendiville and Raja sang their ariettas to perfection, and actor Peter McCanley steered us expertly from ground floor rooms to upstairs as the three-piece ensemble (clarinettist Seamus Whiley, cellist Adriam Mantu and pianist Luca Capoferri) revolved minimalist-style around connecting phrases.
There might not have been any intentional humour in L'Aube rouge, but the fun continued at 11am on Sunday morning back in the main auditorium with Conor Hanratty's nimble and delightful production of Rossini's L'Italiana in Algeri, complete with a perfect small orchestra conducted by Gioele Muglialdo (special credit must go to Hannah Millar's horn obbligato in "Languir per una bella").
We were in the lobby of a hotel run by mafioso Mustafà; Manoshvili (picture above right with Peter Lidbetter as Haly) is far too handsome to be a constantly comical mug mocked by yachtwrecked Italian girl Isabella (Anna Helena MacLachlan), but his macho posturing gives cause enough for mockery. And yes, this is the agile genuine bass the role needs. Complementary comedy was returned especially by William Kyle's cicisbeo/mock uncle Taddeo and Ami Hewitt's discarded mistress Elvira. And at the end of the show, there was sunshine without, on the estuary, to match so much solar power accumulated in these wonderful fringe comedies. What an achievement, and the immaculate, jam-packed programme book continues to inform and delight.
The three main operas can be watched on RTE Culture, or listened to on RTE Lyric FM; BBC Radio 3's Opera on Three will broadcast LAube Rouge on 18 November and Zoraida di Granata on 25 November and they remain on BBC iplayer/BBC Sounds for a month