The Turn of the Screw, Opera North, OperaVision review - claustrophobic visions of terror and beauty |

reviews, news & interviews
The Turn of the Screw, Opera North, OperaVision review - claustrophobic visions of terror and beauty
The Turn of the Screw, Opera North, OperaVision review - claustrophobic visions of terror and beauty
Strongly-cast revival keeps the ambiguities of Henry James's ghost story in play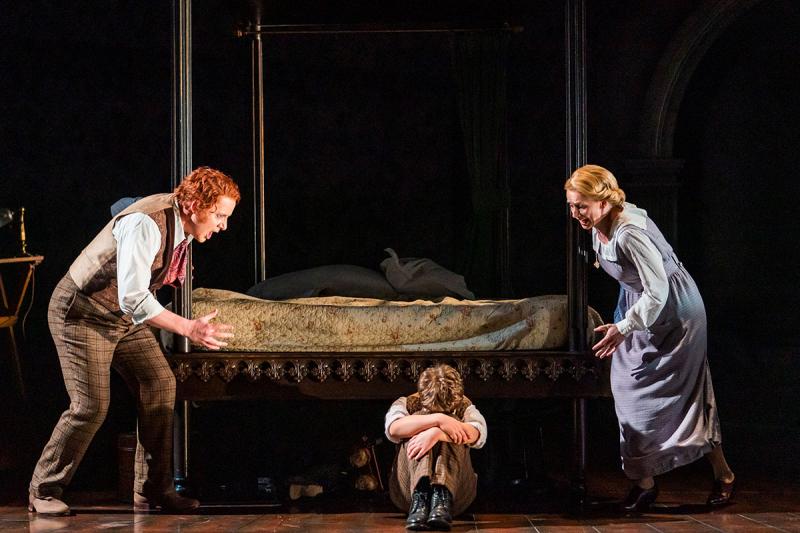 Nicholas Watts' Peter Quint and Sarah Tynan's Governess battle for the soul of young Miles (Tim Gasoriek)
Feeling stir-crazy right now? Imagine being confined to one room with a half-crazed housekeeper, two dysfunctional kids and two increasingly insistent ghosts, plagued by nightmares, unable even to get out into the garden or walk down to the lake.
Such is the plight of the Governess in Alessandro Talevi's twice-revived production of
The Turn of the Screw
for
Opera North
, a slightly different one to that of Henry James's main narrator or the creation drawn from her by
Britten
and his librettist Myfanwy Piper. With them at least she can wander the Bly estate at will, though the ghosts go with her. Here, especially in Peter Maniura's film just released on OperaVision, the claustrophobia is unremitting, and the ambiguity of James's unreliable narrator - does she conjure the dead valet Peter Quint and former governess Miss Jessel from hints of dark deeds past, or do they really plague her? - uncommonly well maintained.
Early on, it seems as if Heather Shipp's riveting, unorthodox Mrs Grose, usually a cosy, if uncomprehending ally for the Governess, here a woman on the verge of a nervous breakdown, is going to be the unconventional stand-out. But soon the children, swivelling at first between unruliness and poker-faced obedience, show the demonic influence of Quint (Nicholas Watts as a more elusive ghost than usual) and Jessel (Eleanor Dennis, the more disconcerting visually of the two).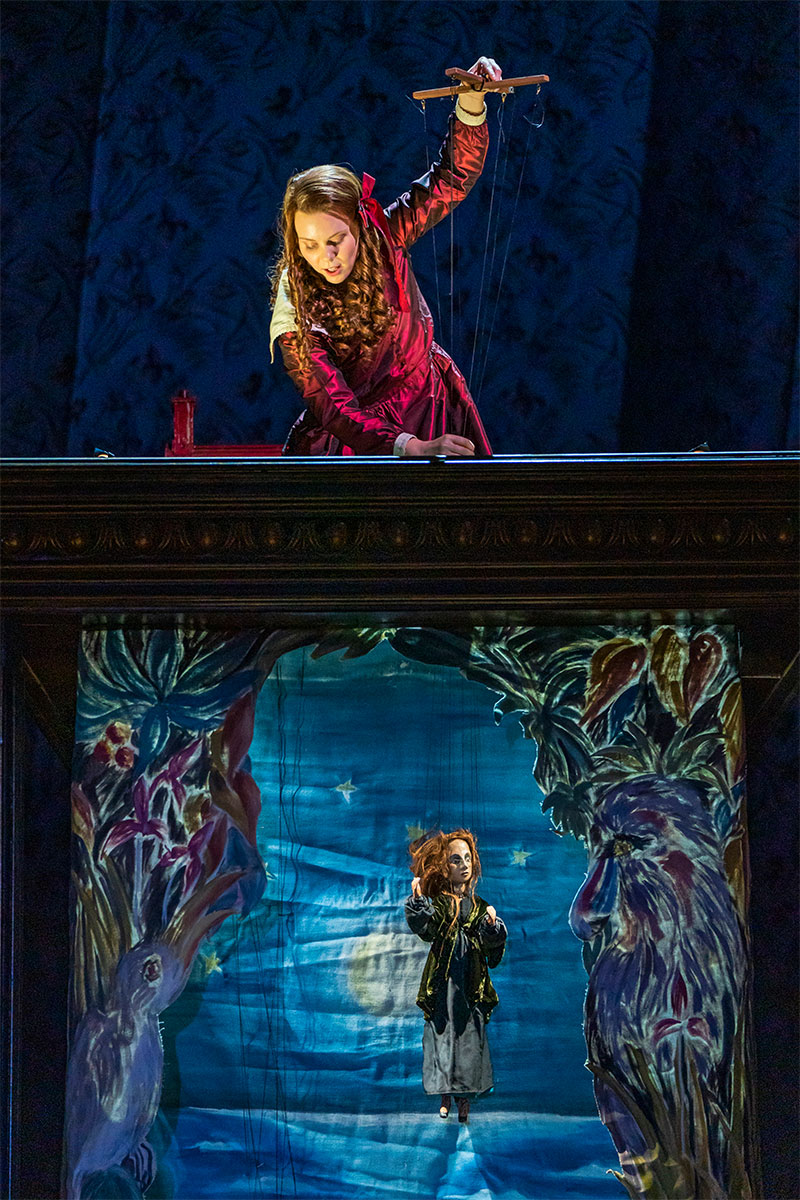 Talevi has Jennifer Clark's believable Flora manipulate a pupper-show of the lake at night (pictured right), dropping a cloth from two posters of the bed that's so central to the drama in Madeleine Boyd's design of a room with slanting walls and big attic window - a brilliant alternative to the real thing called for in the scenario. Miles, rivetingly sung and acted by treble Tim Gasoriek, seems increasingly possessed by his putative corrupter: deeply troubled in his heart-rending song of innocence under strain, his night wanderings at the end of Act One and his unwilling complicity, frightening when he dons a fox mask, like Quint, to steal the Governess's letter to the guardian in London and dances weirdly to the gramophone (1920s setting presumed?) instead of playing the piano (that worked for me).
You wonder if Sarah Tynan's seemingly pure and light lyric soprano and her pretty confidence will rise to the challenge of the psychic siege, but they do, and her acting is real enough to survive all the close-ups. It becomes clear why we first saw her in the jolting journey to Bly with her back to us; we see the same position at the start of Act Two, but on the bed, with the ghosts closing in on her, so Talevi can keep their utterances as her visions. And, as wih the children, it's often difficult to tell which is poisoned victim and which snake: like Miles, especially, she veers between pleas for help - the letter-writing is laceratingly, beautifully sung - and a physical insistence which makes her frightening, especially in her penultimate inquisition of the boy (Tynan and Gasoriek pictured below).Matthew Haskins' crucial lighting has come by now to depend increasingly on near-darkness and shadows.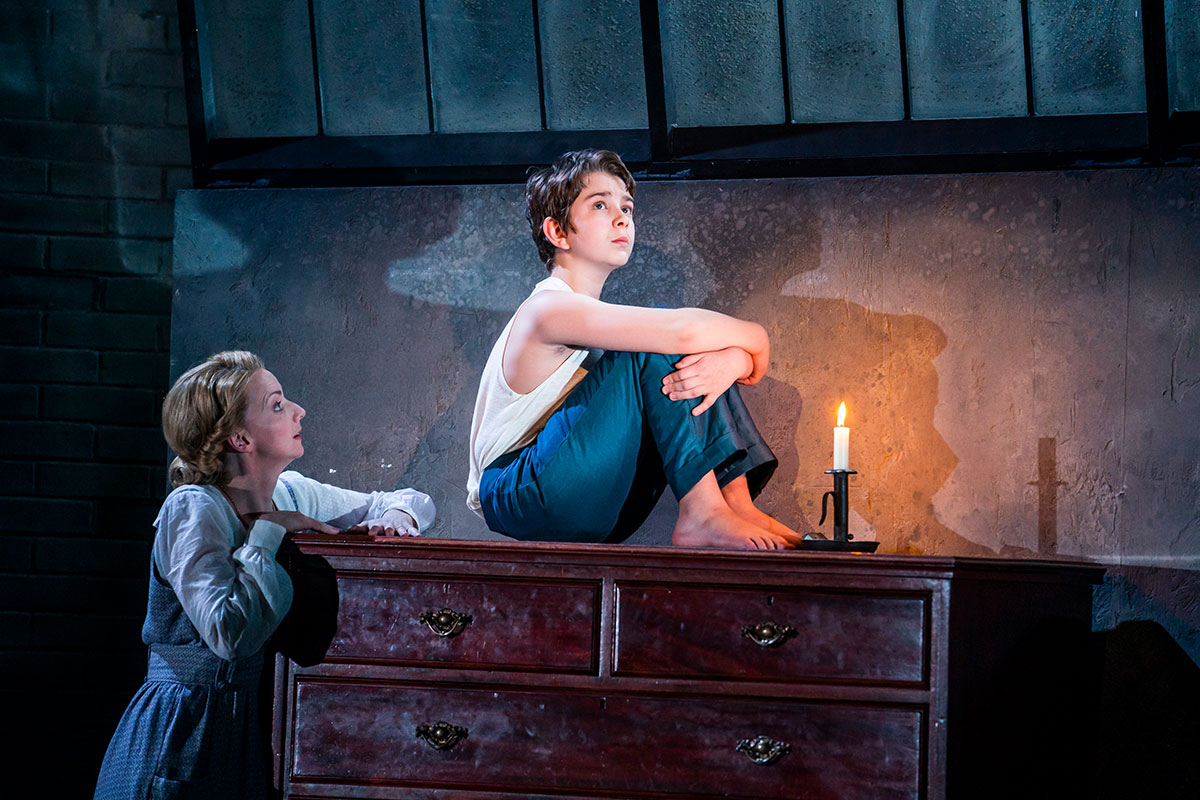 And so to the great final scene, based on a Passacaglia pattern in the bass which develops to embrace the twelve notes of the "screw" theme: is that her seeing Miles now dressed as Quint, or is it really happening? She and the male ghost are now positioned either side of Miles, as the ghosts were to her, and when in his fatal distress he cries out "Peter Quint - you Devil!", it could be, as it should be, to either of them.
What's so extraordinary about James's tale is that you can read it any number of times putting a slightly different construction on what may or may not have happened, and in a staging of Britten's most rigorous masterpiece as strong as this, further questions and disturbances pop up. It's queasy, nasty and often ravishingly beautiful, especially in the sounds made by what first-time viewers will probably be amazed to learn are only 14 instruments under the guidance of Leo McFall. And now that the next production, which was due to open at the Royal Opera's Linbury Theare with astonishing new soprano on the block Samantha Clarke as the Governess, won't be happening for the foreseeable future, we must cherish this singular vision all the more.
Watch Opera North's The Turn of the Screw on OperaVision
In a staging of Britten's most rigorous masterpiece as strong as this, further questions and disturbances pop up
rating
Explore topics
Share this article