10 Questions for Playwright Richard Nelson |

reviews, news & interviews
10 Questions for Playwright Richard Nelson
10 Questions for Playwright Richard Nelson
Ahead of the UK premiere of his Apple Family plays at the Brighton Festival, the award-winning playwright talks theatre, cinema and television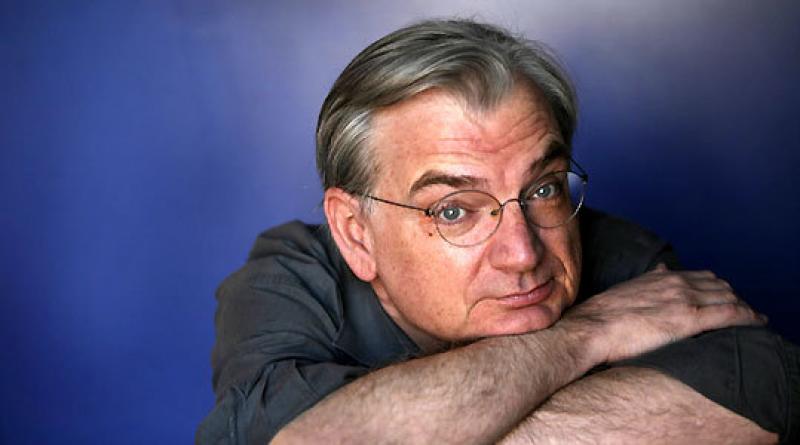 One of American theatre's most prolific creatives rests for a moment
Richard Nelson (b. 1950) is a leading figure in American theatre but also a consistent documentarian of his country's liberal consciousness. His series of plays about the Apple Family, written between 2010 and 2013, have been critically acclaimed for their portrayal of the upstate New York clan's gatherings on significant historical days. They are performed for the first time in the UK at the Brighton Festival in May.
Nelson's career, however, began in the mid-Seventies with his profile coming to wider attention the following decade as he worked alongside theatre directors such as Britain's David Jones and Romania's Liviu Ciulei at the Guthrie Theatre in Minneapolis. His output has ranged from the explicitly comic to the serious and has been a feted as much in the UK as the US - Goodnight Children Everywhere, about evacuees reuniting after World War II, won an Olivier Award in 2002. He has written the book for a number of musicals, including Chess, created with Tim Rice and ABBA's Benny Andersson and Björn Ulvaeus, and his Tony Award-winning work on the New York production of James Joyce's The Dead. Nelson has also presented successful American adaptations of classics by Chekov, Ibsen and Strindberg, and has written the screenplays for a number of films, most recently Hyde Park on Hudson, about George VI's 1939 visit to President Roosevelt.
THOMAS H GREEN: Given their specific reference to American politics, how do you find the Apple plays [pictured right] work when performed outside the States?
RICHARD NELSON: The Brighton Festival will be the first time these plays have been performed outside of the US. So I guess we'll see. To be honest, I was quite dubious when a gentleman from an important German theatre approached me about bringing these productions to Europe. I sat with him at the Public Theater in New York for a good two hours as he tried to convince me that even though these plays are incredibly specific in both time and place, a foreign audience would/could understand such a world. Then other people from other countries, including the UK, Japan, Denmark, France said the same thing after seeing our productions in New York. And now that we're coming, I hope they are right.
What does Brighton mean to you?
I have been to Brighton only once in my life; it was out of season, there was a cold wind; and I remember sitting in a mostly empty tea room, by myself, imaging Brighton Rock. In fact, I believe I had a copy of the novel with me on that trip.
What sort of man was Liviu Ciulei and how did he shape your own career and work?
Liviu was as important to my career as anyone; he was a real mentor, and taught me so much, both via his guidance, and also by example. I will remember his production of The Tempest at the Guthrie Theater in Minneapolis to my dying day: the stage seemed to float on a sea of blood; and coming out of this sea where the great art works of Western Civilization. They had survived some great catastrophe. Of course, Liviu was working out of his own difficult experiences with Communist Romania in this production. He taught me the importance of theatre, and that it can, even must, matter. And that theatre held a moral component. But, that's only the beginning of all he taught me.
What's the most broke you've ever been and how did it affect you?
I've never been in debt – except for the normal house mortgage. So I suppose I have never been completely broke; always something in the bank account. But being a playwright, and the sole support of a family of four, has it's adventures, and obvious anxieties. Still I have never written just for the money. Perhaps I just wasn't broke enough.
What have your experiences working in cinema taught you?
I am a playwright who every now and then tries to write screenplays. The latter form is elusive; you think you have something, but it just slips away, or you come back the next day and realize what you wrote and loved is totally unnecessary to the movie. My last film [Hyde Park on Hudson] was pure joy to work on; a wonderful and supportive director, encouraging and smart producers, great cast and designers. This experience taught me that I'd like to write more movies.
In a couple of decades time, do you see the Apple plays as offering a historical window into the mindset of liberal America at the time they were written?
I am certainly not the person to answer this. I think when a writer, especially a playwright, who by definition is working in the "present" (with live actors and live audience in real time), starts to wonder how his work will be seen sometime in the future, then he's heading for confusion. Theatre exists in the moment. That's its great gift, its charm, its importance.
What is your current perception of how British people view America?
I try not to generalize about "British people", as I think that is very hard to do. I have British friends who think very different things about my country right now. I do sometimes think that America is presented in rather "bold strokes", when in fact it is made up of a myriad of tones. We are a complex, complicated, and contradictory country, as I think is Britain.
How did writing the book for Chess change your living circumstances?
In my answer to an earlier question, I said that I have never written anything just for money. I took on the book for Chess because the director was a man I greatly admire (and as with Liviu Ciulei one of the great mentors of my artistic life). So I took on this job to work with him. However, many friends told me that now I would be able to put my kids through college. Well, I did put my kids through college, but not with any help from Chess. The show closed quickly on Broadway. Since then, every now and then, I get a check for a production somewhere; but unfortunately never enough to change anyone's "living circumstances".
What are your feelings about contemporary television drama? Do you have any particular recommendations?
I don't watch very much television; except for the news. What I do watch at home are movies. However, I have seen all of The Wire and think it is an incredible achievement. An entire society is put on the screen; how one sector touches another and so forth. Beautifully written, beautifully directed, and brilliantly acted. But I'm sure your readers know all of that already, and would have three or four other series to recommend to me.
How hard do you find it giving your plays a title?
I've written a lot of plays. So – a lot of titles. Some come right away; the titles of the first three Apple Family plays were like that: That Hopey Changey Thing, Sweet and Sad, Sorry, whereas the fourth, Regular Singing, went through a number of titles. I list possible titles while I'm writing the plays; it helps me focus or rather remind myself what I think I'm writing about.
The Apple Family Plays are at Brighton Festival from 2-4 May 2015. For more information visit: http://brightonfestival.org/event/6498/the_apple_family_plays_an_introduction/
I have never written just for the money. Perhaps I just wasn't broke enough
Explore topics
Share this article