2011: Car parks, Curtains and Considine |

reviews, news & interviews
2011: Car parks, Curtains and Considine
2011: Car parks, Curtains and Considine
A newcomer to London celebrates the urban surprises of city art under dramatic events
Thursday, 29 December 2011
As London blazed with fire and looting, Ron Arad's 'Curtain Call' provided a little shelter at the Roundhouse
In a year when eyes turned to London for the riots, the budget cuts and the hacked phones, there seemed to be a fair amount of middle England portrayed by British creatives. Alecky Blythe and Adam Cork's London Road at the National retold 2006's Ipswich murders as a darkly comical contemporary musical, with middle-aged gardening competitions and dull community-centre realism success. Tracey Emin's retrospective, Love is What You Want brought Margate's grey, salty waters to the South Bank through giant blankets and explosive short films. Later on in the year, Paddy Considine's writing/directing debut feature Tyrannosaur presented Leeds-based poverty and unflinching domestic violence to indie cinemas, with award-winning triumph.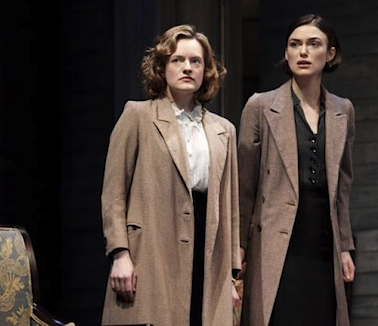 However, having flung myself, mewling and, yes, occasionally puking, into London as a council tax-paying resident for the first time in January, 2011 was always going to be about what was happening in the city's art scene. Charlie Tuesday Gates performed DIY taxidermy in the heart of the West End, while Hendrik Schneider's installation/workshop, I Promise, encouraged participants to forge a new £10 note in Shoreditch. A quiet highlight was Edwyn Collins's Nature Punk at the Idea Generation gallery - his improving sketches of birds narrated his stroke recovery.
Watching Attack the Block, the directorial debut of proud South Londoner Joe Cornish, in Peckham Plex, was both accidental and fitting. Later in the year, the multi-storey car park behind the cinema hosted Frank's Café for another summer. With it, Bold Tendencies sculpture exhibition put straw houses and inflatable rats towering over an unrivalled view of the city.
Weeks later, as the city blazed with fire and looting, the Southbank Centre's 50th anniversary offered small, shouty snippets of artwork in Nation of Shopkeepers, and Ron Arad's Curtain Call provided a little shelter in the form of a mesmerising vertical tunnel of silicon in Camden's Roundhouse. As the high street boarded up its windows, the National Portrait Gallery opened its doors long and late for its Late Shift Extra: ReAnimate, housing genre-crossing arts in its hallways.
Like many artsdeskers, for me Michael Sheen's performance and the innovative staging of Ian Rickson's Hamlet were a 2011 highlight, with Kevin Spacey's Richard III following shortly after. Ryan McGinley's shimmering return to the Alison Jacques gallery made a welcome break from Christmas shopping, as did festive spoken word at JawDance, during which Amy McAllister's frank, poignant poetry was notably good.
There it is. My first year in London, and in London's art. Here's to many more.

2011 Highlight: Finally getting over my dislike of Keira Knightley after her performance in The Children's Hour. She still had nothing on Elisabeth Moss, though (Moss and Knightley pictured above right).
2011 Letdown: Future Beauty: 30 Years of Japanese Fashion at the Barbican. Call me a fashion philistine, but a little bit of folded paper dresses goes a long way (pictured above left).
2012 Recommendation: Don't be tempted to avoid the capital during the Olympics. Even the tourists and dire transport won't be able to dint London's arts en fête.
Eyes turned to London for the riots, the budget cuts and the hacked phones
Explore topics
Share this article