Accolade, St James Theatre |

reviews, news & interviews
Accolade, St James Theatre
Accolade, St James Theatre
Revival of 1950s celebrity scandal drama is a topical triumph
Tuesday, 18 November 2014
Read all about it: Will (Alexander Hanson) and Rona Trenting (Abigail Cruttenden) lose their right to privacy
Reclaiming lost plays can be unnecessary indulgence, but Blanche McIntyre's note-perfect production of Emlyn Williams' 64-year-old work ushers in the renaissance of a thoroughly modern masterpiece. This progressive examination of ethical relativism, trial by media and the tension between public and private life is so topical as to seem positively clairvoyant, but it's not just a play of ideas – Accolade is among the year's most riveting human dramas.
Nobel Prize-winning author and respected family man Will Trenting (Alexander Hanson, pictured below with Bruce Alexander), about to add knighthood to his list of establishment honours, harbours a dark secret: the seamy underworld of his bestselling books is no fiction, but a record of his orgiastic adventures in working-class south London. The revelation of this Jekyll and Hyde existence horrifies his straitlaced publisher (Jay Villiers), but theoretical moral debate turns concrete when shocking details emerge about one of Trenting's sexual partners, followed by the devastating threat of exposure.
First revived at the Finborough in 2011, this tightly plotted thriller ratchets up suspense without sacrificing authenticity. McIntyre provides refreshingly nuanced exploration of potentially sensationalist topics, recognising that Williams' focus is not on the erotic, but on social hypocrisy. Why should we accept frank sexuality in art, but condemn it in life? If all parties are honest – critically, Will's wife (Abigail Cruttenden) has full knowledge of his proclivities – what harm is done? It's not difficult to spot the coded plea from the bisexual Williams for greater tolerance of alternative lifestyles and respect for those courageous enough to be open about them.
In 1950, as now, such disclosures would cause a tabloid firestorm, and the notion of press intrusion as the sinister counterpart to public success is particularly resonant post-Leveson. Accolade doesn't martyr Trenting, however, bracingly depicting the emotional cost of occupying two worlds. His guileless son (an excellent Sam Clemmett) is a tragic casualty of what is initially argued as a victimless crime – although there's a clear distinction drawn between Trenting's behaviour and the salacious exposure of it. "I haven't meant any harm," he insists, and while that remains debatable, the same certainly cannot be said of those who delight in knocking him off his pedestal.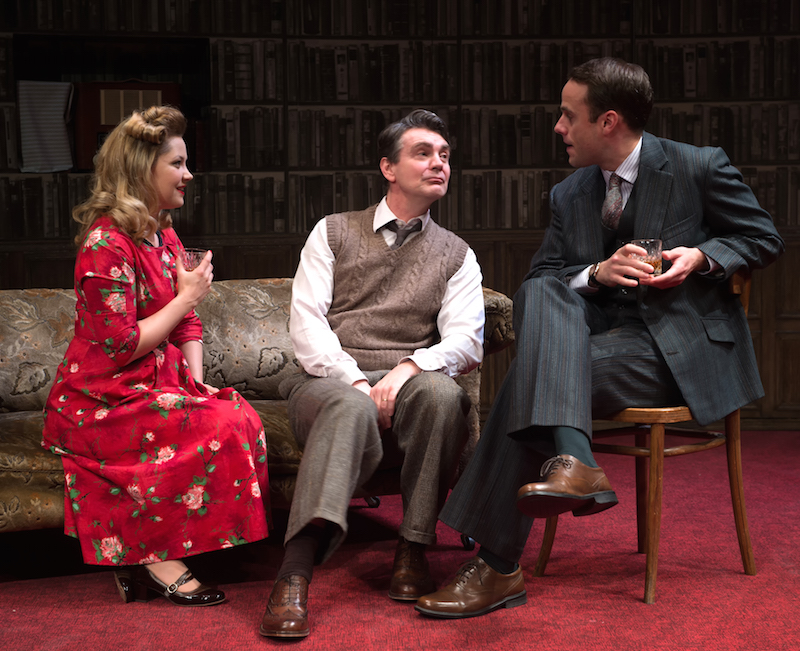 Bruce Alexander's extorter, an eccentric blend of bogus deference and bitter envy, embodies those double standards, adopting a censorious view of events while attempting to profit from them. Hanson and Cruttenden offer a sharp rejoinder in their deeply felt portrait of a complex but loving marriage, while Jay Taylor and Olivia Darnley (pictured left with Hanson) effectively resist stereotype as Trenting's Rotherhithe cronies. Daniel Crossley's all-seeing butler and Claire Cox's crisply comic society pal impress, as does James Cotterill's set, dominated by leather-bound volumes: the ideal framework for a play paralleling audacity in life and on the page.
This is the third offering in St James's One Stage Season for emerging producers. Breeders and Uncle Vanya will be remembered as flawed experiments, but Nicola Seed's revelatory Accolade is a clear triumph.
The notion of press intrusion as the sinister counterpart to public success is particularly resonant post-Leveson
rating
Share this article