Alice, A Virtual Theme Park review – down the technological rabbit hole |

reviews, news & interviews
Alice, A Virtual Theme Park review – down the technological rabbit hole
Alice, A Virtual Theme Park review – down the technological rabbit hole
Bonkers Zoom production is ideal for kids, but leaves adults wanting more
Eminently practical: Leda Douglas as Alice in Creation Theatre's Alice, A Virtual Theme Park
I have a confession to make: I don't like Alice in Wonderland. I know, I know, a lot of people disagree. I do appreciate its place in the cultural pantheon – I just find all the caterpillars and tea parties and pointless riddles really, really dull.
So it's hard to be sure if it was the subject matter of
Alice, A Virtual Theme Park
that left me a little chilly, or its form. Creation Theatre's Zoom
adaptation
of Lewis Carroll's
stories
is over-ambitious at times, but it works well when it's reminding us of life's fundamental absurdity – and how leaning into that can bring us together.
Full marks to Creation for gumption and sense of ceremony. Entering Wonderland is a genuinely otherworldly experience, made so by the Cheshire Cat's ethereal, quasi-robotic voice (there's not even a voice actor on the list, so I can only assume that was the actual Cheshire Cat). We drop down the rabbit hole via a clever animation, and then make a series of choices which eventually lead us back together at the Queen of Hearts' tea party. One slight issue with this is that you have to be quick on the draw – one lapse in concentration and you've missed half the March Hare's (Colm Gormley) lobster quadrille. It's lucky we've got Leda Douglas's eminently practical Alice to keep us all on track.
You have a dilemma over whether to keep other "Wanderers" (as the Cheshire Cat calls us audience members) visible. It's great to watch everyone's real-time reactions, and it goes some way to recreating the buzz of a physical crowd. But that also means you sometimes get a behind-the-scenes view of the action via one of the company's Zoom accounts. Which isn't earth-shattering, necessarily – most of us had probably cottoned on to how Tom Richardson (pictured right) was playing both Tweedledum and Tweedledee at once – but it seems like something that could be ironed out.
Director and adapter Zoe Seaton keeps it tight and to the point; the show only lasts a little over an hour, even if you grab a drink between scenes. The star is the Mad Hatter's hat, constructed by designer Ryan Dawson Laight. I would watch an entire show just featuring that hat and Dharmesh Patel's (pictured below) chaotic puppetry. Chaotic is probably the best word for the whole thing, which gets tiresome quickly, but is undoubtedly great for kids. The flashes of little faces I caught in the gallery were having a grand old time boogying with the March Hare and cheering on Tweedledum and Tweedledee's acrobatic antics. You might as well join in, even if you have the misfortune to be a grown-up – the real world is far madder than Wonderland right now, so why not race a hedgehog through a series of croquet hoops on your phone?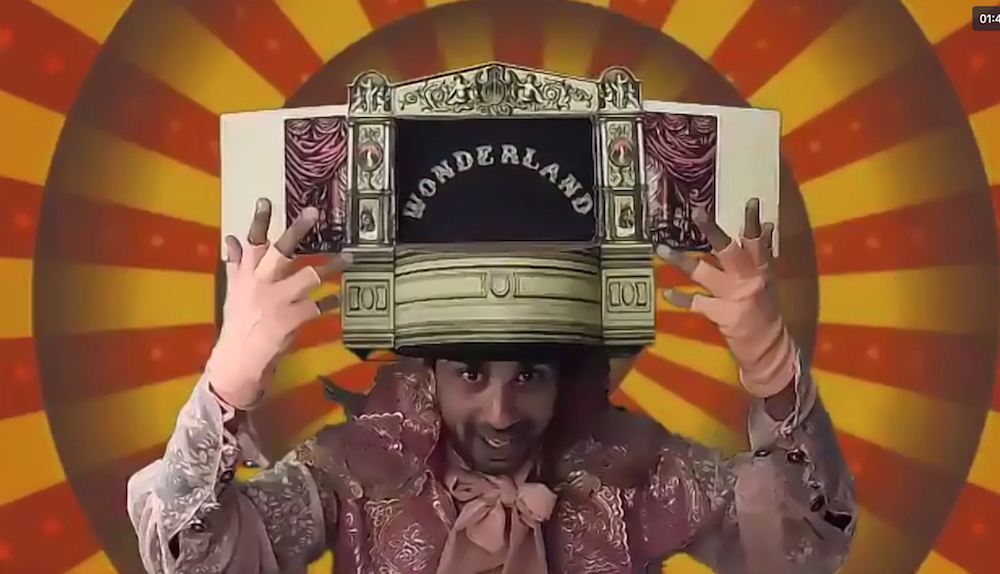 The best bit of theatre is always other people, and the makers of Alice have managed to bring a version of that camaraderie to the small screen. We might not have been going anywhere, in this frail travelling coincidence, but it was nice to go there together.
The real world is far madder than Wonderland right now, so why not race a hedgehog on your phone?
rating
Share this article