An American in Paris review - 'stagecraft couldn't be slicker' |

reviews, news & interviews
An American in Paris review - 'stagecraft couldn't be slicker'
An American in Paris review - 'stagecraft couldn't be slicker'
Christopher Wheeldon's staging at the Dominion is the most glamorous escape in town
Out of the dark: David Seadon-Young, Haydn Oakley and cast
What's in a yellow dress? Hope over experience? Reckless confidence? This is a legitimate question when the second big cross-Atlantic people-pleaser hoves into view featuring a girl in a frock of striking daffodil hue. It doesn't take a degree in semiotics to translate this. Forget the bad stuff, people. C'mon, get happy.
As grand escapism, An American in Paris – a Broadway adaptation of a Hollywood movie-musical – is superb, despite its attempts to introduce a little darkness to the 1951 original. Anyone who remembers the Gene Kelly/Leslie Caron film as flimsy and forgettable should, well, forget that right away. New choreography by Christopher Wheeldon, a new book by Craig Lucas, extra tunes from the Gershwin songbook and two superb ballet-trained leads place this enterprise in an entirely different class. There's so much to see and to hum, s'wonderful.
It's hard to see how stagecraft can get any slicker. The near-wordless prologue packs in such screeds of information that you're almost breathless before the story is under way. We're in Paris, the Germans have not long left, and there are bread queues in the streets. Bob Crowley's grisaille designs (pictured above) have a spontaneous, sketchbook feel, regrouping constantly to create grand boulevards, ruined buildings and shopfronts, as if from a busy pencil. Later, the sets explode into full-colour glamour, with sunsets over the Seine and the perfume department of the Galeries Lafayette.
The storyline, although much fuller in the new book by Craig Lucas, is essentially unchanged. Newly demobbed Jerry (Robert Fairchild, pictured above, below) spurns the boat home in favour of an uncertain future as an artist. He teams up with fellow Yank Adam, a struggling cabaret composer, and Henri, scion of a Parisian textile firm who secretly longs to be a nightclub crooner. All three are romantically in thrall to Lise (Leanne Cope, pictured below), a shopgirl planning a career as a ballerina. It's about her that they sing the number "S'Wonderful, S'marvellous", each unaware of the other's feelings.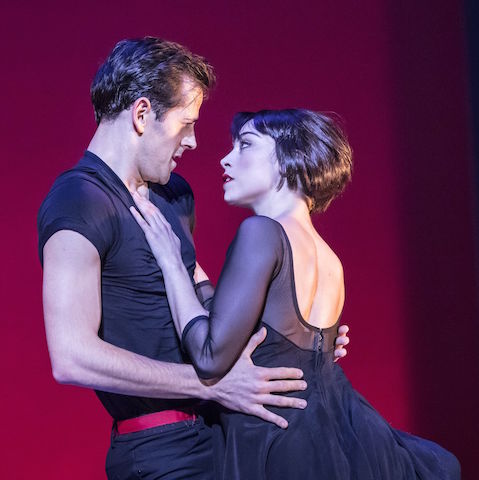 Choreographer Wheeldon is also the director – his excellent work on the ballet stage makes this no surprise. But if there's a fault in this dazzling production it's that he serves up too much at each course. Every scene change, every exchange, is larded with extraneous characters and props. Some of the songs cry out for space to breathe. At the Paris premiere in late 2014 "S'Wonderful" was just three guys in the dark, each in his own spotlight. Now that number is hyperactive, with moving flats each bearing a dancing digital avatar of Lise (as if we didn't already know the three were mad about her). Perhaps Wheeldon was freaked out by the vastness of the Dominion's stage and thought he had to fill it.
The choreography, by contrast, is the work of a seasoned master. Wheeldon can turn his hand to anything. He can do vernacular, in a scene where a drab café erupts in a Lindy Hop; he can do old-school hoofing, full top hat and tails, and of course he does classical like a dream. In "Fidgety Feet" – one of the apocryphal Gershwin songs – he shows he can do funny, too. It's basically a number about going nuts out of boredom at the theatre.
Wheeldon is blessed in his lead performers – but it was no doubt his idea to cast ballet dancers rather than musical-comedy stars. Fairchild is from New York City Ballet, Cope from our own Royal Ballet. Neither has a big voice, but both sing nicely, Cope with a tender little fast vibrato that's just right for the period. He, meanwhile, wows not only with the lightness and precision of his training, but with a louche recklessness that puts him in the frame with Gene Kelly. Together, Fairchild and Cope are glorious.
Zoe Rainey, as wealthy dilettante Milo, and Haydn Oakley, as the uptight Henri, have top-class pipes and show us what these can do with a Gershwin tune ("Shall We Dance?", "Who Cares?"). Yet it's David Seadon-Young, as the dorkish composer whose physical awkwardness around Lise means he'll never get close to her, who comes closest to touching us.
Two things mar the otherwise witty panache of Craig Lucas's book. Would Henri's mother (Jane Asher, pictured above with Oakley) playing the grande dame to the hilt really be voicing doubts about her son's sexual leanings in 1945? Surely not. And while the addition of wartime references is laudable, tethering the plot to real-life Paris, the big reveal is so lame that it causes something of a dip in the dramatic arc. True, no one goes to An American in Paris expecting The Diary of Anne Frank, but with some adjustments this darker undertow could be made to pull its weight.