Becky Shaw, Almeida Theatre |

reviews, news & interviews
Becky Shaw, Almeida Theatre
Becky Shaw, Almeida Theatre
Gina Gionfriddo's comedy of bad manners and sexual mores is too clever by half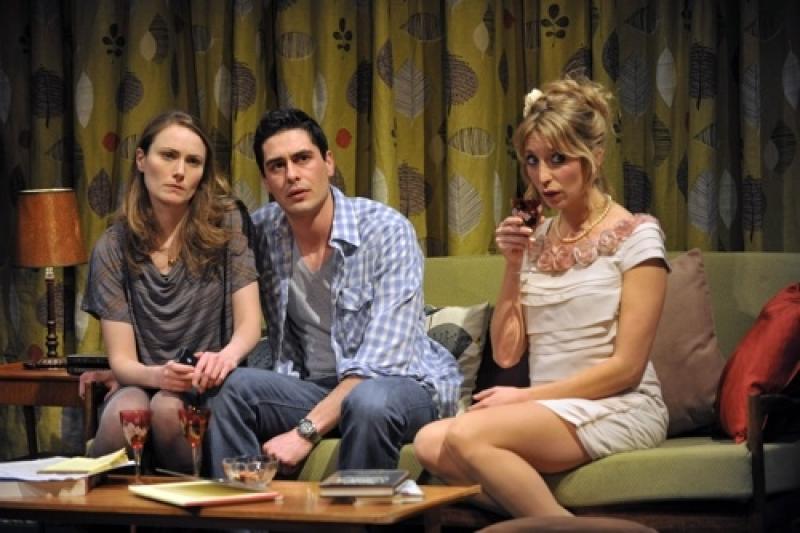 Ménage à trois: Anna Madeley, Vincent Montuel and Daisy Haggard make an uneasy threesome
Becky Shaw is lonely, unattractively needy, nervous, hungry for affection, affirmation, security. We are all Becky Shaw. That's a gross generalisation, of course – but then, generalisation is the language of Gina Gionfriddo's play, which premiered in Louisville, Kentucky, prior to a 2009 off-Broadway run.
A smart-mouthed, brittle comedy about the slippery politics of sex, dependency and what we choose to call love, the piece is crammed with zingers, but often feels like little more than a US sitcom: a well-crafted, sharply written sitcom, but for all its style a work that seems more concerned with turn of phrase than subtlety of character or plot. That, while it might sparkle in a 30-minute format, in a longer, more demanding form feels somewhat overstretched.
In a slick but slightly soulless production by Peter DuBois – who also directed the American stagings – it's an intermittently amusing, but ultimately rather pat, examination of 21st-century relationships. Max (David Wilson Barnes, who originated the role in the US) and Suzanna (Anna Madeley) are de facto adoptive siblings; Susan (Haydn Gwynne) is Suzanna's toxic mother. When Suzanna's father dies, and Susan shacks up with a red-neck chancer considerably her junior, Max steps in to help Suzanna deal with the emotional and financial fallout.
Since he's clearly been carrying a torch for Suzanna for years, this should be the perfect opportunity for Max to pounce – particularly since he has no moral qualms about sexual exploitation, still less any romantic illusions about the dirty business of love. Everybody uses one another, he reasons; and "love is a happy by-product of use". But while he can, and does, seize the moment to get it on with the neurasthenic Suzanna – who is reeling from the posthumous revelation that the father she thought she was close to was hiding secrets, among them a possible long-term gay affair – Max is far too emotionally constipated to admit that he wants a romance that might develop further.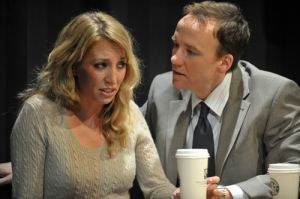 His reticence sets in train events that become increasingly damaging. Suzanna takes his advice to find herself a hobby, goes off on a skiing trip, meets sensitive Andrew (Vincent Montuel) and marries him in haste in Las Vegas; and the pair of them set Max up on a date with Andrew's flaky friend Becky (Daisy Haggard, pictured right with Barnes). This titular character was, according to Gionfriddo, partly inspired by Becky Sharp of Vanity Fair – but she bears scant resemblance to Thackeray's creation. Her liaison with Max is, predictably, disastrous. Becky is frilly-frocked, impecunious, kooky and eager, Max money-driven, snobbish, rude and contemptuous. On their ill-starred evening out, they get held up by a gun-toting street hood; and at the end of the traumatic night, he opportunistically fucks her anyway. When Becky imagines their desultory coupling meant they had a future, and Max won't return her calls, she starts threatening suicide. It's the emotional equivalent of a Valentine's Day massacre - though it's not always clear who's firing the bullets.
Gionfriddo, who has written for the TV series Law & Order, certainly has a deft way with dialogue. "Intimacy is a prescription for misery," snaps Susan, who is a big believer in the virtue of the convenient lie. But if what's being said often sounds clever, there's a deep seam of shallow pop psychology running through it. Max is incapable of expressing his feelings, and defends himself with aggressive cynicism, because of his calamitous parents; Suzanna – a psychology PhD student who plans to become a therapist – seeks self-worth in fretting about others, specifically her waspish mother, who has MS as well as a lover whom her daughter sees as unsuitable; Andrew is an enabler who hunts lame ducks – first Suzanna, then Becky – and keeps them lame by hobbling them with pseudo-caring platitudes. It's all very neat, but behind the dazzle of the epigrams there's little in the way of complex characterisation or plot.
Still, as in most generalisations, there are grains of truth here that will allow most of us to empathise at least once or twice. And Gionfriddo spreads her sympathies around pretty even-handedly; everyone's a bit right, everyone's a bit wrong, and they're all equally blinkered. DuBois keeps the whole thing zipping along, and the cast wrings plenty of abrasive comedy from the bitter witticisms, the bungled connections and the toe-curling social discomfort. In the end, though, that's not quite enough.