Blink, Soho Theatre |

reviews, news & interviews
Blink, Soho Theatre
Blink, Soho Theatre
Phil Porter delivers a gorgeously quirky love story fresh from the Edinburgh Fringe
Thursday, 06 September 2012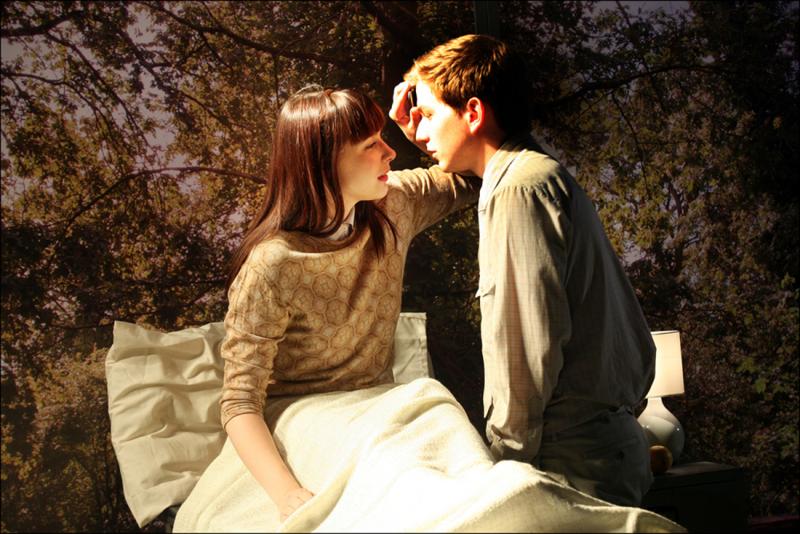 Quirky rom-com: Rosie Wyatt and Harry McEntire in 'Blink'
After years spent in the dark alleyways of abuse, where the only optimistic light is the sickly glow of neon, some new playwrights are emerging into the sunnier meadows of romantic comedy. The market leader must be David Greig's delightful Midsummer (2008), which was also a love letter to the city of Edinburgh. Now, Phil Porter's quirky romcom has come down from the Edinburgh Festival, ready to set metropolitan hearts a flutter and warm even the most cynical temperament.
The boy-meets-girl is marvellously quirky. We are introduced to two loners. Jonah is a young man who was brought up on a farm in Paythorne. His parents are part of a protestant religious sect, which accounts for both his name and his tendency to dip into a Bible whenever things get ropey. Sophie is a young woman who was brought up by her father, a tax lawyer, after her mother abandoned them when Sophie was two. That accounts for her fascination with father figures.
The situation is strikingly perverse and written with a delightful brio
Porter brings his odd couple together in the house that Sophie inherits when her father dies. His death from pancreatic cancer echoes the death of Jonah's mother from the same disease, "the first of several coincidences", and both of them also inherit large amounts of money. With a wonderfully light touch, their initial relationship is sketched out: both are cripplingly shy, and cannot talk to each other so Sophie sends Jonah a tiny video screen which is linked to a wi-fi baby monitor. As she lives her life in front of the monitor's camera, Jonah can watch her. And participate in her daily routines.
The situation is strikingly perverse and written with a delightfully comic brio. At the same time, the play is a portrait of London, a cold and lonely place to inhabit, where this kind of indirect contact is better than just an empty bed. With an utterly appealing deftness, and loads of humour, Porter considers issues of social invisibility, technological alienation, and above all the shame and delight of voyeurism and consensual stalking. Gradually, this unlikely couple act out their desires to be seen and, yes, loved, on the wider canvass of the metropolis.
The play's story, told by each of the two characters narrating events directly to the audience, while also playing all the other parts, broadens out into a filmic panorama. Here, Porter's style is perfectly judged, with a steady accumulation of small details and neat shifts in tone. He won the Bruntwood Playwriting Prize for another play, The Cracks in My Skin, and there is no doubting his skills as a penman. But what about his storytelling imagination? About an hour into this 85-minute two-hander, there's an audacious narrative twist that sets up a "girlfriend in a coma" situation. This intensifies the piece's symbolism and, even if you initially think it's a mistake, you gradually become reconciled to the aptness of the idea. However unlikely, it feels emotionally truthful.
Blink is small but exquisite, with a fleet-footed imp of the perverse dancing through the text, alerting us to the mischief in all human relations and showing us pictures of eccentric situations — such as the mangy fox Scruffilitis being fed by Jonah or a teenager sleeping in a garden. All of this makes a direct appeal to our love of fantasy. It's easy to predict the objections to this account of the kindness of strangers, and of the strangeness of strangers: the psychology is sketchy, there's not enough conflict, and it is all defiantly anti-naturalistic.
But, you know what? These objections never spoilt my enjoyment. Instead, I really fell for Joe Murphy's atmospheric and gentle production, with its evocative set, half garden and half interior, by Hannah Clark (pictured above right), and excellent, engaging acting. Harry McEntire as the obsessive Jonah is compelling and convincing while Rosie Wyatt's Sophie is both charming and troubled. Part of this venue's excellent Soho Six project, this is a deliciously beautiful love story that is both openly funny and delicately moving.
I really fell for Joe Murphy's atmospheric and gentle production, with its evocative set and engaging acting
rating
Share this article