Blue Stockings, Shakespeare's Globe |

reviews, news & interviews
Blue Stockings, Shakespeare's Globe
Blue Stockings, Shakespeare's Globe
Bicycles, bloomers and wandering wombs abound in new play about women's struggle for university education
Tala Gouveia as Carolyn, Ellie Piercy as Tess and Olivia Ross as Celia in Blue Stockings
Could you choose between love and knowledge? Between a life of acceptance and affection, and one of self-improvement and learning? These are the questions that Jessica Swale's new play Blue Stockings poses again and again.
For the women who provided the inspiration for this play – the students of Girton College, living on the cusp of the twentieth century – this is not a hypothetical question. To choose to study at Cambridge is, for them, to choose the life of an outcast over the possibility of marriage and a family. In 1896, when the action takes place, a campaign is underway to attempt to correct the greatest injustice of all – that while women can study the same courses as Cambridge's male undergraduates, they are not permitted to receive degrees.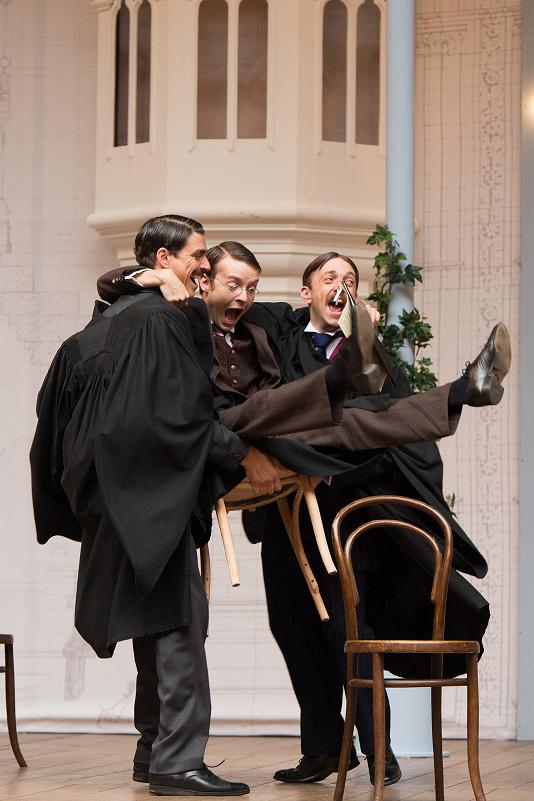 With such a powerful factual narrative as a backdrop, it is a shame that the play's characters are so lacking in depth. Each of the protagonists is allowed just one signifying trait, which produces disappointingly one-dimensional characters in a story notable for its contradictions and difficulties. For instance, physics student Tess Moffat is quickly revealed to be "curious", volunteering to ride a bicycle in her bloomers in the first scene. She is trapped in this mould for the rest of the play. Tala Gouveia puts in a skillful performance as Tess's friend, Carolyn Addison, a proto-bohemian who wears fur coats and teaches her deskmates to dance the can-can, but the character isn't permitted any traits beyond self-confidence and mild flirtatiousness. The same is true of their male counterparts, a group of undergraduates at Trinity College (pictured above right). We have the brash one, the nerdy one, the deceitful womanising one. They are little more than cardboard cutouts.
The truly shocking moments of Blue Stockings emanate, as you would expect, from the moments in which the male and female characters interact. Of particular note is the way Maudsley, a guest lecturer, denounces Tess as a hysteric when she tries to voice an opinion counter to his own, or when one of the male undergraduates harangues Carolyn in a shop because she has the presumption to say that she is going to be a doctor. This scene is an impressively powerful one, its portrayal of misogyny drawing gasps from the audience.
As Elizabeth Welsh, the Mistress of Girton, Gabrielle Lloyd is also a highlight. Her self-contained, stiff-upper lip demeanour still manages to convey Welsh's inner conflict as she tries to reconcile a passionate desire to see her students graduate with an understanding that if they are to do so, they must shun the Suffragette movement and anything else that could be held against them as "radical". When Welsh is shoved to the ground during the protests that herald the all-important vote on women's right to graduate, it feels as though the hopes of a generation of intelligent, frustrated women have been thrown down with her. But she still has hope that they can make a difference. As she tells the students: "Keep your voice soft but your brain sharp. That is the superior weapon."