Brilliant Jerks, Southwark Playhouse review - busy three-hander casts a biting glance toward Uber |

reviews, news & interviews
Brilliant Jerks, Southwark Playhouse review - busy three-hander casts a biting glance toward Uber
Brilliant Jerks, Southwark Playhouse review - busy three-hander casts a biting glance toward Uber
Joseph Charlton's 2018 play revived on the back of his subsequent West End success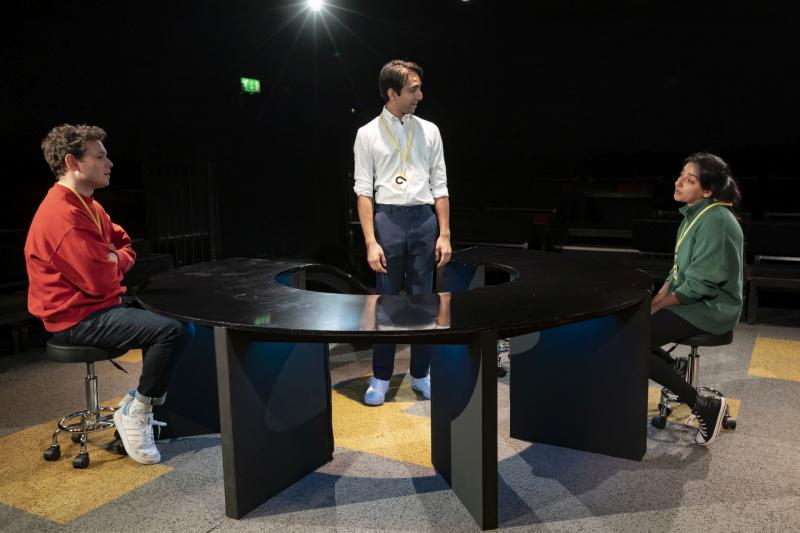 Easy riders: the cast of 'Brilliant Jerks'
It never hurts the trajectory of a promising young playwright if they have a good eye for the zeitgeist, and the writer Joseph Charlton can certainly be said to possess that. His last play Anna X, inspired by high society scammer Anna Delvey and starring Emma Corrin, was a briefly-seen West End success post-pandemic and was staged several months before Netflix aired its phenomenally successful Inventing Anna series.
Now Southwark Playhouse is reviving Brilliant Jerks, Charlton's play chronicling the colourful history of a disruptive ride-sharing app (heavily based on Uber) five years to the month that it first premiered at the VAULT Festival.
As with Anna X, Brilliant Jerks was duly followed by a US cable TV drama, Super Pumped, starring Joseph-Gordon Levitt as Travis Kalanick and Uma Thurman as Arianna Huffington (who, in real life, came up with the "brilliant jerks" appellation of the title but is not a character in Charlton's play). Super Pumped was to my mind underrated, with many critics reviewing Kalanick himself rather than the drama. Brilliant Jerks avoids this trap by fictionalising Kalanick – he is instead called Tyler Kashani – and making his story one of three segments. Yet while the play offers its share of sharp critique, the Uber story of capitalism and dehumanisation is more suited to a seven-part TV series than a 90-minute play.
Brilliant Jerks briskly tells three parallel stories: founder Tyler (Shubham Saraf, star of last year's National Theatre hit The Father and the Assassin) latches on to being able to get a taxi on your phone when his friend conceives the idea in Paris only for the company to grow so fast it careers out of his control; company coder Sean (Sean Delaney, from Killing Eve, pictured above) falls in love with a male co-worker Craig while their female colleague Amy gets marginalised by the "brogrammer" culture; and Mia (Kiran Sonia Sawar), a Scottish driver reliant on working for the company to keep herself above the poverty line, recognises during one of her rides the teenage son she gave up for adoption.
Charlton makes the creation of compelling characters and exposition look easy. A former journalist, he has filleted the Uber story for the most intriguing details: as with Travis Kalanick, Tyler's catchphrase is "super pumped" and there's a shocking anecdote, based on fact, about the company ordering 100 leather jackets for men but not bothering to purchase any for the handful of women at the company. He also knows how to end stories, too – poignantly coder Sean, having been burned by his soul-destroying experiences at the ride-sharing company, proudly declares he now "takes the bus everywhere".
The young performers are excellent, and Katie-Ann McDonough directs at high velocity. But therein lies the problem. Like Anna X, Brilliant Jerks' actors play multiple parts, a strategy that made more sense in a play devoted to con artistry and fragmented identities than it does in a play that is so sprawling and thematically wide-ranging about experiences at a single firm. Ultimately Brilliant Jerks is too cluttered a vehicle to explore its themes of power, sexism and survival with the required depth.
Hazel Low's minimalist set and the absence of costume changes reinforce the flawed if fast-paced transition between scenes depicting a single mother in Scotland on the breadline and a West Coast tech founder in full, self-destructive flow. Yet the evening does supply a short, satisfying look at modern life and work and while I wasn't exactly "super pumped" by Brilliant Jerks, reviving Charlton's work is more often than not worth the ride.
Charlton makes the creation of compelling characters and exposition look easy
rating
Explore topics
Share this article