ANNA X, Harold Pinter Theatre review - lacking in substance |

reviews, news & interviews
ANNA X, Harold Pinter Theatre review - lacking in substance
ANNA X, Harold Pinter Theatre review - lacking in substance
Emma Corrin and Nabhaan Rizwan perk up one-dimensional drama about a Russian conwoman
Constantly giving TED talks: Nabhaan Rizwan and Emma Corrin in 'ANNA X'
There just isn't enough there, with ANNA X. Daniel Raggett's production is the third and final of the RE:EMERGE season at the Harold Pinter Theatre, with Emma Corrin of Lady Di fame in the lead. The graphic design – the brightly-striped faces of Corrin and her co-star, Nabhaan Rizwan, on a dark background – is impeccable. Joseph Charlton's writing, not so much.
Based on "true events", ANNA X is about a young Russian woman with an art degree who cons people into believing she's rich, and a tech entrepreneur who falls for it. They're both living in New York, which in Charlton's nightmare vision doesn't contain any real people; only "concepts", mostly existing on Instagram. It's the classic boy meets girl, girl pretends to be an oil heiress via artful social media usage, girl scams boy out of thousands of dollars story.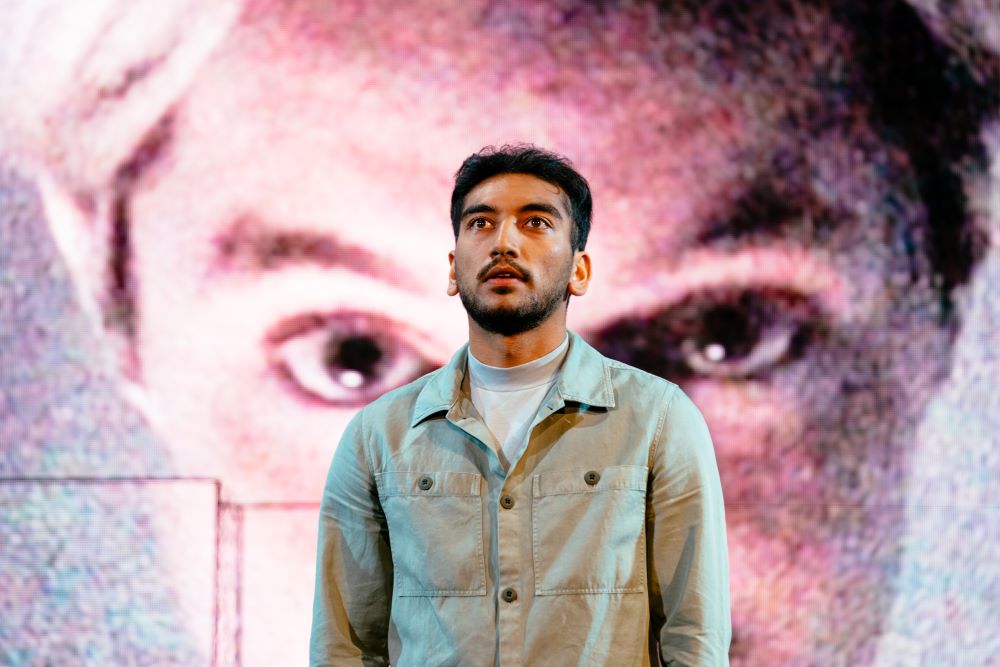 From the moment Corrin steps onstage, all eyes are on her. The word "magnetic" is probably overused, but Corrin is the real deal: you can't help but look at her, even when she's just standing in the background. Rizwan keeps up admirably. Like Corrin, he's a West End rookie best known for his screen work – he was the lead in the BBC's Informer in 2018, and the WWI soldier in a turban in 1917 (the one that annoyed Laurence Fox so much). Fittingly, the third character is a screen: a massive one which seems two-dimensional until the actors begin clambering all over it. Mikaela Liakata and Tal Yarden's set and video design works brilliantly at certain moments, like Rizwan's character Ariel and Anna's first meeting, where their words are projected behind them, or the scene where they're silhouetted against a blue-washed cityscape (lighting by Jessica Hung Han Yun). For the most part, the screen is noisy and overwhelming, although Raggett uses its absence to great effect in the stripped-back final scene.
That moment is the first time Anna and Ariel really talk to rather than past each other. Whether in monologue or duologue, both characters sound like they're constantly giving TED talks, at us and at each other. For Anna, it somehow works; Ariel is unlikeable until the very last minute. Rizwan does his best, but he's hampered by a chewy American accent, and his spectacular eyes are too far away from us to work their magic.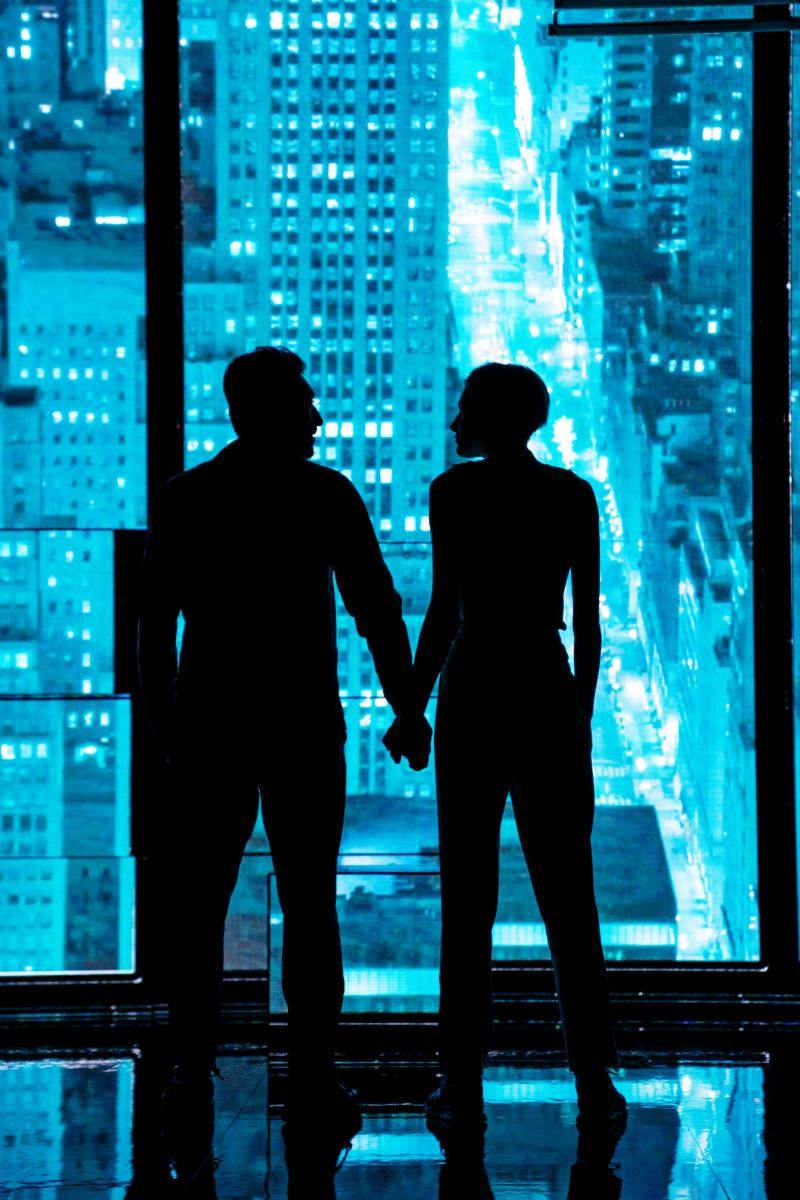 Corrin themself is a big presence on Instagram: they posted recently about binding their chest, changing their pronouns (she/they, naturally) at the same time. They play with gender here to great effect: their swaggering turn as Ariel's investment partner is reminiscent of Denise Gough as a spineless buddy of Roy Cohn's in the recent National Theatre revival of Angels in America. It's a shame that Rizwan isn't given the same opportunity to stretch himself across gender lines – all of Anna's scene partners are men.
Surprisingly, this is not ANNA X's first outing. It premiered at the VAULT Festival in 2019, back when everyone was only chronically online instead of terminally so. Charlton's inspiration, a Russian woman who called herself Anna Delvey (real name Anna Sorokin), cheated a host of rich New Yorkers from 2016 to 2018, apparently just by acting like she had more money than she knew what to do with. Some of Charlton's details, like how the seasons play with New York streets, seem to have been lifted almost word-for-word from Jessica Pressler's excellent piece on Sorokin for New York Magazine. "I tend to see it as a zoological experiment," Anna says of being in prison (spoiler: her lies catch up with her). In the Pressler interview, Sorokin described prison as a "sociological experiment". But there's no mention of Pressler in the extensive acknowledgments. Like both Annas, Charlton has taken what he wanted without giving proper credit – which all writers do, of course, but some of them are good enough to get away with it.
From the moment Corrin steps onstage, all eyes are on her
rating
Explore topics
Share this article