The Invisible Hand, Kiln Theatre review - balanced on a knife edge |

reviews, news & interviews
The Invisible Hand, Kiln Theatre review - balanced on a knife edge
The Invisible Hand, Kiln Theatre review - balanced on a knife edge
Scott Karim soars in taut revival of Ayad Akhtar's political thriller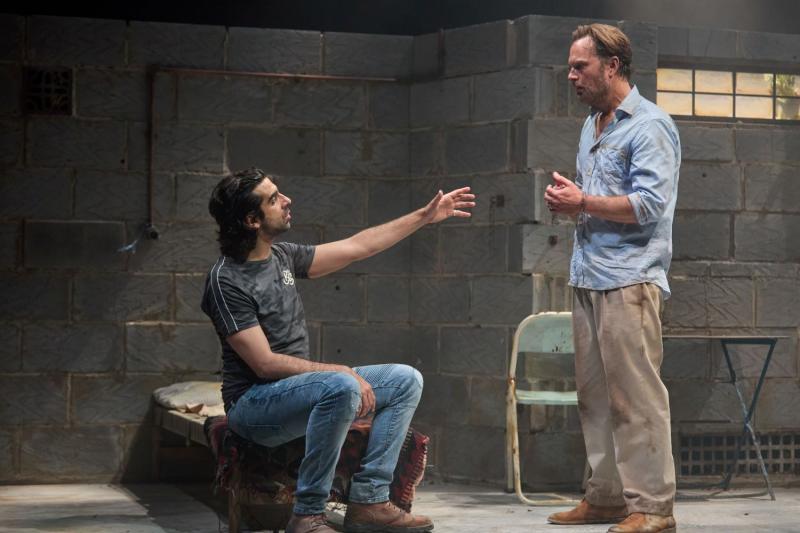 Palpable malice: Scott Karim (L) and Daniel Lapaine in The Invisible Hand
A lot's changed since Kiln Theatre boss Indhu Rubasingham directed The Invisible Hand's first UK outing in 2016, not least the theatre's name (it was known as the Tricycle back then).
But in Rubasingham's capable hands,
American
Ayad Akhtar's taut
exploration
of greed and blame still hits like a punch to the chest, ratcheting up the tension over two hours to an almost unbearable level.
The premise is relatively simple. American banker Nick Bright (Daniel Lapaine, pictured below) has been kidnapped by accident – the unnamed organisation keeping him prisoner in rural Pakistan wanted his boss instead. They're asking for a 10 million dollar ransom, which Nick has no hope of persuading his company to raise. What he can do, though, is trade futures. His captors propose a deal: make us 10 million in 12 months, and we'll let you go.
Nick has help from Hounslow boy Bashir (Scott Karim), whose motivations for joining the organisation are never fully explained. "For your information, I got three offers on my UCAS," he announces proudly, which bemuses Nick but delights the audience. The two form an unlikely trading team – Nick is barred from using a laptop himself, so he teaches Bashir how to work the market. Of course, it helps when friends in terrorist groups can tip you off about the planned murder of a government minister. Capitalism is reduced to its essentials here: some people make money, other people die. In tiny darts around his cell, Lapaine shows Nick's mounting horror at his own desire to see a man killed so that his gamble will pay off.
Imam Saleem (Tony Jayawardena, deceptively twinkly), the charismatic leader of the organisation, and Dar (Sid Sagar, rather wasted), a lowly foot soldier, are the other half of this tight quartet. Four men, one small room – Lizzie Clachan's set is intensely claustrophobic, the cracked cinderblock walls constantly pressing in on us.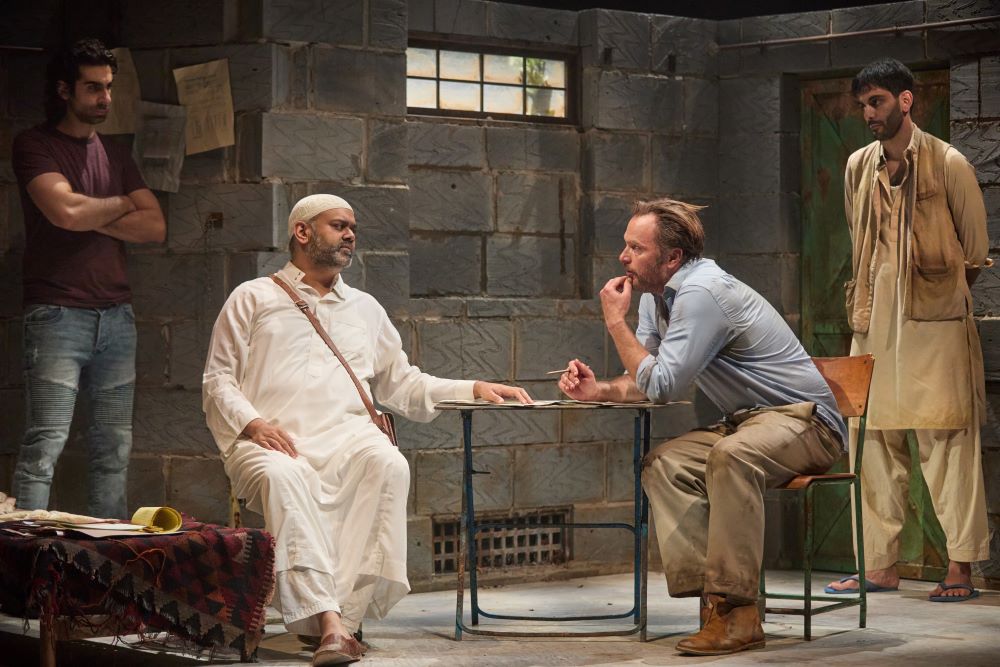 All four are strong, but Karim (the lone newcomer to the cast) takes the production to new heights. His bombastic Bashir is likeable to the end – which makes him a great foil for Nick, who just doesn't tug on the heartstrings in the same way. It's hard to feel sorry for a man who sees no issue in the US dollar ruling the world as the European empires have ruled it in centuries past. "Better us than the Chinese," is Nick's philosophy. The Pakistanis don't see why they should have to choose between two different flavours of imperialism. "You've been robbing us blind for 70 years!" storms Bashir. "I haven't been robbing you," bleats Nick.
The scenes are so lean that Akhtar's dialogue is sometimes forced towards exposition to fill in the gaps as quickly as possible, and the stage fighting is a little overly theatrical. But Rubasingham still infuses the Kiln's beautiful renovated space with palpable malice, assisted by Oliver Fenwick's ominous lighting. From the first lines, there's a sense that The Invisible Hand is balanced on a knife edge, ready to tip over into disaster at any moment. Maybe its title refers to the inexorable forces of tragedy as well as the self-interest that keeps the market moving. The possibilities for reconciliation – Dar letting Nick clip his own fingernails, against Saleem's orders; Bashir helping Nick film a video for his son's birthday – only make the denouement more heart-wrenching. As much as he denies it, Nick has helped to create this new world. Now, it seems, he must live in it.