Pippin, Charing Cross Theatre review - happy-clappy vibe |

reviews, news & interviews
Pippin, Charing Cross Theatre review - happy-clappy vibe
Pippin, Charing Cross Theatre review - happy-clappy vibe
Light up a joss stick for this pared-back version of Stephen Schwartz 's 1972 musical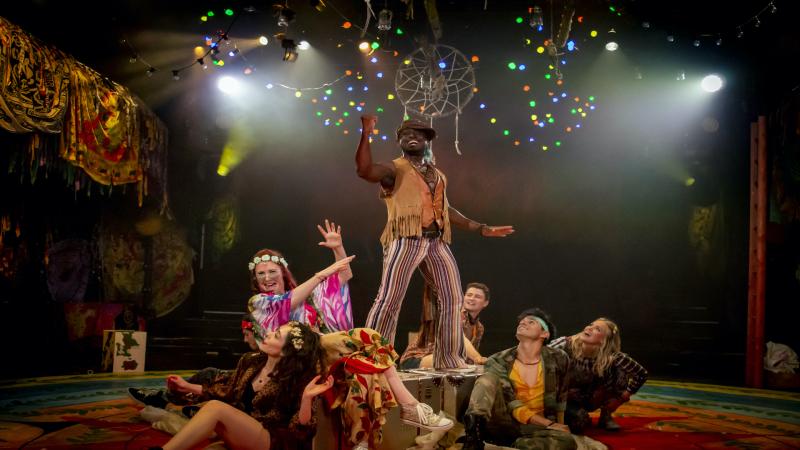 Leading the charge: Ian Carlyle in 'Pippin'
If Time Magazine's Man of the Year in 1966 was anyone under the age of 25, why couldn't a teenage student write a musical in 1967? There are plenty of answers to that question of course, none of which stopped the composer Stephen Schwartz, who conjured Pippin while still at Carnegie Mellon University.
By 1972, with a little help from Bob Fosse, the show was on
Broadway.
And now it's back in London, having been seen here as recently as last summer.
The work has lost none of its craziness in the half-century or so since it was first picking up Tonys. Pippin himself is still a recognisably antsy teen, searching for fulfilment and paralysed by angst, while we look on and say "You're young, healthy and good looking – what more do you want?" Then we remember, not without a wince, that we were like that too and can still have our moments even now.
That universal experience provides the bedrock of Roger O. Hirson's book, as we follow our hippy Hamlet from court to er… Hamlet as he doesn't quite find himself. En route, there's a stepmother seeking advancement for her son at Pippin's expense, the knifing of a king, a stab at land reform, an orgy, an affair with a wealthy widow and an attempt to revive a sick duck. Characters come and go, politics rears its head and then disappears and there's even a singalong session for everyone suffering withdrawal after panto season got locked down.
But, and you have to believe me on this, it's madder than it sounds.
Our kid Schwartz didn't grow up to be the man who wrote Godspell and Wicked for nothing, and we hear that in the fantastic songs that just keep coming and coming. Covered over the years by the likes of the Jackson Five (and you hear the Motown influence in every note) numbers like "Corner of the Sky", "Magic To Do" and "Morning Glow" are amongst musical theatre's greatest tunes and it's a privilege to hear them sung with such verve, up close and personal, presented as intended within their story. Rather like some of grand opera's arias, you'll know them when you hear them because they're part of the aural furniture of our time.
Ryan Anderson is the eponymous hero and his sweet voice offsets some inevitable adolescent moping as he pursues his destiny. Ian Carlyle has a lot of fun as the Leading Player, who is charged with demolishing the fourth wall via a ruse that works better in the round than it might in other stagings. Daniel Krikler's Charles gets the best one-liner and delivers it well, while Genevieve Nicole as Berthe (pictured above) channels her inner Joan Rivers with a showstoppingly funny "No Time At All", telling Pippin to live a little while he can. (The sound of people laughing together is pure balm in these troubled times).
Regrettably, he fails to take Grandma's advice and much of the energy of the first half ebbs in the second, as Pippin mooches about on his dull lover's estate and tries out being a surrogate father. It's during those longueurs that you notice that the eight-strong ensemble, supported by keys and guitar, leaves the show a little underpowered, even with the benefit of Steven Dexter's snappy directing. Oh, and if we must be subjected to American accents, it's probably best not to wobble in and out of them, sometimes within the same speech.
This revised 21st-century ending, with its extra scene after some "Don't Fear The Reaper" nonsense and the Leading Player trying a degree of manipulation to make Harvey Weinstein blush, does suggest that, rather like the show itself, what goes around comes around, for good or ill. That said, after so long in our living rooms, who doesn't want to be transported back to what looks like a reconstruction of a mid-1960s Biba boutique and watch bright young things in tie-dye T-shirts and batik prints sing great songs? (The production is specifically set during the 1967 "summer of love".)
The to-ings and fro-ings of King Charlemagne's court have, mercifully, only ever been an exotic, if somewhat intrusive, backdrop for a show that has a unique place in Broadway's history. Pippin offers plenty to enjoy even today.