Building the Wall, Park Theatre review - the nature of nightmare |

reviews, news & interviews
Building the Wall, Park Theatre review - the nature of nightmare
Building the Wall, Park Theatre review - the nature of nightmare
Different Americas clash in engrossing two-hander set in Texas prison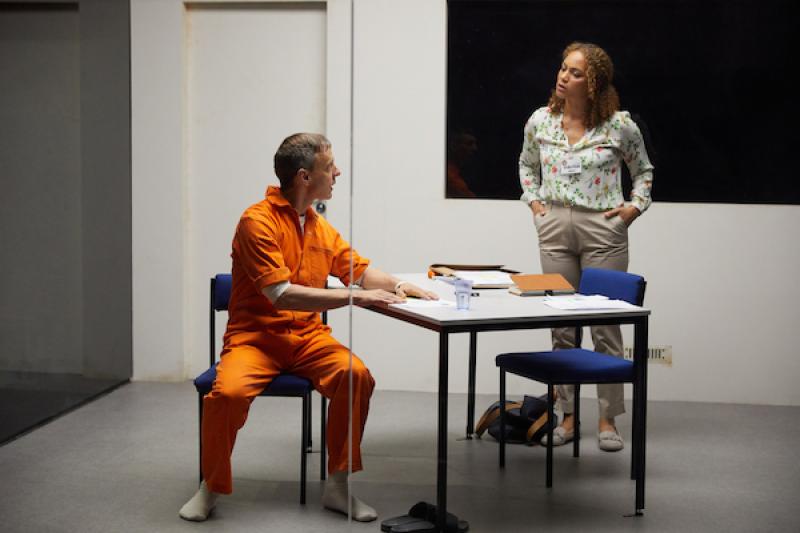 Trevor White as Rick and Angela Griffin as Gloria in Building the Wall at the Park Theatre
Writer Robert Schenkkan's Building the Wall imagines modern America in the not-too-distant future. The date is 22nd November 2019 and following an attack on Times Square in which 17 people were killed, martial law has been imposed. Demands for illegal immigrants to be thrown out of the country have resulted in mass round ups and swollen detention centres. Hysteria stalks the country.
We find ourselves in an interview room in El Paso prison, Texas. Rick (played by Trevor White) is a Trump-voting felon incarcerated in a surveilled solitary confinement cell. Gloria (played by Angela Griffin) is an academic come to take his testimony after he refused to speak in court at his trial which attracted national attention. The play, directed by Jez Bond, consists of a single continuous conversation between the two as they thrash out the steps that led to the crimes of which Rick is accused and his association with the current situation. The question throughout for the audience is how evil comes to be perpetrated, and how far its perpetrators can be exonerated through understanding their circumstances. It only takes good men to do nothing, but the extent to which Rick is "good" is also in doubt.
White endows Rick with a balance of predatory ease and nervous jagged tics. The brutally orange prison jumpsuit jars against the cell's antiseptic environment (Sarah Beaton's design is exceptional), and his tone as he talks with Gloria veers from swagger to paranoia. There's a sense of how in tiny confines, physical movement becomes the pure expression of mental state. To some extent, this cell is Rick's territory – he has worked in prisons much of his life - but he feels persecuted by the system which has locked him away and is oppressed by the comings and goings of the guards outside the door. White paces this paranoia out over the play's terse eighty minutes and keeps Rick's energy high and unpredictable.
Gloria, on the other hand, poses challenges for Griffin because her main function is to chivvy Rick onto the next stage of his testimony and occasionally throw into relief the divisions with with modern America is riven (race, gender, access to education, workers' rights). For most of the play she remains Rick's foil. This is obviously a problem with the writing, but Griffin cleaves close to the script and the sense of Gloria being a character who exists beyond of this situation never really comes home. Admittedly this is tough to do well given the focus is so skewed towards Rick's story, but a sense of specificity is lacking in her performance, as if she is the conflation of many good intentions rather than a person.
Other parts also aren't pitched quite right - for instance Rick's panegyrics of Trump's pre-election appearances don't quite carry. It's almost as if Schenkkan cannot realistically conjure the euphoria of belonging provoked by Trump. His writing brilliantly expounds the realms of bitterness and shame internalised by Rick over the course of his precarious past employment – which keeps us on the knife-edge of sympathy for this man even as his crimes swell to ghastly proportions – but as soon as Rick exclaims that the reason he voted for Trump was because he was "entertaining!" his character is flattened. And as soon as he reverts to type, he no longer threatens to overwhelm the audience with appeals to their sympathy, and the frisson of the play slackens.
Another puzzle is why Gloria is there in the first place. Rick is not allowed internet, yet through some kind of appeal he appears to have received letters from people who are willing to take his direct testimony. Is she being manipulated in the way Rick claims he is has been? Are the powers of the American state really as malign as he makes out? Valid questions, but for the drama to unroll – as with the nature of nightmare – they need to some extent to be suspended for the confrontation between the different Americas summed up by Gloria and Rick to take place. And this raises one last difficulty – namely preachiness. For the audience to feel real jeopardy, both protagonists need to inhabit an ethically grey area, both need to be somewhat compromised. But while Rick has definitely perpetuated crimes, Gloria hasn't. Her blamelessness is the clear moral compass of the play. And so the hideous question arises: are the audience really trusted to make the "right" moral judgment?
The drama is engrossing, even if it does take about twenty minutes for the play to find its groove. But if the play is truly as fearless and challenging as it makes out, its conclusions would not be so obviously marked.
Building the Wall is at the Park Theatre until 2 June 2018
The hideous question arises: are the audience really trusted to make the 'right' moral judgment?
rating
Share this article