Cat on a Hot Tin Roof, Royal Exchange, Manchester |

reviews, news & interviews
Cat on a Hot Tin Roof, Royal Exchange, Manchester
Cat on a Hot Tin Roof, Royal Exchange, Manchester
Tennessee Williams revival is more lukewarm than hot
Wednesday, 05 November 2014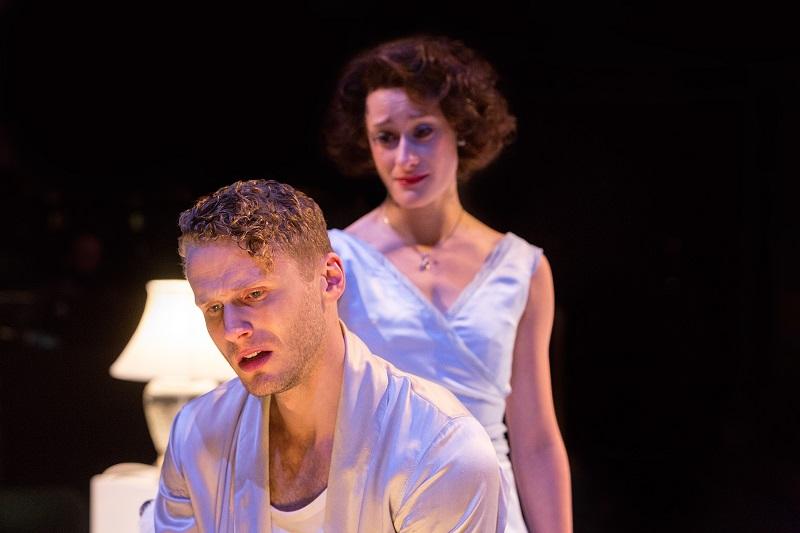 A real Brick? Charles Aitken in 'Cat on a Hot Tin Roof' with Mariah Gale
No one is more prescriptive than Tennessee Williams when it comes to stage and set directions. As he got older and wiser he made allowances for directors and actors to have their say. "The making of a play is, finally, a collaborative venture," he concluded. What he would make of the Royal Exchange's self-styled "bold adaptation" of his favourite play, winner of the Pulitzer Prize in 1955, is debatable.
A co-production with the Royal & Derngate in Northampton and Northern Stage, there's nothing "bold" about this
Cat on a Hot Tin Roof
and, though much trumpeted in pre-publicity, an original score by Charles Cave of the White Lies band turns out to be minimalist and insignificant.
However, Williams would certainly approve of director James Dacre's decision to opt for the original version of Act Three rather than that with a softer, more "commercial" ending written at the urging of director Elia Kazan for the Broadway premiere. The playwright decided later that collaboration could go too far.
The play is about all our efforts to escape from inner demons, love and even life itself, if only by denial
The play is set – or supposed to be set – in an old-world, comfortable plantation home in the Mississippi Delta, where ostensibly the family are gathered to celebrate Big Daddy Pollitt's 65th birthday on a summer's evening 60 years ago. It takes place in real time, the action matching the duration of the performance (two hours 40 minutes). Early on Maggie (the "cat"), who is married to Big Daddy's younger and favourite son Brick, one-time American football star turned TV commentator (you know the sort) but now a self-loathing alcoholic, says pointedly: "I'm not living with you. We occupy the same cage".
Designer Mike Britton's spacious bed-sitting room set, all white tiles and furniture like a hotel lobby, lacks any atmosphere. Symbolically, the bed looms large (this is where the real battles are fought). The slatted-wood, suspended ceiling, with whirling fans and outsize chandelier, sort of reflects Maggie's telling taunt. We hear noises off as the birthday party goes on while Maggie and Brick argue. And as the play moves on, Big Daddy's grandchildren run in and out. It doesn't quite work, but this is the room where, despite the bed, the family come together.
"Mendacity" is Big Daddy's favourite word as his dysfunctional family struggles with marital relationships, greed, alcoholism and ghosts of homosexuality – troubles which persist despite the fact he is the biggest cotton-growing land-owner in the Delta. He's clawed his way to the top.
Essentially, the play is about all our efforts to escape from inner demons, love and even life itself, if only by denial. There is denial of Big Daddy's fatal cancer, denial of Brick's alcoholism and suppressed homosexuality, denial of the disturbing reality of family relationships. As one character in the writer's later Orpheus Descending says, "We're sentenced to a lifelong sentence of solitary confinement in our own lonely skins."
Having decided to use the original final act, Dacre inexplicably interposes the interval in the middle of Act Two, which is the crucial, high-octane showdown scene between Big Daddy and Brick. As Big Daddy, Daragh O'Malley (pictured above) is powerful and raw, like a raging bull until the truth breaks him. He is like a Mafia boss, rather more Irish than Mississippi in speech (think Robert Shaw in The Sting). His is the towering performance in an otherwise unremarkable but competent cast.
Mariah Gale's Maggie is not so much seductive as submissive, although she grows in strength. As Brick, Charles Aitken gives a sensitive yet spirited performance as a one-time athlete broken and detached from everyone except the bottle. He also deserves credit for hobbling around on one leg, using a crutch. "What is the victory of a cat on a hot tin roof?" asks Maggie rhetorically. "Just staying on it, I guess, as long as she can". She does.
An original score by Charles Cave of White Lies turns out to be minimalist and insignificant
rating
Explore topics
Share this article