The Cheeky Chappie, The Warren Outdoors review - entertaining drama about risqué comic Max Miller |

reviews, news & interviews
The Cheeky Chappie, The Warren Outdoors review - entertaining drama about risqué comic Max Miller
The Cheeky Chappie, The Warren Outdoors review - entertaining drama about risqué comic Max Miller
Jamie Kenna brings Brighton favourite to life
Wednesday, 23 September 2020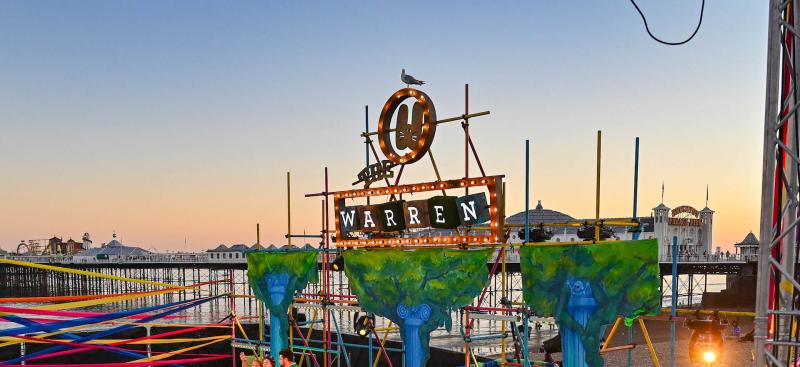 This delightful pop-up is on the Brighton seafront, which local resident Max Miller knew well
It's fitting that there's another run of Dave Simpson's terrific play about Brighton's favourite son, Max Miller (aka The Cheeky Chappie), at this delightful pop-up on the seafront he knew and loved so well.
Jamie Kenna, who has been playing the role on and off for several years, makes his portrayal so much more than an impersonation – as fine as that is – as his characterisation has great subtlety, not something that could be said of the comic himself when he was on stage.
Kenna's delivery is pure Miller – a nasal, slightly whining gorblimey – but it's not just the vocal cadences he has mastered; the comic's physicality, an important part of his stage persona, is captured too.
Simpson intersperses the drama with music hall numbers (some written by Miller) as he tells the story of perhaps the biggest name in comedy in the 1930s and 40s whose variety career couldn't survive the advent of television, alongside his unfulfilling but long-lasting marriage to Kathleen (Claire Marlowe).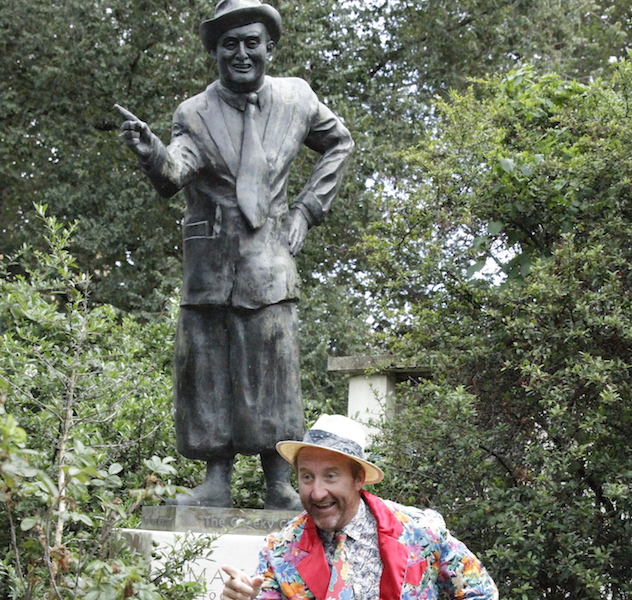 The tears of a clown trope is an alluring one for writers to dramatise – although Miller was far too talented to be the model for Archie Rice in John Osborne's The Entertainer. But the bare facts of Miller's life suggests that his best times were indeed spent on stage, with a sexless marriage and an unconsummated affair with Anne Graham (Louise Faulkner) that lasted 20 years.
And yet Miller, as he came on stage in an outrageously colourful suits with plus fours and a floral kipper tie, famously used to tease his audiences by saying with a cocked eyebrow: "What if I am?" With just a look between Miller and a gay theatre assistant, Simpson gives a nod to that possibility.
The juxtaposition of the risqué comic (Miller would tell audiences he had a white book and a blue book, and ask which did they want him to do jokes from; the blue book always won) and the seemingly asexual man offstage is neatly done as Simpson traces his relationships with Kathleen, whom he rather creepily called "mum", and Anne, who made him laugh.
There is much laughter as Kenna (pictured above in front of a statue of Milller) delivers lots of Miller's jokes, which still land today, including my favourite, and one that bears repetition because it is so beautifully constructed.
"I was walking along this narrow mountain pass when I saw a beautiful blonde walking towards me. A beautiful blonde with not a stitch on, yes, not a stitch on, lady. Cor blimey, I didn't know whether to block her passage or toss myself off."
Here, it is the joke that got Miller banned from the BBC, although some dispute that. But it's a good gag in an enjoyable portrait of a huge figure in comedy. Kenna, who also directs, is magnificent, as are the two women in his life, and they are ably supported by the rest of the cast and the onstage keyboardist.
Kenna delivers lots of Miller's jokes, which still land today
rating
Explore topics
Share this article